Formatted and illustrated with captions and links by Jacqueline Banerjee. The photograph of the Burne-Jones and Morris families comes from the National Portrait Gallery (see their conditions, offsite). You may use the other images without prior permission for any scholarly or educational purpose as long as you (1) credit the source and (2) link your document to this URL in a web document or cite the Victorian Web in a print one. [Click on the images to enlarge them, and for more information where available.]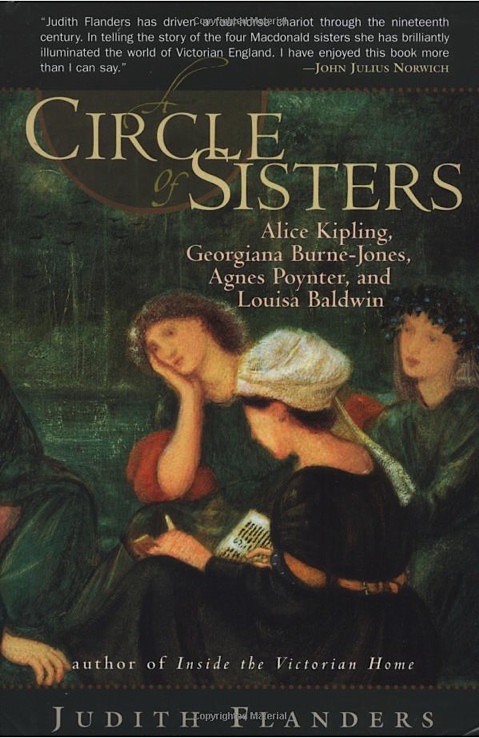 Judith Flanders' "Circle of Sisters" belonged to a typically large Victorian family. There were four brothers and seven sisters in all. Two of the sisters died young. The youngest lived to her late 80s but never married. This book tells the story of the four who did marry, born between 1837 and 1845 and dying between 1906 and 1925. A reader would need to be completely free of any Victorian stereotypes not to find their story surprising.
Their grandfather was a Methodist minister in Ireland who moved to England during his ministry. Their father, George Macdonald, was also a Methodist minister with an income of around £150 per annum and a rent-free manse. The oldest sister (Alice) was Rudyard Kipling's mother. The next (Georgiana) married Edward Burne-Jones. The third (Agnes) married Edward Poynter whose reputation as a painter has suffered by comparison with his brother-in-law's but who was simultaneously Director of the National Gallery and President of the Royal Academy. The fourth (Louisa) married a very successful businessman and MP and was Stanley Baldwin's mother. Flanders summarises in the book's introduction what the sisters' lives have to say about the society in which they lived:
The dynamism of family life mirrored the times. From the birth of Alice soon after Queen Victoria came to the throne, to their dispersal at the end of the long Edwardian summer, the Macdonalds were a prime example of the fluidity and social mobility that characterized the age. British society has always been permeable to money, but in the nineteenth century it became permeable to talent to an extent that had rarely occurred before. Alfred Baldwin, Louisa's husband, reached the upper echelons of society in the old-fashioned way — he made so much money that he was invited to join the club. Poynter and Burne-Jones were accepted by the aristocracy in a new way. Previously when an artist was taken up by a patron it was he alone who was feted, not his family. By the mid nineteenth century the rigidity of that code was softened enough for wives and children to take part in the rise: Georgie Burne-Jones went with her husband to Hawarden to visit the Gladstones; the Earl and Countess of Carlisle had them to stay at Naworth Castle and invited them both to dinner with Princess Louise, Queen Victoria's artist daughter; their children played with the children of their aristocratic friends and patrons. Even so all parties were aware of the differences in their social standing, and, while the Baldwins effortlessly joined the upper classes, the Burne-Joneses always remained slightly in awe of their 'social superiors.'" [xxii]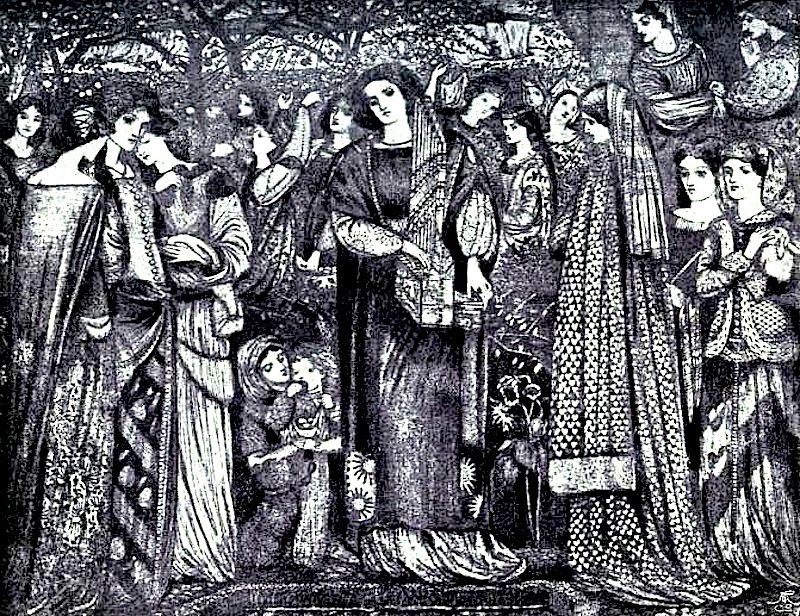 Flanders explains that Burne-Jones's King's Daughters (1858) is thought to feature his fiancée and her family, with Alice in the left foreground, Georgiana prominently at the centre, Agnes looking down from the left side of the balcony, and Louisa petting her rabbit on the far right. Source: Bell, facing p. 20.
George Macdonald and his wife decided they could afford a complete, high quality education for one child and predictably provided it for the oldest son. He was a grave disappointment, exiled to New York after failing to complete his Oxford degree, but as a schoolboy and an undergraduate he introduced some gifted friends into the family circle, including Burne-Jones and later William Morris. Through them the girls later met others almost as interesting. The Baldwins, soon to be pillars of the establishment, were still Methodists when a family friendship with the Macdonalds developed. All four husbands, even Alfred Baldwin who had the best start in life, prospered beyond what could reasonably have been expected when the sisters married them.
Flanders takes a chronological approach with most chapters covering two, three, four or five years. The chapters often have a focus reflected in titles such as "Spartan Mothers," "Leaving Home" and "Settling Down." The space given to each sister and her family in an individual chapter varies according to the inherent interest of their lives at the time, but the chronological structure means that the lives of many individuals are interwoven, with the narrative moving seamlessly from one to another. This makes demands on the reader particularly when there has been a gap of many pages since someone was last mentioned. The family tree is helpful in this respect and, for friends outside the family, the index is thorough.
Some individuals receive much more attention than others, in part no doubt because Flanders found some more interesting than others, and in part because some lives are better documented than others. Of the sisters, Georgie, who married Burne-Jones and was a close friend of William Morris, stands out. Louie Baldwin, who was an invalid for many years, later wrote several books but it may be that she was too conventional to interest Flanders as much as Georgie. Louie does well by comparison with Agnes. Flanders clearly sees her husband, Edward, as unappealing and the Poynters as a family unit emerge only sketchily.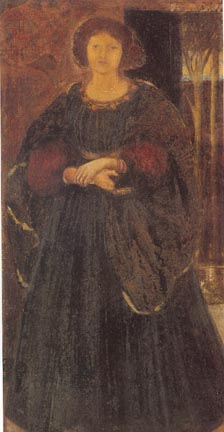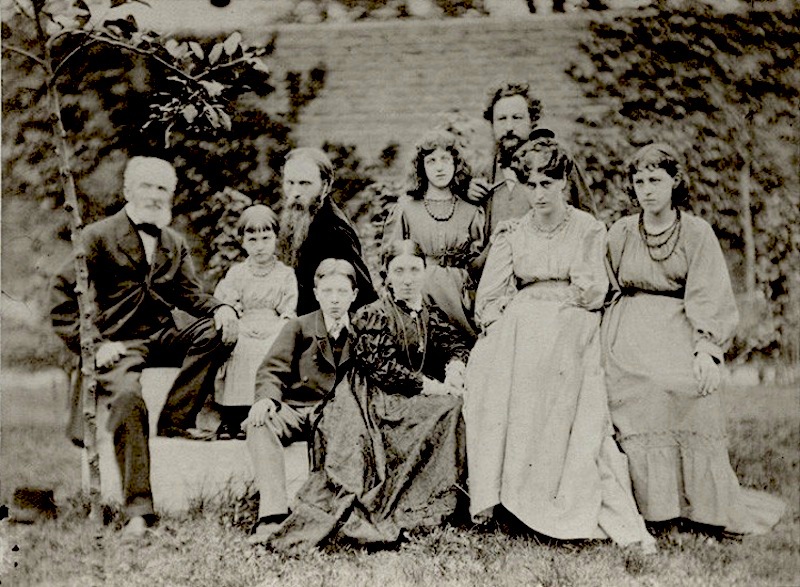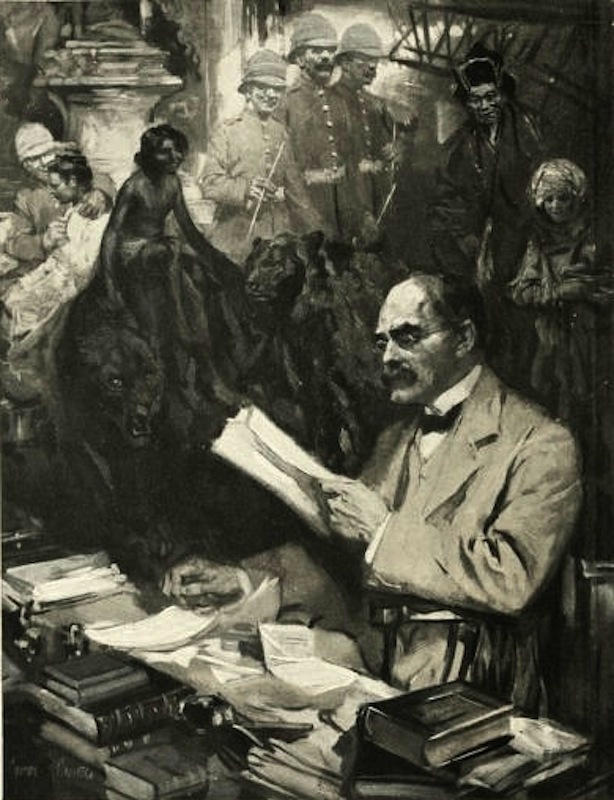 Right to left: (a) Belle et Blonde et Colorée, by Poynter, thought to be a portrait of Agnes. (b) This well-known photograph, taking in the Burne-Jones's garden, shows the Burne-Jones family with William Morris and his family: Georgie Burne-Jones is seated in the middle, with her husband behind and to the left, and William Morris in the background to the right. Flanders comments that he "After scarlet fever and the death of her child in 1864, Georgie always looks prematurely aged" (following p. 120). © National Portrait Gallery, by kind permission. (c) The next generation's most celebrated writer: Rudyard Kipling and some of his most famous creations, from a painting by Cyrus Cuneo. Source: Hopkins, frontispiece.
In the next generation Rudyard Kipling receives the fullest treatment although there must have been as much material available on Stanley Baldwin. Kipling, of course, became an international figure decades before his cousin. By the time Baldwin entered the cabinet in 1921 and then quickly became Prime Minister briefly in 1923, his mother was the only survivor of the circle of four sisters, and she died in 1925. Despite the timings, it is hard to resist the conclusion that, if Flanders had found the successful businessman and embryonic politician to be as interesting as the poet and writer, we would have read more about him.
Flanders deals with the relationship between the two characters in different generations to whom she gives the greatest attention:
Their relationship had become that of a mother and son. (As a grown man, Rudyard often signed his letters to Georgie "your boy"; she acknowledged that "They have been my very own children.") It was a relationship that mothers and sons rarely have in reality — certainly not the kind Rudyard had with his own mother, or Georgie with her son. Perhaps it was in part because Carrie (Kipling's wife) was equally fond of Georgie: Georgie reported that
For a long time they came to me every evening after dinner for an hour or two, and never once did she look at him as if to say "let us go," much less utter the words — but left it to him always. She brought her sewing, the dear girl ... and she worked and he and I played colerito, and we talked, and often laughed, and about 9.30 it was over. Never the shadow of a cloud came between us, nor did a thing happen that is not sweet to remember."
Not something that anyone could say about life with Alice. [299-300]
If this had been a book about four brothers there might have been less about the rest of the family. It is hard to make sense of the lives of four Victorian mothers without putting them in the context of the husbands they supported and the children they raised. It is the richness of that context that makes the book so memorable.
In an excellent brief afterword Flanders addresses the reviewer's question of whether the book was worth writing. Unsurprisingly, and also rightly, she concludes that it was. She quotes the unmarried Edie on the family as a whole:
If there was a flaw common to all their characters it could be said, and doubtless was said in the broader-minded world that acknowledged their enchanting virtues, that, while they were seldom slow to bless, they were often incontinently swift to chide. Forbearance of others' conduct which they deemed below their own moral standards was not among the social graces successfully learned in chapel or at home; and as they fared abroad they found no lack of occasion for disapproval that was prone to find expression in immediate and telling form. [328]
Flanders mentions that of the siblings, their husbands, wives, parents, children and grandchildren, half were published writers. Her list has 20 names. She gives the last word to Colin MacInnes, the writer son of Angela Thirkell, the writer granddaughter of Georgie: "If they were inspiring people, they were also appallingly demanding. They were, in fact, the sort of family that one would perhaps rather read about than belong to" (329). This family would have been a great subject for any writer at any time in their career and spotting the opportunity was no mean achievement. It must have been a daunting challenge for a first book. The result is a triumph for Judith Flanders.
Related Material
Sources
Book under review: Flanders, Judith. A Circle of Sisters: Alice Kipling, Georgiana Burne-Jones, Agnes Poynter and Louisa Baldwin. New ed. London: Penguin, 2002. £12.99. 392 + xxiii pp. ISBN 978-0140284898.
Bell, Malcolm. Sir Edward Burne-Jones, A Record and Review. 4th ed. London: George Bell & Sons, 1910. Internet Archive. Uploaded by University of California Libraries. Web. 6 July 2014.
Hopkins, R. Thurston. Rudyard Kipling: A Literary Appreciation. London: Simpkin, Marshall, Hamilton, Kent, 1915. Internet Archive. Uploaded by Robarts Library, University of Toronto. Web. 6 July 2014.
---
Last modified 7 July 2014