Formatted with illustrations, captions and links by Jacqueline Banerjee. You may use the images from the Benson biographies without prior permission for any scholarly or educational purpose as long as you (1) credit the source and (2) link your document to this URL in a web document or cite the Victorian Web in a print one. [Click on the images to enlarge them, and for linked passages from the book under review.]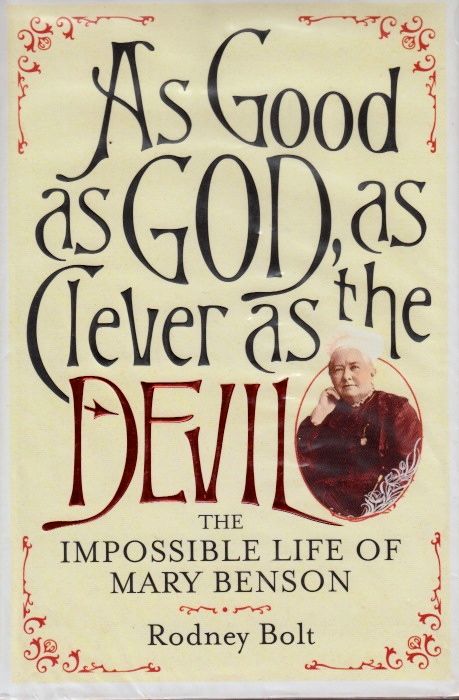 The supporting cast in Rodney Bolt's As Good as God, as Clever as the Devil: The Impossible Life of Mary Benson includes Edward, first headmaster of Wellington College, first Bishop of Truro and finally Archbishop of Canterbury (husband); Arthur, author of "Land of Hope and Glory" and Master of Magdalene College, Cambridge (son); Fred, author of Mapp and Lucia (son); and, more marginally, Henry Sidgwick, moral philosopher and author of The Methods of Ethics (brother). The book is enriched by these and other interesting characters, but there is no doubt that Bolt would not have written such a compelling book if he had not chosen to focus on Mary (wife and mother). She began life as Minnie Sidgwick but changed back to her proper first name when she married.
Mary was born too soon to have the educational opportunities that were possible for the next and succeeding generations. In a discussion of who was the cleverest woman in England, Gladstone said of Mary Benson that she was the cleverest woman in Europe. But inevitably for a woman born in 1841 she had neither university education nor a career to match her ability. Her younger daughter, Maggie, born when Mary was 24, was not allowed to take the degree examinations at Cambridge, in common with other women, but was the outstanding woman there in her generation. The evidence is that she benefited from her mother's genes as well as from her father's.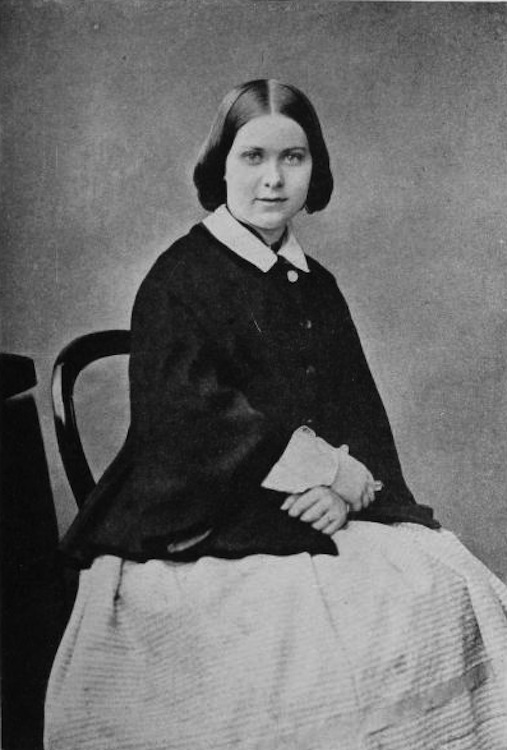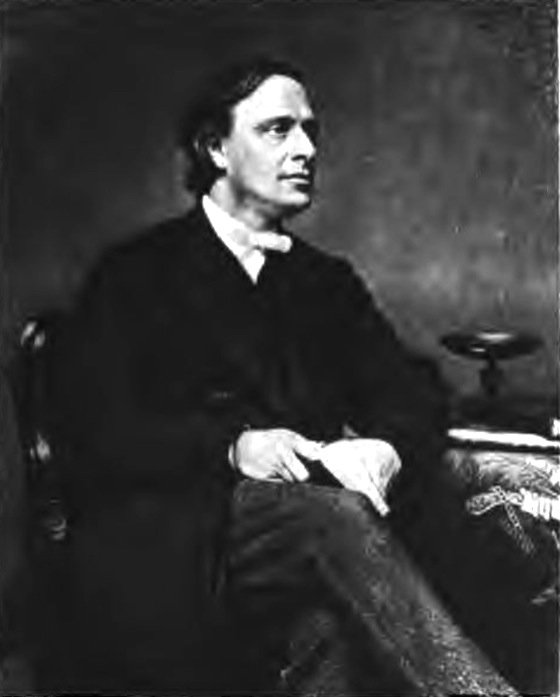 Right: Benson as headmaster of Wellington in 1867. Source: A. C. Benson's Life of Edward White Benson, Vol. I, frontispiece. Left: Mary Benson aged 20. Source: E. F.Benson, Our Family Affairs, 1867-1896, p. 19.
The bare facts of Mary's life are astonishing. When she was 11 and Edward Benson 23, he decided that he would like to marry her in due time and told her widowed mother, but not her, of his intention. Mrs Sidgwick wanted Mary to remain in ignorance of this for as long as possible but she was overwhelmed by pressure from Benson who developed early the habit of getting his own way. Mary was told about Edward's intentions when she was 12 and married at 18 to become the wife of the 30 year old headmaster of Wellington College where the most senior boys were her own age. Benson had been chosen for the role by Prince Albert. The contact with Albert, not long before the Prince's death, did Benson no harm with Victoria in later years.
By the time she was 30, Mary had six children and had a long period of illness from which she recuperated largely in Europe. The illness began in the later years of childbearing and continued for some time after the birth of her sixth child in 1871. There were no more children and no recurrence of the illness. Her eldest son died at 18 and three other children died before Mary herself who lived until 1918 but all three reached a marriageable age. None of her six children married.
It is hardly surprising that she was dominated by Edward. Marrying a headmaster of 30 when she was 18 was scarcely a good beginning for an equal relationship. Nevertheless he depended on her heavily for support, not least during the bouts of depression that occurred throughout his life and were perhaps most marked during his 13 years at Canterbury. Although she didn't defy him, she thought for herself and, in particular, fashioned her own beliefs. In 1875, while Benson was Chancellor of Lincoln Cathedral, after Wellington College and before Truro, Mary had a time of intense spiritual development under the influence of Mrs Tan Mylne, a fervent Evangelical. This marked the rest of her life but she appears never to have been an entirely conventional or orthodox believer. "Love is God" was her cry rather than "God is love."
Bolt brings out Mary Benson's capacity for sympathetic conversation which enabled her to draw people she had scarcely met before away from small talk into areas that she considered worth talking about. This may be linked to the most remarkable feature of her life: a series of intense relationships with girls and women. It began with an anonymous adolescent before she married and then there were, in turn and sometimes overlapping, Emily Edwardes, Ellen Hall, Tan Mylne, Mary Basset, Ethel Smyth and Lucy Tait. These were amongst the most important of many relationships which often began with a sensation which Mary described as "My God, what a woman!" By the time she was 26 and fell in love with Emily Edwardes, Mary reckoned that she had had crushes on 39 women.
Edward's approach to these relationships varied. He was particularly hostile to Ethel Smyth who also had an intense relationship with his and Mary's older daughter, Nellie, shortly before Nellie died in 1890. On the other hand, he invited Lucy Tait, the daughter of his predecessor as Archbishop and the sister of the wife of Randall Davidson who went to Canterbury in 1903, to move into Lambeth Palace. From immediately after Edward's death until Mary's own death 22 years later, Lucy shared Mary's bed.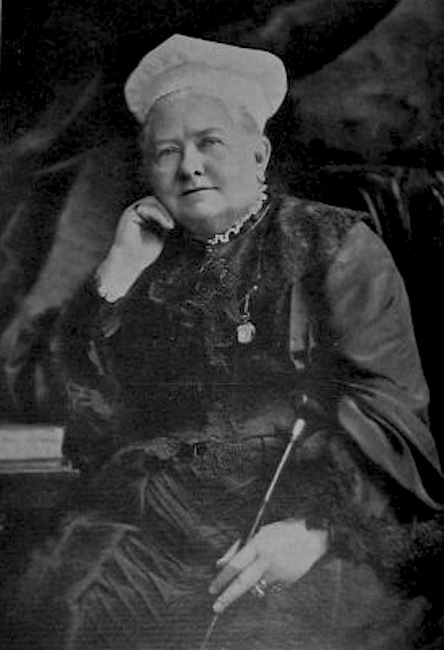 Mary in her seventies. Source: E. F. Benson, Mother, frontispiece.
Ethel Smyth was perhaps the most lively and colourful of the women who became Mary's close friends. She had the confidence to stand against the oppressive atmosphere in the family home created by Edward. The title of the book is taken from an Ethel Smyth phrase for Mary. Lucy was seen by Edward as a replacement daughter for Mary when Nellie died but quickly became something quite different. Lucy was active in good works and somewhat disapproving about others who lacked her commitment and energy. She replaced Edward as the dominating figure in Mary's life though not perhaps on quite the same intolerable scale. She was the object of recurring jealousy on the part of Maggie, the surviving daughter who had a close relationship of her own with Nettie Gourlay. Until Maggie fell so ill that she had to be confined in 1907, the central members of the household after Edward's death were Mary, now generally known as Ben, and Lucy as a couple and Maggie and Nettie as a couple. The brothers lived elsewhere but visited regularly, particularly Arthur and Fred.
Even with the help of the family's prodigious written output both for publication and for private reading including Mary's own diary and correspondence there is much detail about Mary's intense relationships with women which we will never know. Bolt resists the temptation to baseless speculation and keeps a sense of proportion about the relationships in the general flow of Mary's life. The overall impression is that Mary felt no guilt about these relationships in general but that there were dimensions to them which she regarded as temptations to be resisted and that they were sometimes resisted and sometimes not. From the evidence available it is difficult to go beyond that broad summary.
An oddity in serious biography is that the narrative of this book is broken up from time to time by passages from other writers that Bolt considers to have a bearing on the tale he is telling. They are sufficiently varied for him to compare them to extracts from a commonplace book. The relevance is sometimes obvious and sometimes more obscure. It is doubtful whether they improve the book. It might have been better to include the most significant passages as quotations in the narrative which Bolt would then have been free to discuss as appropriate and to leave out anything that did not justify that treatment. This detracts only a little from a book that badly needed to be written. After spotting the need, Bolt has done full justice to Mary Benson in a book that is hard to put down.
Related Material
Sources
Book under review: Bolt, Rodney. As Good as God, as Clever as the Devil: The Impossible Life of Mary Benson. London: Atlantic Books, 2011. 362 + xxiipp. £22.00. ISBN 978-1-84354-861-4.
Benson, Arthur Christopher. The Life of Edward White Benson: sometime Archbishop of Canterbury. Volume 1. London and New York: Macmillan, 1899. Internet Archive. Book contributor: Saint Mary's College of California. Web. 2 June 2014.
Benson, Edward Frederic. Mother. London: Hodder and Stoughton, 1925.
_____. Our Family Affairs, 1867-1896. New York: George H. Doran Company, 1921. Internet Archive. Uploaded by Robarts Library, University of Toronto. Web. 2 June 2014.
---
Last modified 2 June 2014