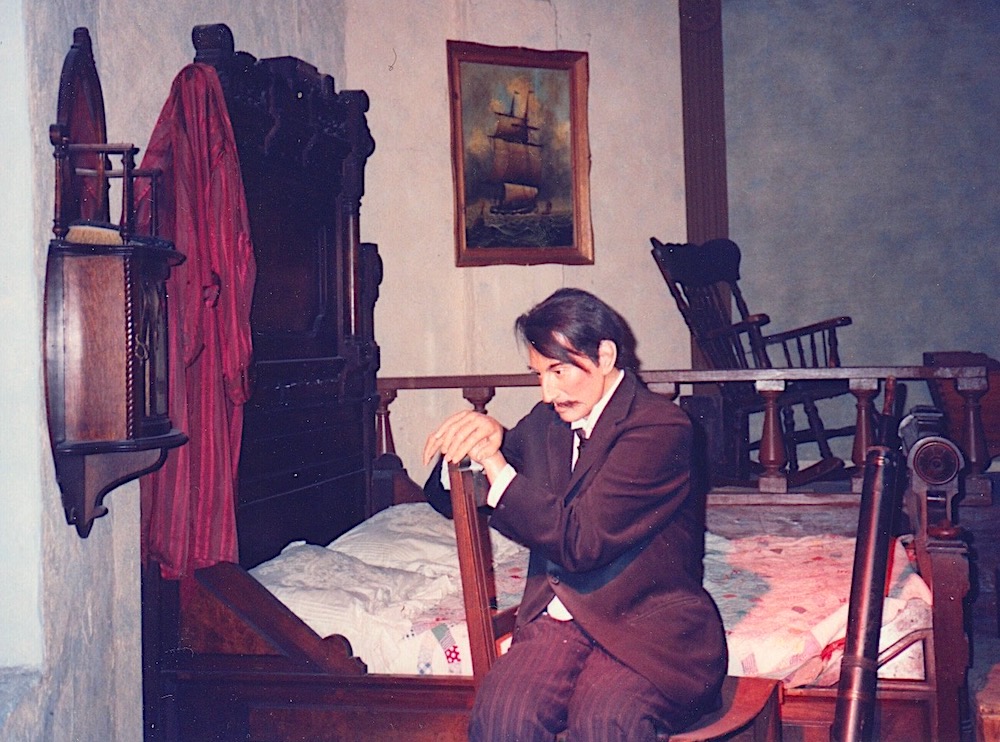 Robert Louis Stevenson in Monterey (waxwork). This is a photograph (taken in 1994) of a display in The Spirit of Monterey Wax Museum on Cannery Row, Monterey, California. Photograph, formatting and text by Jacqueline Banerjee. This image may be used without prior permission for any scholarly or educational purpose as long as you (1) credit the photographer and the museum, and (2) link your document to this URL or cite it in a print one. [Click on the image to enlarge it.]
Sadly, this is an accurate likeness of Stevenson at this time. In 1879, with only the money he had in his pocket, and without taking leave of his parents, he had set off to America on an emigrant ship, the Devonia, in pursuit of Fanny Osbourne. From New York he took an emigrant train to San Fransisco. The train journey was even more arduous than the ship, and he was half-dead by the time he arrived. He then worked his way as a cowboy to Monterey, in California, where Fanny was now living. He had suffered a bad fall from his horse on the way, and was really more dead than alive when he at last reached his destination.
Arrived at Monterey, he found a good Samaritan in a Frenchman, one Jules Simoneau. who kept a cafe in a little old adobe building. In this cafe, Stevenson, "an ahnost dead man," was "nursed, fed, bathed, watched over and cheered," and in that little cafe Stevenson, the irresistible, gained another lasting friendship, "If there ever was a man who was a good friend to me it was Jules Simoneau," he wrote afterwards on the flyleaf of one of his books.
Louis Stevenson never recovered from that emigrant journey to California. Up to that time he had been very far from being a robust man. From infancy his health had been an anxiety to those who loved him. He had inherited chest weakness from his mother and his maternal grandfather; but both those lived to an old age. He was a victim, also, to acute nervous excitability, for which a quiet life, free from mental worry, would of course have been best. But his constant breakdowns in health had always been met by his favourite cure, — open-air treatment. One of his walking-tours or visits abroad had always put him onto his ordinary level again, and his nervous excitability had been counterbalanced by his temperamental joyousness and irrepressible gaiety, and, latterly, by his energy and delight in his writing. But by the long physical fatigue and exposure of the journey to Monterey, by the mental and emotional strain he endured, and the "self-imposed penury" that followed, his always precarious health was shattered. He was henceforth an invalid. [180-81]
After a period of indecision, Fanny divorced her husband in December 1879. She and Stevenson were married on 19 May 1880, and in August they came to England with Fanny's son Lloyd, one of the two surviving children of her previous marriage (the other, her daughter Isobel, got married just a few weeks before her mother remarried). The couple continued to travel, hoping to salvage Stevenson's health, eventually going as far as Hawaii and settling in Samoa in 1890 — where Fanny herself suffered a nervous breakdown in 1892, and where Stevenson died in 1894.
Related Material
Bibliography
Masson, Rosaline. The Life of Robert Louis Stevenson. Edinburgh and London: W. R. Chambers, 1923. Internet Archive. Contributed by the Digital Library of India. Web. 13 August 2021.
---
Created 13 August 2021