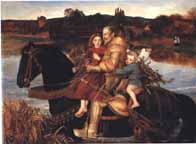 Sir John Everett Millais. A Dream of the Past — Sir Isumbras at the Ford. 1857. [Click on picture for larger image.]
About the sale of this work my mother had a good tale to tell. One evening in 1858, when they were living in London, she was standing outside the house, waiting for the door to be opened, when she was accosted by a grey-haired man in shabby garments, who said he, too, wished to come in. The observation startled her, for she had never seen the man before; and, mistaking him in the darkness for a tramp, she told him to go a'way. "But," pleaded the stranger, with a merry twinkle in his' eye, "I want 'The Knight Crossing the Ford,' and I must have it!" The idea now dawned upon her that he was a harmless lunatic, to be got rid of by a little quiet persuasion. This, therefore, she tried, but in vain. The only reply she got was, "Oh, beautiful dragon! I am Charles Reade, who wrote Never Too Late to Mend, and I simply must have that picture, though I am but a poor man. I would write a whole three-volume novel on it, and then have sentiment enough to spare. I only wish I had someone like you to guard my house!"
And he got the picture! For, though a stranger to my mother, my father knew him well, and was pleased to find on his return home that it had fallen into his hands. Reade was, in fact, an intimate friend of Millais, and when in town they met together almost daily at the Garrick Club.
That he was proud of his purchase the following letter to Millais attests: —
From Charles Reade.
"GARRICK CLUB.
"IL MAESTRO, — The picture is come, and shall be hung in the drawing-room. I cannot pretend to point out exactly what you have done to it, but this I know — if looks admirably well. I hope you will call on me and talk it over. I am very proud to possess it. Either I am an idiot, or it is an immortal work. Yours sincerely,
"CHARLES READE."
In another letter he says : — "It is the only picture admitted into the room, and has every justice I can tender it. As I have bought to keep, and have no sordid interest in crying it up, you must allow me to write it up a little. It is infamous that a great work of Art should be libelled as this was. some time ago."
In a letter to Millais, asking for a ticket for the "private view" day at the Academy, he says: — " The private view, early ih the morning, before I can be bored with cackle of critics ahd entangled in the tails of women, is one of the things worth living for, and I shall be truly grateful if you will remember your kind promise and secure me this pleasure."
References
Millais, John Guile. The Life and Letters of John Everett Millais, President of the Royal Academy. 2 vols. New York: Frederick A. Stokes, 1899.
[Scanned, edited, and linked by GPL.]
---
Last modified 28 September 2004