An "osier-isle" or willow island in the Thames near Shepperton, in the evening.
When Meredith and his first wife Mary Ellen were still together, they were living in Vine Cottage in Lower Halliford, close to the river here. In one of his finest poems, Sonnet XLVII in "Modern Love," he records an autumn walk along the bank when the swallows were "gathering in the sky" and singing in an "osier-isle" across the water.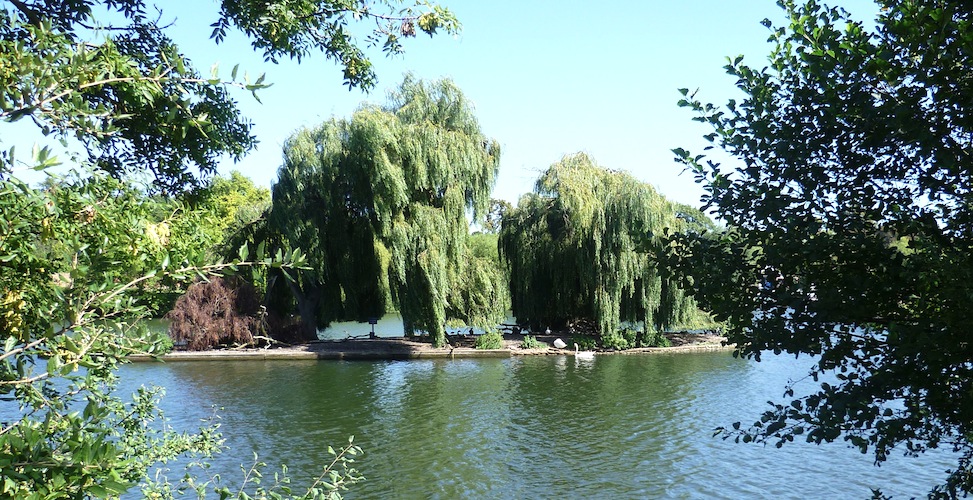 Duck Eyot, near Molesey Lock.
Though a good walk from Shepperton, this smaller island, really an islet, is home to several willows and (as its name implies) known for its bird-life. Meredith may have had this in mind rather than one of the larger local Thames islands when he wrote of the swallows on the "osier-isle."
The couple's relationship has been agonizingly difficult. "But in the largeness of the evening earth," he says, they found a moment of harmony: "Our spirits grew as we went side by side." It was not so much that they related to each other again, but that they both related to the moment: "The hour became her husband and my bride." Still, he feels, the moment was granted by "Love," which had taken so much from them, but now "blessed [their] dearth" by bestowing this precious moment on them.
A pair of swans with their cygnets at Shepperton.
There are many birds on the river here, but the ones that stand out are the swans (the Queen's swans, which are monitored yearly in the ancient tradition known as "Swan Upping"). Meredith ends Sonnet XLVII by thinking of spring and renewal, saying that here he has "seen across the twilight wave / The swan sail with her young beneath her wings." The original version of the sonnet ends on a still more hopeful note: "And still I see across the twilight wave, / The swan sail with her young beneath her wings" (emphasis added; see the Mitchell and Benford ed., 69). Either way, uplifting as well as unbearably poignant, this is nature-loving Meredith at his very best.
Photographs and text by Jacqueline Banerjee. You may use the images without prior permission for any scholarly or educational purpose as long as you (1) credit the photographer and (2) link your document to this URL in a web document or cite it in a print one. [Click on the images for larger pictures.]
References
Meredith, George. Modern Love and Poems of the English Roadside, with Poems and Ballads. (1862) Ed. Rebecca N. Mitchell and Criscillia Benford. New Haven & London: Yale University Press, 2013.
_____. Poems, Vol. I. Memorial Edition, Vol. XXiV. New York: Scribner's, 1910 (the sonnet is on p. 227). Internet Archive. Web. 5 May 2013.
---
Last modified 15 December 2015