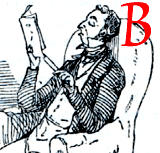 Benjamin Disraeli based his eighth novel, Henrietta Temple. A Love Story (1837), on his secret affair with the married woman, lady Henrietta Sykes, with whom he broke the relationship in 1836, when he found out that she had taken another lover. This semi-autobiographical silver-fork novel, with an engaging plot and witty dialogue, is a good account of Disraeli's early passionate relationship and his ambivalence towards women. Disraeli abandons the political theme in the novel and concentrates almost entirely on love story. In addition to the interest of the autobiographical element, the novel also poses some questions about the identity of the main male character.
Before Disraeli entered the world of politics, he had several affairs with women, the most notable was Lady Henrietta Sykes (1801?-1846), the wife of Sir Francis Sykes (1799–1843), the 3rd baronet of Basildon in Berkshire, the grandson of a nabob, who had returned from India with a fortune of £300,000 pounds (Cesarani 51). Sir Francis had a magnificent mansion called Basildon Park in Berkshire, but was often away on prolonged health continental tours. In summer 1833, Disraeli met his beautiful wife, and soon after he began a passionate romance with her. Henrietta was older than Disraeli, sensual, desirable, and ready to satisfy his complex emotional needs. Disraeli's love letters to his mistress have not been preserved, but the few of Lady Henrietta's to him reveal that she merged her sexual passion with maternal care. Before signing off she put in some of them such complimentary closes as 'A mother's kiss', or 'Your mother'. Disraeli's later relationships with older women, particularly with his wife, Mary Anne, provide strong evidence that he loved to be mothered by women, and they loved to mother him.
Henrietta and Disraeli did not hide their intimacy and were often seen together. Sir Francis was very understanding and he consoled himself with an affair with Mrs. Bolton, who was Disraeli's former mistress. In summer 1834, Henrietta presented Disraeli to Lord Lyndhurst (John Singleton Copley, 1772-1863), the former Tory Lord Chancellor, with whom she also had an affair. This acquaintance helped Disraeli in his political career. At first he was Lord Lyndhurst's private secretary and eventually he became his political protégé. When the baronet finally found out about his wife's new affair, he forbade her to meet with Disraeli and took her with him to France, but soon after her return, the lovers continued to meet. Eventually, Lady Sykes received a letter from her sister threatening that she would be excluded from society if she did not break off the romance with Disraeli. Meanwhile Dizzy's passion for Lady Sykes cooled down while Henrietta soon became attracted by the handsome Irish painter Daniel Maclise (1806-1870), a friend of Disraeli's, who had drawn him.
When her husband, Sir Francis, found his wife in bed with Maclise, he could no longer tolerate her conduct and threatened a divorce. The Morning Chronicle published a paid announcement stating that the baronet would not pay off the debts of his wife Henrietta, because she committed adultery with Daniel Maclise. However, legal proceedings were not implemented as they would have revealed yet another shocking fact ± namely, that £2,000, which Lady Sykes had received from her spouse, was in the pocket of Disraeli. The scandal ruined Lady Sykes's reputation, and she no longer was to be seen in London's high society. Dickens was so appalled by Sir Francis's public revelation about the infidelity of his wife that he gave the name Bill Sykes to a thief and murderer in Oliver Twist (1837-1839).
Disraeli wrote a sympathetic letter to Lady Henrietta, telling her that no one can judge her solely on her moments of romantic folly. She died in obscurity on May 15, 1846, but earlier managed to write a letter to her former lover, which praised him for his latest novel — Henrietta Temple. On the same day she died, Disraeli gave his famous three-hour speech in the House of Commons against Prime Minister Robert Peel. after which he became the new leader of the Conservative party. In Disraeli's novel the eponymous protagonist, Henrietta Temple, bears a strong physical resemblance to Henrietta Sykes, but she is much younger, only eighteen, whereas Lady Sykes was in her thirties when she had an affair with the young author.
The plot of Henrietta Temple has all the characteristic features of the silver-fork novel, which emphasizes and idealized upper-class life and romance. The main male character, Ferdinand Armine, is a descendant of an ancient and illustrious Catholic family in England, whose pedigree can be traced down in the male line to the time of William the Conqueror. Ferdinand's grandfather of the same name, Sir Ferdinand Armine, was nearly elected King of Poland, then he served as a Muslim general for the Ottoman Empire, later he went to Rome and endeavoured to be appointed Cardinal by the Pope, and after return to England he laid claim to a Peerage, lastly, he went to France, became a member of the Jacobin Club and one of the Regicides, and finally lost his head by the guillotine. The young Ferdinand enters the army, runs into a lot of debts on the credit of the rich inheritance of his maternal uncle, who eventually leaves his fortune to a Miss Katherine Grandison, the hero's distant cousin. The only way for Ferdinand to improve his situation is to marry the rich heiress. He proposes to Katherine and she almost immediately agrees to the marriage. Being in strained financial circumstances, Ferdinand regards marriage as a matter of necessity and not love. However, a chance meeting of the beautiful Henrietta on horseback in a woodland glade turns his life upside down.
Her countenance was raised and motionless. It seemed to him that it was more radiant than the sunshine. He gazed with rapture on the dazzling brilliancy of her complexion, the delicate regularity of her features, and the large violet-tinted eyes, fringed with the longest and the darkest lashes that he had ever beheld. From her position, her hat had fallen to the very back of her head, revealing her lofty and pellucid brow, and the dark and lustrous locks that were braided over her temples. The whole countenance combined that brilliant health and that classic beauty which we associate with the idea of some nymph tripping over the dew-bespangled meads of Ida, or glancing amid the hallowed groves of Greece. Although the lady could scarcely have seen eighteen summers, her stature was above the common height; but language cannot describe the startling symmetry of her superb figure. [158]
Ferdinand, who is struck by this startling apparition, falls in love with her at first sight. According to the novel's narrator, this is the only true love.
There is no love but love at first sight. This is the transcendent and surpassing offspring of sheer and unpolluted sympathy. All other is the illegitimate result of observation, of reflection, of compromise, of comparison, of expediency. The passions that endure flash like the lightning: they scorch the soul, but it is warmed for ever. [158-59]
Henrietta fully reciprocates Ferdinand's passion, which they must hide. Their letters, beginning with 'My Henrietta' and 'My Ferdinand', reflect their total romantic infatuation and physical need for each other. Ferdinand conceals his pledge to Katherine, but soon Henrietta finds out about her lover's engagement.
At this point the romantic plot becomes as bizarrely fantastic as the tale of Sir Ferdinand Armine, our hero's grandfather. Broken hearted, Henrietta allows her father to take her to Italy to restore her bruised spirit. Sure enough, in Pisa, she meets Lord Montford, the heir to a dukedom, who proposes to her. She agrees to become his wife because she believes that he can console her for her loss of Ferdinand. In the meantime, Ferdinand collapses when he hears that Henrietta has abandoned him, developing, like Disraeli, a brain fever, during which he is tenderly nursed by his mother and ... Catherine. However, when an unexpected legacy makes Henrietta one of the richest heiresses in England, she returns to England, meets Ferdinand, and discovers that their passionate love for each other has not waned. Eventually, Count Mirabel (a character based on Count Alfred d'Orsay, a close friend of Disraeli's) contrives a cunning plot in which in Lord Montford tactfully resigns Henrietta to her former lover while he simultaneously transfers his affection to Ferdinand's forsaken cousin, Katherine.
Henrietta Temple obviously has many autobiographical elements. Above all, Disraeli based the love between the eponymous character and Ferdinand Armine on his own affair with Lady Sykes. Appropriately, he gave his hero Ferdinand Armine the nickname Lady Harriet bestowed on him! In her letters to Disraeli she used the pet name Ammin for him, which in the novel he slightly modified to Armine. Ferdinand, like Disraeli, is a man plagued by debts facing financial ruin. He is shown as a conceited coxcomb with a remarkable ability to fall into debt. Did Disraeli want to convey some self-criticism in the novel? His debts in 1835 amounted to some 20,000 pounds (Cesarani 56), which is an equivalent of about 1 million pounds at today's value. Apart from having heavy debts and being a notorious dandy, Ferdinand hardly resembles the young author, and the novel does not reflect much of Disraeli's passionate affair with Lady Sykes. Nevertheless, Henrietta Temple can be read not only as a conventional silver-fork novel, but also as Disraeli's prophetic projection how to ease his financial anxieties and shape his future career. The most viable solution for both debt-ridden Disraeli and his fictional character Ferdinand Armine was to marry a rich heiress, enter Parliament, or both. In fact, the Roman Catholic Relief Act of 1829 would have permitted Ferdinand to sit in Parliament, which would make him immune from debtors' prosecution. Did Disraeli also think of Parliament as a safe haven for debtors? His debts were enormous, much bigger than those of Ferdinand, and the fear of being arrested in a sponging-house haunted his imagination. In Henrietta Temple Disraeli designed a success strategy not only for his character Ferdinand Armine, but also for himself. In 1837, he was elected to Parliament, and two years later he married a wealthy widow, Mary-Anne Wyndham Lewis. A seat in Parliament offered Disraeli immunity from imprisonment for debts, but it took him more than twenty years to pay them all off.
Related material
References and Further Reading
Blake, Robert. Disraeli. London: Eyre & Spottiswode Publishers, 1967.
Cesarani, David. Disraeli: The Novel Politician. New Haven and London: Yale University Press, 2016.
Disraeli, Benjamin. Henrietta Temple. A Love Story. London: Henry Colburn, 1837.
Flavin, Michael. Benjamin Disraeli: The Novel as Political Discourse. Brighton: Sussex Academic Press, 2005.
Jerman, B. R. The Young Disraeli. Princeton NJ: Princeton University Press, 1960.
Kirsch, Adam. Disraeli. New York: Nextbook and Schocken, 2008.
Kuhn, William M. The Politics of Pleasure: A Portrait of Benjamin Disraeli. London: Simon & Schuster UK Ltd, 2006.
Monypenny, William Flavelle, George Earle Buckle. The Life of Benjamin Disraeli, Earl of Beaconsfield. Volume: 1. Edition: Revised. New York: Russell & Russell, 1968.
O'Kell, Robert. Disraeli: The Romance of Politics. Toronto: University of Toronto Press, 2013.
Richmond, Charles, Paul Smith, eds. The Self-fashioning of Disraeli, 1818-1851. Cambridge: Cambridge University Press, 1998.
Smith, Paul. Disraeli: A Brief Life. New York: Cambridge University Press, 1996.
Schwarz, Daniel R. Disraeli's Fiction. London: Macmillan, 1979.
Walton, John K. Disraeli. London: Routledge, 1990.
---
Last modified 12 October 2016