Dickens's Grave in Poet's Corner in Westminster Abbey, a reproduction of a water-colour drawing by Luke Fildes, engraved by J. Sadler. Source: Forster, II, 298. Next to it is a floor-plan of Poet's Corner, with the novelist's grave shown in a darker grey. This appeared in the Illustrated London News of the day. First scanned image, and the commentary that follows, by Philip V. Allingham. Image of the floor-plan scanned by George P. Landow. Photograph of the inscription on the stone, below, by Laurence Cooke. These images may be used without prior permission for any scholarly or educational purpose as long as you (1) credit the person who scanned the image, or the photographer, and (2) link to this URL in a web document or cite it in a print one. [Click on the images to enlarge them.]
Commentary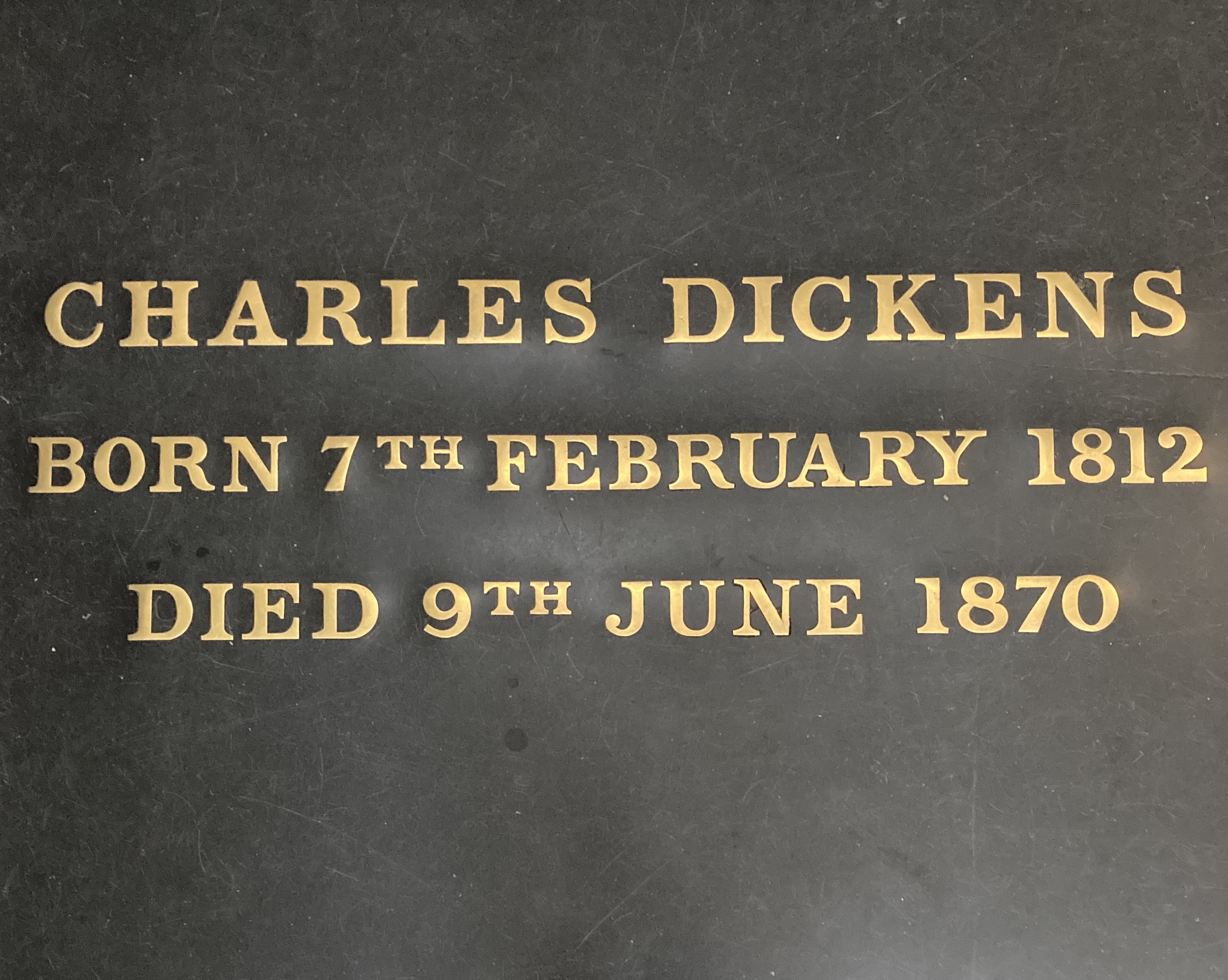 The inscription (interestingly, not quite as
given in Forster's account below).
Alan Watts reports, "Early in the morning of 14 June 1870, Dickens was buried in Poets' Corner. Only members of the family and a few close friends were present. As the brief service was held, the statue of Shakespeare fittingly appeared to look down. Later, as Dean Stanley recorded: 'There was a constant pressure to the spot, and many flowers were strewn upon it by unknown hands, many tears shed from unknown eyes'" (137).
John Forster, Dickens's friend and biographer, relates how the people of England mourned the novelist:
Then, later in the day and all the following day, came unbidden mourners in such crowds, that the Dean had to request permission to keep open the grave until Thursday; but after it was closed they did not cease to come . . . . He alluded to this in the impressive funeral discourse delivered by him in the Abbey on the morning of Sunday the 19th, pointing to the fresh flowers that then had been newly thrown (as they still are thrown, in this the fourth year after his death), and saying that "the spot would thenceforward be a sacred one with both the New World and the Old, as that of the representative of the literature, not of this island only, but of all who speak our English tongue." The stone placed upon it is inscribed
Charles Dickens.

Born February the Seventh 1812. Died June the Ninth 1870.
The highest associations of both the arts he loved surround him where he lies. Next to him is RICHARD CUMBERLAND. Mrs. Pritchard's monument looks down upon him, and immediately behind is DAVID GARRICK'S. Nor is the actor's delightful art more worthily represented than the nobler genius of the author. Facing the grave, and on its left and right, are the monuments of CHAUCER, SHAKESPEARE, and DRYDEN, the three immortals who did most to create and settle the language to which CHARLES DICKENS has given another undying name. [297-98]
Bibliography
Forster, John. The Life of Charles Dickens. The "Charles Dickens Edition." 2 vols. Vol. 2. London: Chapman and Hall, [n. d.]
Illustrated London News. Vol. 56 (January-June 1870): 662. Google Books. Web. 22 May 2021.
Watts, Alan S. The Life and Times of Charles Dickens. New York: Random House, 1991.
---
Last modified 3 August 2021 (last image added)