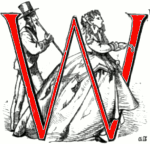 hen it came to unhappy or broken Victorian marriages, the "Battle of the Sexes" was always an unequal one, with men having the nuclear options. Perhaps the most drastic of these was recourse to the mental health system—Victorian wives of suspect insanity were known to have been involuntarily committed to asylums by incompetent, gullible, or corrupt doctors, not for their well-being but for the convenience of their husbands. Literary men were not exempt from marital discord, or from the temptations of the patriarchy. On 8 June, 1858, the "London Correspondent" of the Dundee, Perth, and Cupar Advertiser, informing the Scots of the rumor swirling "in every literary society" that Dickens's marriage had collapsed, exclaims, "Strange that matrimony should have proved so unhappy an estate to our three most celebrated writers of fiction! Mrs. Thackeray is in a mad-house, Lady Bulwer Lytton persecutes her husband by spiteful novels, while the affair which is just now exciting so much scandal completes the misfortunes matrimonial of the trio" ("London Correspondent"). The London Correspondent was too optimistic. More was to come: Catherine Dickens and Lady Bulwer Lytton would also encounter the machinery of the mad-house.
Thackeray, whatever his faults, may be acquitted; the genuineness of his wife's descent into mental illness is documented, as is his concern for his family. Dickens apparently only made inquiries, perhaps in a "gaslighting" sort of way. John Bowen has argued that newly discovered letters of Catherine Dickens's friend Edward Dutton Cook cement the claim that in 1858 Dickens made an attempt to have his wife declared mentally unsound. Bowen surmises that the case did not go forward because the man Dickens consulted, Dr. Thomas Harrington Tuke, would not agree. It is perhaps more likely that the implied threat of the asylum was a lever to steer Catherine to sign the settlement (late June of 1858), and that no actual attempt was made. That leaves Sir Edward Bulwer Lytton, Bart.
The then-plain Mr. Edward Bulwer's marriage to Miss Rosina Wheeler was doomed from the start, though it probably didn't help that Bulwer's doting, strong-willed mother Elizabeth pronounced the doom, and threatened to eliminate her son's allowance; nor that Wheeler's strong-willed mother Anna, co-author with William Thomson of Appeal of One Half of the Human Race, Women, Against the Pretensions of the Other Half, Men, to Retain them in Political, and Hence in Civil and Domestic, Slavery (1825), thought that enslavement to the dandy Edward Bulwer was particularly repugnant. Nevertheless, they married under this maternal cloud on 29 August 1827. "Marry in haste, repent at leisure," however, is not exactly appropriate, as neither of them gave it a rest.
Fast forward thirty years-- skipping by two children, infidelity, physical abuse, election to Parliament as a Radical, best-selling novels by Edward, and denunciations and satirical novels mocking him by Rosina—to 1858, where we find plain Mr. Bulwer now Sir Edward Bulwer Lytton, Baronet, and a Member of Parliament in the Conservative interest. He seems to have escaped his abusers of the 1830s, when The Age newspaper dubbed him "Wifewhack" and Thackeray mocked him as Sir Bulwig. He is one of England's Great Men.
In the beginning of the new year 1858, the government of Palmerston was on its last legs, and it finally fell in February. It was the last "Whig" administration. The Conservatives formed a government led by the Earl of Derby, and Bulwer Lytton—former radical turned conservative—was rumored to be in line for a position in the cabinet as Colonial Secretary. To serve, he had to resign his seat in Parliament and stand in a new election, but the Liberals in Hertford were strong and his chances were deemed slim. Cabinet formation dragged on, and by May it appeared as if Derby would fill the post by having Bulwer Lytton raised to a peerage, where he could join the cabinet from the House of Lords.
Rosina's ire had grown with time, and with every report that her nemesis was having his path smoothed by powerful men. One of the achievements of the outgoing Palmerston administration had been the passage of the Matrimonial Causes Act of 1857, and newspaper paragraphs began hinting that Lady Bulwer intended to be one of the first to avail herself of the new law. She also began a sort of crowd-funding strategy (publishing the pamphlet Appeal to the Justice and Charity of the English Public) to raise money to alleviate her reported "urgent distress" (Dundee, Perth, and Cupar Advertiser, 15 Jan 1858, p. 4; the same paragraph was in scores of papers). The divorce act was unequal; men could win a divorce by proving infidelity, women had to prove infidelity plus cruelty, etc. Bulwer, who did not wish to be certified "cruel" in court, was alarmed; court transcripts were in the public record, and Rosina was adept at slinging mud. In her very unsuccessful novel of 1856, Very Successful! she quotes a genuine advertising blurb for her husband's Works: "they abound in illustrations that teach benevolence to the rich, and courage to the poor; they glow with the love of freedom . . .; they speak a sympathy with all high aspirations, and all manly struggles." Showing her profound talent for invective, she parses the blurb with the facts of her life:
Physically destroying one child—morally destroying another—kicking his wretched victim of a wife a month before her first child was born till she was nearly dead—turning that poor little martyr out of the house the moment she was born, as he ultimately did, to die—springing, in one of his rabid furies, upon his wife, and making his hideous horse-teeth meet in her cheek till the blood streamed down her, and ultimately turning her and her children out of their home to make way for one of his infamous mistresses — are, no doubt, among these high aspirations and manly struggles! and cannot of course be considered as the least infringement, either on humanity or morality; as in one of his books a whole chapter is devoted to a little blasphemous twaddle, on 'the depth and purity of a father's love for his first-born!' and as not having even the courage of his loathsome vices, he never is to be caught doing his own dirty work, but employs some of his kept mistresses to write anonymous defamatory letters to periodicals against his wife, and soi disant reviewers (?) to write abusive ones to her. Truly the force of villainy and of humbug can no further go, and the only hypocrisy now left for the honourable baronet to enact will be, to join the crusade against those brutal husbands who, in low life, mutilate their wretched legal victims, and empty their houses to till police reports. [II,70]
The chronology: 1828, pregnant Rosina is allegedly kicked by Edward after refusing to continue climbing a library ladder to fetch for him; birth of Emily Bulwer who is separated from Rosina and sent by Edward's command to a wet nurse in the country; 1831, birth of son Edward Robert; 1834, Edward rushes at Rosina with a carving knife, and bites her cheek, witnessed by Rosina's maid, and he writes an apology which she keeps; 1836, Rosina discovers Edward and his mistress Laura Deacon in flagrante in his rooms at the Albany, she alerts the neighborhood and the press, and a legal separation ensues; 1838, Edward takes custody of the children; 1839, publication of Cheveley; Or, The Man of Honour, Rosina's first novel; 1848, death of Emily from Typhus in a boarding house; 1840s and 1850s, Edward has Rosina watched, hoping to be able to prove adultery so he can divorce her, and he marshals his connections to keep her books from gaining prominence. The paragraph in Very Successful! comprises an appalling litany of charges, but Rosina had the goods on the bads. Proofs were in her hands.
By the start of 1858, her anger had not abated, and following in the newspapers the course of her husband's public successes over the early months of the year was embittering. For "Sir Liar" to be a famous writer was one thing; for him to become one of the leaders of the British Empire another. As Marie Mulvey-Roberts notes, "his fame was now a scourge" (p. 122). In the end, Derby did not have to hoist Bulwer Lytton into the House of Lords to get him into the Cabinet after all. The Liberals decided not to field a candidate, counting on the Derby administration to quickly fail and a general election to be called. Bulwer Lytton thus only had to show up to be returned to Westminster.
Rosina, who had just published a new novel, The World and his Wife; or, A Person of Consequence. A Photographic Novel, had lived in Clarke's Hotel in the Somerset town of Taunton since 1855, where she had made friends and had supporters of her cause. When the announcements were made that Sir Edward Bulwer Lytton would appear on the Hustings on Tuesday, 8 June, she decided to act. She and her landlady, Mrs. Clarke, had posters printed abusing Bulwer, and announcing that she would contest the election not as a Liberal candidate (impossible for a woman), but as a wronged wife. They made the long journey, and arrived very early in the morning at the Dinsdale Arms in Hereford. After paying a hotel employee to placard the town, the women retired for some rest. In the afternoon, Sir Edward and their son Robert ascended the platform before the crowd of voters, surrounded by a semi-circle of carriages full of fashionable ladies, and Edward began his oration. Sarah Wise, in her book Inconvenient People, follows the dramatic account in Lady Bulwer Lytton's later memoir A Blighted Life, and notes that "Her precise words at the hustings and their reception cannot be verified by any other source" (p. 426). The contemporaneous newspaper accounts, however, are close to the gossipy version that Jane Carlyle gave in a letter to Thomas on 12 July that is based in part of what Robert Bulwer Lytton told Mrs. John Forster:
I have sent for a penny Telegraph (Today's) in which there is a long account of Lady Bulwer's incarceration. Meanwhile here is what I already know of this scandal.
Lady B, true to her oath that she "would oppose 'Sir Liar, Coward' at every step 'of his carrer' [sic]—rendered herself, escorted by her Taunton Landlady, at Hertford, the evening before his Election. For that night she kept her self incognita. But the Town was astonished in the morning, at seeing itself placarded all over with insults to Bulwer.
In his absence (for he did not arrive till the business of the day commenced) his son, Robert Lytton, never dreaming who had done this thing, employed people to rush about and tear the placards down. Meanwhile Lady B presented herself at the house of the Mayor, and demanded as a British subject to hire the Town Hall—therein to deliver a Lecture on her Husband! The Mayor horribly perplexed refused to see her; sent his wife to her to—offer her a glass of wine! which her Ladyship politely declined, saying that if anything but water passed her lips that day, her Husband would call her drunk. She then made her way—to the Hustings. Sir Liar had meantime arrived and seated himself on the platform. Mercifully for him, his wife was under the impression that it was at the Town Hall he would show himself If she had known he was so near her, and got her eye on him, I dont doubt but she would have taken him up and shaken him, as the Taylors' dog did to Nero.
The Son was also on the platform; hearing a sort of disturbance, he looked in the direction of it, and saw a prodigiously large woman, dressed entirely in white, with a white parasol, talking to the people about her. He turned away without a suspicion that the white phenomenon concerned him! But again his attention was drawn to it by increased commotion; and he noticed at the same time a group of Gentlemen talking very gravely among themselves, and looking from the white figure to his Father, and from his Father to the white figure! And then at last the idea struck him "like a pistol shot" "it is my Mother"!—(This was his own account to Mrs Forster). He asked, and was told, even so! Thinking of nothing but to save his Father from a collision "which would have killed him"—(I dont doubt) Robert Lytton ran to his Father and taking him by the arm said "Lady Bulwer is here"—Sir Liar needed to have this repeated three times before he heard—(so deaf he is!) and when he did hear he fancied the Lady Bulwer meant was his sister-in-law, and answered "How very kind of Georgina to come!"— Robert Lytton desperate then, seeing the white figure approaching nearer and nearer screamed into his ear; "Your Wife is here"—Sir Liar "staggered, turned as white as a sheet—cast one wild look at his wife—and—"rushed down the companion ladder"!—(the platform steps) near the bottom of which, by the kind foresight of somebody, his carriage and servants stood ready! He "jumped in—fell back almost fainting"—and was gallopped back to Knebworth—leaving his friends to speak for him!—Dont you think The Lady had the best of the day here? (Carlyle Letters Online)
In our time, such an outrageous and easily trolled incident would be documented on social media and spread instantly around the world. In 1858, the media led by The Times (edited by Bulwer's friend John Delane) attempted to pretend that nothing untoward had happened. The next issue of the local weekly Hertford Mercury had two articles and a letter relating to the election, but no mention of Lady Bulwer's intervention. The Times gave a lengthy account that omitted Lady Bulwer Lytton's presence; Sir Edward's speech is given in the full eloquence of a printed text, with numerous interruptions of "(cheers)" and "(hear hear)," and concluding in triumph:
Gentlemen, I now take my leave of you; and when the time shall come for me to retire from public life, and to enjoy, if heaven so please, between old age and the grave, some interval of leisure and repose, I hope that many of those who have so kindly received me this day will be enabled to say that upon the whole the Hertfordshire member has been no discredit to their choice. (Cheers.) ["Re-Election, p. 10]
The Times being The Times, this account was respected and repeated through most English newspapers. But the article that followed this anodyne report was ominously "The Eruption of Vesuvius." Sir Edward and Lady Bulwer Lytton were indeed spewed all over the news for the next two months.
What the election had actually been like that day on the hustings quickly began leaking out, at first through the Irish and Scottish press. Versions were, of course, alive on the wings of rumor, as people will talk. The "London Letter" of the Roscommon Journal in Ireland yokes Rosina's "holy show" with her attack on John Forster for his supposed review of her latest novel, and also with Dickens's preference for a "pretty actress" over his own wife. The Cork Constitution gives the full story under the rubric "A Scene at the Hertfordshire Election." While these accounts are truer than the one in The Times, they have been shaped for maximum effect. Many boil down the details to the delicious irony of Bulwer concluding his remarks "with a fervent tribute of admiration to the womanly beauty exhibited in the long line of open carriages, chaises, and vans drawn up in front of the hustings" ("Lady Bulwer Lytton," p. 4) at exactly the moment that Rosina appears, and he turns white and flees ignominiously by hopping across into a neighboring garden. Rosina then seizes the dais and quips that instead of Colonial Secretary her husband "ought to have been sent to the colonies long ago, at the expense of the country!" (i.e., transported as a common criminal). Most papers reported that her lively and entertaining oration lasted at least a quarter of an hour.
Lady Bulwer and Mrs. Clarke returned to Taunton, and awaited further developments. On friday the 11th a servant announced that a Mr. Fredrick Hale Thomson wished to see her. Thomson was accompanied by a nurse, and Rosina agreed to be examined. Thomson had come with a posse equipped to remove her to a madhouse, but after a lengthy examination in which he attempted to prod her into some manifestation of irrationality, he decided she was sane. He then asked what would be needed for her not to repeat her public performance, and Rosina stipluated that her allowance be increased to £500 (paid on time), and her debts of approximately £2,500 be retired. Thomson took this request back with him to London. Ten days later, not having heard from Thomson, Rosina travelled by a night train to London with Mrs. Clarke and a family friend and companion named Rebecca Ryves and called on Thomson at his house early in the morning. She was greeted cordially, and asked to return at five to discuss the matter; Rosina replied that she would, but that if her demands had not been met she would go to a magistrate with some incriminating letters that she had brought with her. When she returned she was confronted with two policemen and the staff of a local asylum, with the papers already signed to commit her to an asylum in Brentford, eight miles West of central London. Miss Ryves ran out of the house taking with her the letters, but Mrs. Clarke stayed and was allowed to accompany Lady Lytton in the carriage to Brentford, Dr. Gardiner Hill's private asylum in Wyke House, a large mansion with capacious grounds and gardens ten miles to the West of the City. She was later confined in Dr. Hill's own home close by, Inverness Lodge, where over the next two weeks she was visited by several other doctors as well as members of the government Lunacy Commission. All had at least some connections with her husband, and were predisposed to help him with his embarrassment. While Rosina was out of the way, Sir Edward and his solicitor visited Taunton request that Mrs. Clarke surrender to them Rosina's letters and papers, which she refused [Wise, 226-31].
While the decks were stacked and the dice loaded in her husband's favor, because of her rank and connections Lady Lytton could play a different game than most wives in this predicament. Her imprisonment in Dr. Hill's house, as he was eager to convey when she was released, was not harsh. She had visits by her lawyer, Mrs. Clarke, and the range of the house (she made particular friends with Hill's daughter). She could with attendants take the carriage into neighboring villages. Most importantly she could communicate via the post and help with the campaign to shame her husband and gain her release. In this a flourishing and free press were the great weapons. While one local paper, the Taunton Courier, and Western Advertiser, took her husband's side, the Somerset County Gazette campaigned for her. This was in part a business decision; they advertised widely (e.g., Illustrated London News, 10 July) to sell across the nation their edition with the scoop supplied by Mrs. Clarke and Miss Ryves. A report on the public meeting held at Clarke's Hotel of concerned Taunton citizens, in which her sanity was attested to by numerous citizens, also appeared nationally. Papers favoring the opposition Liberal Party were happy to spread the news of Lady Bulwer Lytton's plight. The Daily Telegraph in particular took up her cause with a vengeance. More gothic variations of the story existed as well. The penny pamphlet Extraordinary Narrative of an Outrageous Violation of Liberty and Law, in the Forcible Seizure and Incarnation of Lady Lytton Bulwer, in the Gloomy Cell of a Madhouse!!! featured a cover illustration showing "Lady Bulwer Lytton's first interview with her solicitor in the dismal dungeon of Bedlam" (The cover is reproduced in Wise, p. 239).
The pressure on Bulwer Lytton—and on the medical men involved—quickly became insupportable. Newspaper paragraphs implied lawsuits would be forthcoming. By 14 July, Rosina had won her release, signaled by the following paragraph, undoubtedly planted by her husband, reprinted in friendly papers across the kingdom:
LADY BULWER LYTTON.—We are informed on the best authority, that all matters in reference to this lady, about whom paragraphs have appeared in some of the public journals, are in process of amicable settlement, by family arrangements, to the satisfaction of all parties concerned. [London Daily News (14 July 1858): 5]
Three days later The Times printed letters from her son Robert Bulwer and the two qualified doctors who had examined her after her abduction (Forbes Winslow, chosen by Rosina's legal advisors, and J. Conolly who worked for her husband). Without admitting that their initial support for Rosina's admittance to Dr. Hill's care was wrong, they now endorsed her release. The doctors' brief statements attempted to mitigate the charge that Sir Edward's actions had been harsh or cruel, but the damage to his reputation had been done. He now took the course that common sense should have suggested years before. Robert, who had last seen his mother two decades previous, went with her to live on the continent, and Edward agreed to raise her allowance to £500 and pay off her debts.
In the end, no one should side with either Edward Bulwer Lytton or Rosina wholeheartedly. The evidence backs up Rosina's central charge of cruelty and hypocrisy, but she also sometimes slandered her husband with preposterous accusations (such as Edward and Benjamin Disraeli being lovers). Rosina's mental anguish manifested itself in an unproductive anger that today might be classified as one of the psychological disorders; she was as trapped by her grievance as Mr. Gridley in Bleak House was by his anger at the wrongs of Chancery. As David Lytton Cobbold notes, "Cheated she was and obsessed she became. And as she grew older her obsession lost its reason and all humour" (12). Both Jane and Thomas Carlyle were sympathetic to her claims, as well as sharing a dislike of Bulwer Lytton that predated the failure of the marriage and an appreciation for clever abuse even from the tongue of a "Lady." Thomas Carlyle offered sage advice in a letter to her on New Year's Eve, 1850. It was in response to a visit the day before that prompted this journal entry, "Lady Bulwer Lytton—a most melancholy interview of her seeking. How the Furies do still walk this earth, and shake their 'dusky glowing torches' on men and women!"

Restrain your grievous sorrows within your own heart; they will become softer to you there; piously managed, they are capable of all becoming blessings to you then. That is a fact, however strange it may seem.— You do not want for energy, for courage and strength, wherever else your defect may lie: Oh understand that whatever strength you have is now to be directed to endure with nobleness, to endure with silence, excluding the profane vulgar and its brutish gazings from the sanctuary of your woes. Alas, could you well learn this, all might still recover itself to an unlooked-for extent! [Carlyle Letters Online]
Rosina's fury, however, was not completely unproductive. While the laws surrounding lunacy had been reformed to some extent, there can be no doubt that insufficient protection was given, and it was still all too easy for the well-connected to use the law for their convenience or financial benefit. One of Dickens's most endearing characters, David Copperfield's "Mr. Dick," almost ended up imprisoned because, as Betsey Trotwood says, his brother thought him "a little eccentric — though he is not half so eccentric as a good many people — he didn't like to have him visible about his house, and sent him away to some private asylum-place" (Chap. 14; p. 199). In 1845, a group of prominent former inmates created the "Alleged Lunatics Friend Society." One of them took note of Lady Bulwer Lytton's plight: John Perceval (son of Prime Minister Spencer Perceval), wrote a long letter to the editor of the Morning Advertiser summarizing the history of reform, and praising the burst of media interest that Rosina had instigated: "the case of a distinguished victim like Lady Bulwer Lytton was needed to arouse the attention of the public, and to secure the voluntary co-operation of the public Press, in demanding that a reform of our lunatic institutions" ("Abuses," p. 2). Rosina's case was publicized in the summer of 1858 along with others, such as a Mr. Leach (whose mother had him committed to keep him from marrying a woman not of her liking). Shortly after Lady Lytton's release, the novelist Charles Reade began exposing an abuse of a wrongful committal by his family of a completely sane "young man of property" ("London Correspondent," Inverness, p. 5). The details that emerged of how easily Lady Lytton was squirreled away—she was initially committed on the signatures of an ophthalmic surgeon and an apothecary (!)—made clear the potentials for abuse.
Bulwer Lytton's crude attempt to make his wife "invisible" pointed in particular to dangers for women from liege-lord husbands who had secured for themselves at the alter many of their wives' rights to property. The publicity around her case helped prod Parliament into appointing a select committee in 1859 to address concerns relating to the asylum system, although genuine reform was still in the future. And there were ripple effects: it is probable that the example of this "proud, beautiful, talented, determined and independent soul" (Cobbold, 12) inspired her granddaughter, the noted suffragette Constance Lytton.
Related material
References and Further Reading
"Abuses of the Laws of Lunacy." Morning Advertiser. 12 August 1858, p. 4.
Blain, Virginia. "Rosina Bulwer Lytton and the Rage of the Unheard." Huntington Library Quarterly. 53.3 (1990): 210-236.
Bowen, John. "Unmutual Friend: How Charles Dickens Tried to Place his Wife in an Asylum." TLS. (19 Feb 2019). https://www.the-tls.co.uk/articles/public/charles-catherine-dickens-asylum/. Accessed 22 March 2019.
Carlyle Letters Online. Thomas Carlyle to Lady Bulwer Lytton, 31 December 1850. Duke University Press. http://carlyleletters.dukeupress.edu/clo/. Accessed 22 March 2019.
Cobbold, David Lytton, 2nd Baron Cobbold of Knebworth. A Blighted Marriage: The Life of Rosina Bulwer Lytton, Irish Beauty, Satirist, and Tormented Victorian Wife, 1802-1882.. Hertfordshire: Knebworth House Trust, 1999.
Dickens, Charles. David Copperfield.. Ed. Nina Burgis. Oxford: Oxford UP, 1997.
"From our London Correspondent." Dundee, Perth, and Cupar Advertiser. 8 June 1858, p. 2.
"From Our London Correspondent." Inverness Courier. 19 August 1858, p. 5.
"Lady Bulwer Lytton." The Times. 19 July 1858, p. 12.
"Lady Bulwer Lytton at her Husband's Election." Glasgow Herald. 25 June 1858, p. 4.
Lytton, Rosina Bulwer Lytton, Baroness. A Blighted Life. London: The London Publishing Office, 1880. Hathi Trust.
---. Unpublished letters of Lady Bulwer Lytton to A.E. Chalon, R.A. Intro. and notes by S.M. Ellis. London: E. Nash, 1914. Hathi Trust.
---. Very Successful! 3 vols. London: Whittaker, 1856. Hathi Trust.
Mitchell, Leslie George. Bulwer Lytton: The Rise and Fall of a Victorian Man of Letters. London: Palgrave, 2003.
Mulvey-Roberts, Marie. "Fame, Notoriety and Madness: Edward Bulwer-Lytton Paying the Price of Greatness." Critical Survey. 13.2 (2001): 115-134.
Nurse, Julia. "Rosina Bulwer Lytton: A Blighted Life." Wellcome Library (posted 18 Sept 2015). http://blog.wellcomelibrary.org/2015/09/a-blighted-life-the-incarceration-of-rosina-bulwer-lytton/ . Accessed 6 March 2019.
"Re-election of Sir E. B. Lytton." The Times., 9 June 1858, p. 10. Small, Helen. Love's Madness: Medicine, the Novel, and Female Insanity, 1800-1865. Oxford: Clarendon Press, 1998.
Wise, Sarah. Inconvenient People: Lunacy, Liberty, and the Mad-Doctors in England. Berkeley, CA: Counterpoint, 2013.
---
Last updated 28 March 2019