[Click on images for larger images. You may use these and the following images without prior permission for any scholarly or educational purpose as long as you (1) credit the photographer and (2) link your document to this URL in a web document or cite it in a print one.]
Selected Examples of Painted Decoration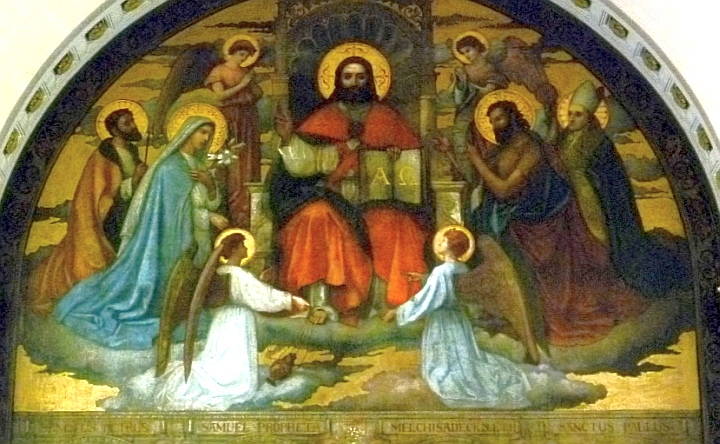 Christ Enthroned and Adored, by N. H. J. Westlake. St John the Baptist is shown on the right. Oil on canvas, this replaced the original carved stone reredos by John Edward Carew, as part of a decorative scheme carried out in St John the Baptist Church, Bristol Road, Brighton, from 1890 onwards.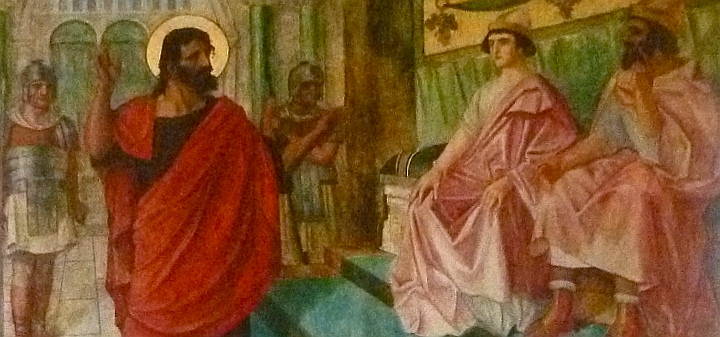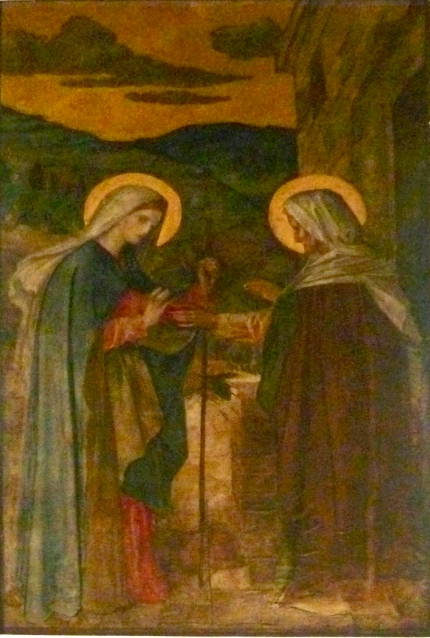 Left to right: (a) Detail of a narrative painting in the sequence on the nave wall, showing episodes of the life of a rather burly and suitably hirsute John the Baptist: this seems to be his denunciation of Herod. (b) Narrative painting showing the Visitation, with the pregnant Virgin Mary visiting her relative Elizabeth, who is pregnant with John the Baptist. .
Stencilling means that most of the surfaces of the church interior are part of the decorative scheme. It appears on both pillars and walls, the border around the walls, shown on the left below, incorporating St John the Baptist's initials.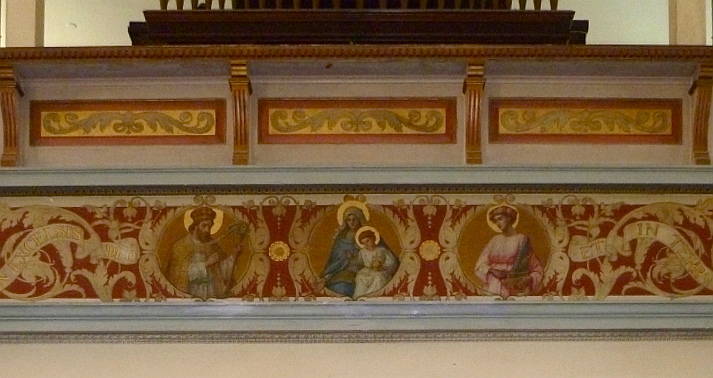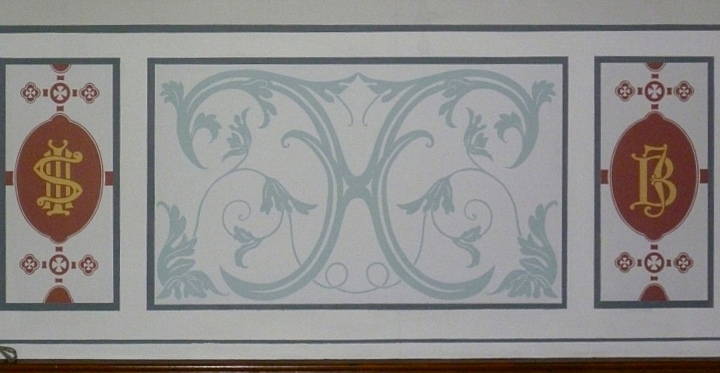 (a) Detail of the delicately painted front for the organ gallery. (b) Example of stencilling.
Selected Examples of Stained Glass
These windows, all from 1887, are by Westlake working as part of the firm of Lavers & Westlake. Finely detailed and expressive, they are full of fresh floral patterning and rich fruit motifs, and steeped in the history and the legendary of the saints, with which he was so familiar. They contrast markedly with the dramatic episodes in the narrative paintings, which seem more boldly executed. Both art forms, however, contribute greatly to the impact of the interior. Westlake continued to be involved with this church for the rest of his life, so some of his last works are to be seen here.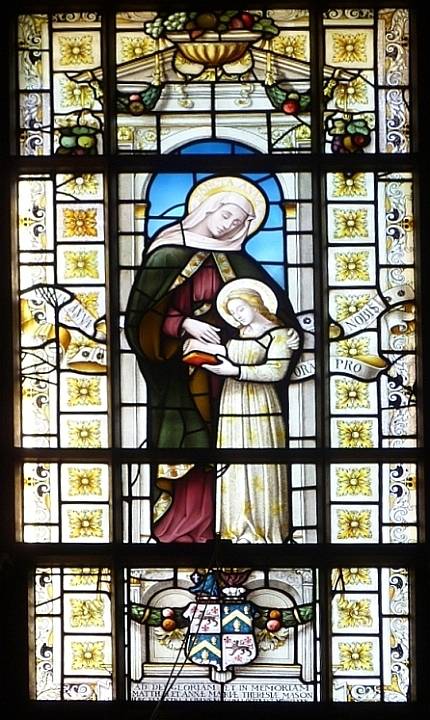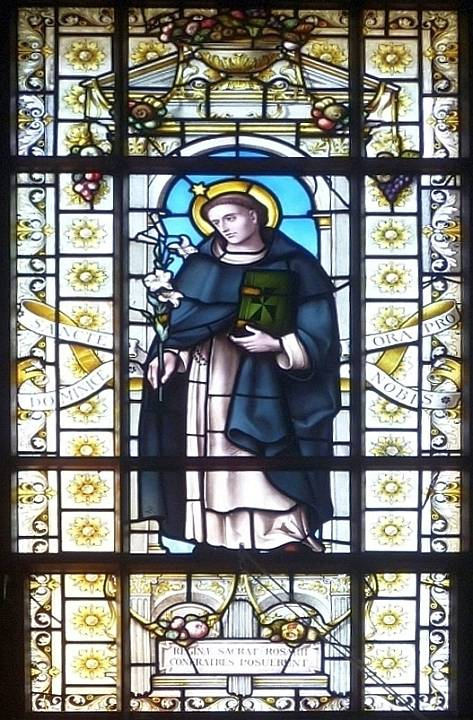 Left to right: (a) The Virgin Mary, wearing white to symbolise her purity, with her mother, St Anne. She holds the Book of Wisdom. (b) St. Elizabeth of Hungary, holding roses in her apron (in legend, she had been holding bread to distribute to the poor, but her charitable deed was miraculously concealed in this way). (c) St. Dominic, founder of the Dominican order, holds the scriptures in one hand, a stalk of lilies in the other, to symbolise his chastity. A nice detail is the star in his halo: according to legend, a star appeared on his forehead during his baptism.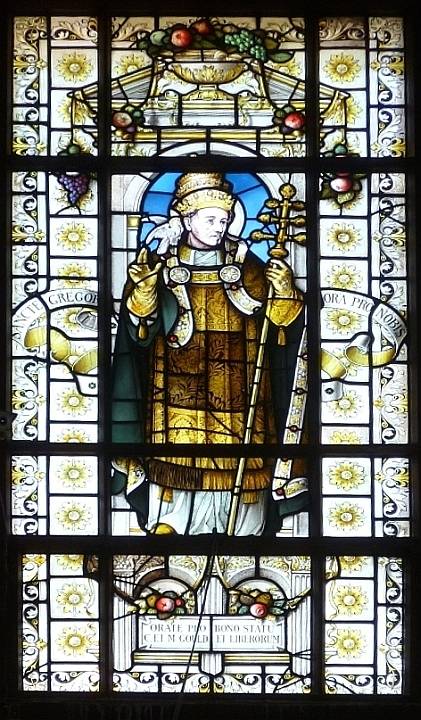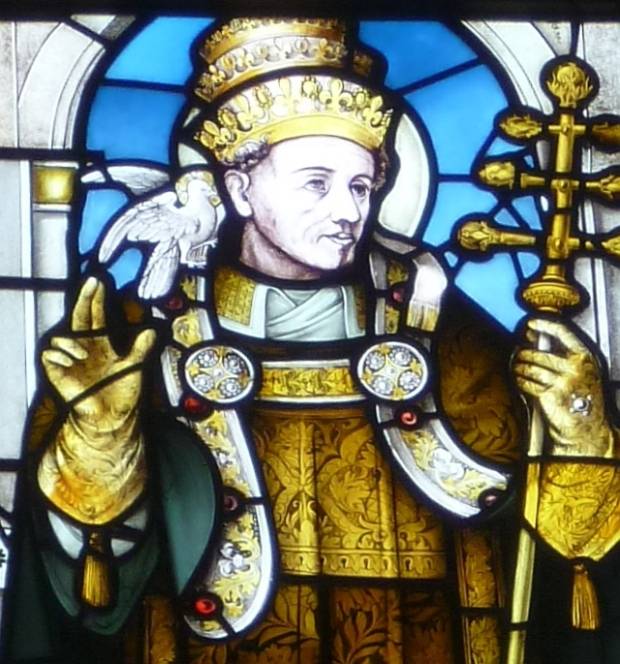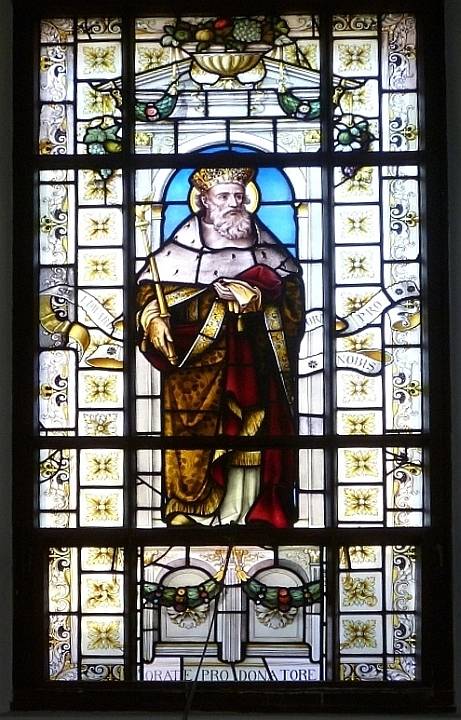 From left to right: (a) St. Gregory, the pope responsible for the Gregorian mission, i.e., for sending St Augustine to convert the Anglo-Saxons. (b) Detail of St Gregory, who has a dove on his shoulder, symbolising the Holy Spirit, speaking into his ear to inspire him. (c) St. Edmund the King (Edmund the Confessor), shown holding the coronation ring. (b)
Sources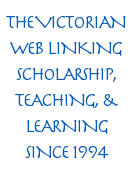 Eberhard, Robert."Stained Glass Windows at St John Baptist (RC)." Church Stained Glass Windows. Web. 12 May 2011.
The Catholic Encyclopedia. Web. 12 May 2011.
Church of St John the Baptist, Brighton. British Listed Buildings. Web. 12 May 2011.
---
Last modified 26 October 2015