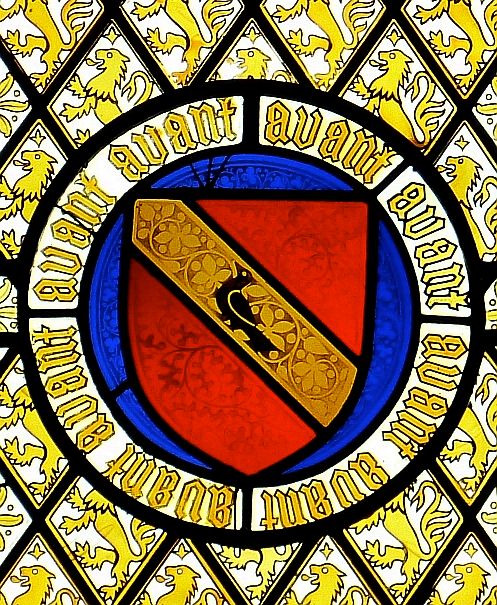 The Pugin arms in the dining-room window
Augustus W. Pugin (executed by William Wailes)
1844
The Grange, Ramsgate
Related Material
Photographs and text 2010 by Jacqueline Banerjee.
[You may use these images without prior permission for any scholarly or educational purpose as long as you (1) credit the photographer and (2) link your document to this URL in a web document or cite it in a print one.]
These windows in the living-rooms of The Grange show stained glass being imported into the domestic context, and providing an important element of the decor of the room. What it brought with it was the light not only of the outdoors, but of the sacred and historical, as well as an aesthetic enrichment. The Pugin family arms, shown here, feature a martlet, or stylized bird, with the motto that Pugin himself added: "en avant." It was "entirely his own invention" (Hill 138), and surely the perfect motto for this driven visionary, who was to have so much influence on the future face of Britain; yet there is something paradoxical about it too, in that his inspiration came so authentically from the past. Only the second, most important, word of the motto appears here. Pugin's father may have come of more ordinary stock than he claimed (see Hill 10-11), but Pugin's mother Catherine, neé Welby, really did come from a good family, the Welbys of Lincolnshire, and the Welby coat of arms is an old one. This is shown next to the Pugin arms in the same window (see below left). Again, a short form of the Welby motto is given, with only the words "per ignem" from "per ignem per gladium" (by fire, by sword).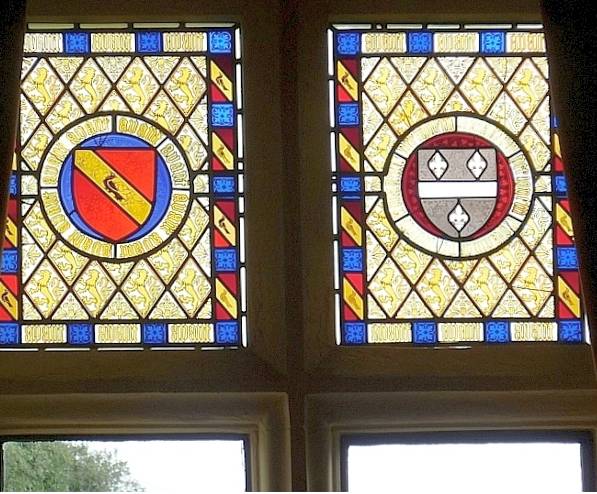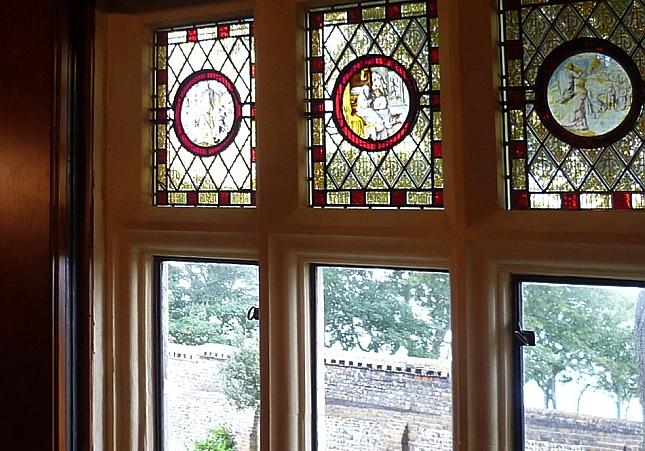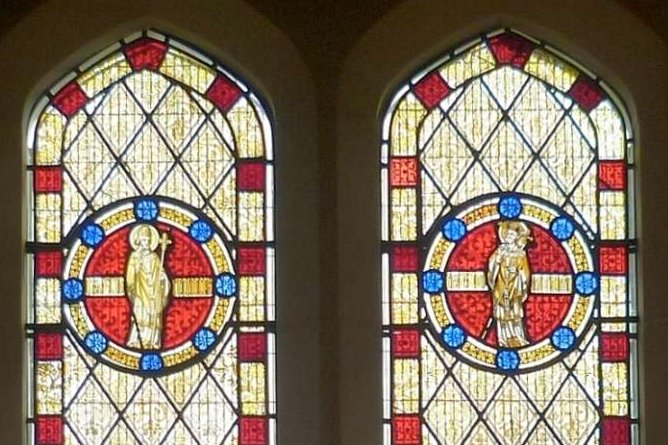 Left to right: (a) Two of the upper lights in the dining room windows, including the Pugin and Welby arms side by side. Pugin wanted to preserve the views from the windows, so had plain glass in the lower panes (the angles are caused by the drapes). (b) West-facing windows in the library, with small sixteenth-century Flemish roundels set in a pattern made from the Pugin monogram. (c) Close-up of St Anselm, who became the Archbishop in 1093, and St Thomas à Becket, martyred at Canterbury in 1170.
Pugin designed two sets of windows for the library, a three-light window looking west, "with beautiful roundlets of ancient glass set in foliage and Martlets," and a bay-window "filled with Pugin's patron Saints, looking over his drawing board" (Powell 13).

The bay-window in the library, over Pugin's drawing board, showing four saints who all became Archbishops of Canterbury (Saints Augustine, Anselm, Thomas and Dunstan).
The antique roundlets in the former depict Abraham's sacrifice (on the right), and other Old Testament episodes. For Pugin, these windows were an important part of the decor of a particularly important room, filled with pictorial references to family, friends, patrons, Kentish saints, and loved places, as well as books and uplifting texts. It placed him in an empowering context. "He worked fastest when happy, singing during pauses Gregorian hymns and snatches from Operas" (Powell 20), with the light streaming in on him and with all these sources of inspiration around him.
Horace Walpole had used stained glass in his trend-setting neo-Gothic work on his villa, Strawberry Hill, in the mid-eighteenth century. But Pugin's designs, with their deeply personal relevance, were integrated into an intimate and unostentatious family home. The Arts and Crafts movement would take up this pioneering idea, with early examples at Morris's Red House. In a development of the personal element, later houses could draw on photographic images to produce stained-glass portraiture, as seen, for instance, in the windows of the Galsworthy family home in Kingston upon Thames, Surrey.
References
Hill, Rosemary. God's Architect: Pugin and the Making of Romantic Britain. London: Penguin, 2008.
Powell, John Hardman. Pugin in His Home: Two Memoirs by John Hardman Powell. Ed. Alexandra Wedgwood. New enlarged edition. Ramsgate: The Pugin Society, 2006.
---

Victorian
Web

Visual
Arts

Stained
Glass

A. W. N.
Pugin

Next
Last modified 25 September 2010