obert J. Newbery (1861-1940) is listed in Kelly's Postal Office London Directory as having a studio at 27 Fitzroy Square, London. His work is particularly well-represented in south and west Wales — so well represented, in fact, that Martin Crampin has discovered well over a hundred windows by him there (see "Tag Archives: Annunciation x 3"). Crampin finds that they were made in the period 1895-1925, and include some to the same design, such as the three he discusses online, of the Annunciation. These are to be found in the churches of St Cattwg, Gelligaer, the Church of St Mathias, Treharris, and St Catherine, Pontypridd, all in the Welsh valleys. No wonder John Newman describes Newbery as "the busiest practitioner" in South Wales, characterizing his style as employing "the richly detailed, Netherlandish or Germanic idiom of other contemporary firms such as Ward & Hughes and the later Burlison & Grylls" (99). Newman lists five major east windows by him and one grand west one (99-100).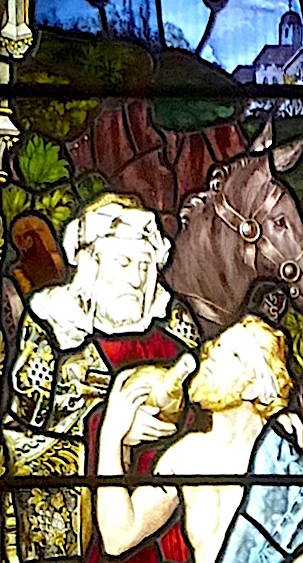 Detail of the Good Samaritan window at St Augustine, Penarth.
Works
Bibliography
Crampin, Martin. Stained Glass from Welsh Churches. Talybont: Y Lolfa, 2014.
_____. Tag Archives: Annunciation x 3." Research on Stained Glass in Wales. Web. 2 September 2019.
Harrison, Martin. Victorian Stained Glass. London: Barrie & Jenkins, 1980.
Kelly's Post Office London Directory: 1217.
Newman, John. Glamorgan (The Buildings of Wales series). New Haven and London: Yale University Press, 2004.
"Robert J.Newbery (1861-1940)" Gwydir Lliw Nghymru: Stained Glass in Wales. Web. 2 September 2019.
---
Created 2 September 2019