large advertisement near the beginning of the The Church of England Yearbook of 1908 declares A. L. Moore to be an "ARTIST IN STAINED GLASS AND ECCLESIASTICAL ART DECORATOR. STUDIOS and WORKS: St. Augustine House, 89 Southampton Row, Russell Square, London" (ix). This was by then a very well-established family firm.
Arthur Louis Moore (1849-1939) was born in Brixton and apprenticed in 1868 to a glass painter, J. T. Lyon, with a workshop in Fitzroy Square. In 1871 he set up a partnership, "Gibbs & Moore, artists in stained glass and mural decorations," first in Great Russell Street, then in Southampton Row, where the firm continued to supply churches all over the country, and even beyond it, well into the twentieth century. By this time it was being run by his son, Charles Eustace Moore (1880-c.1965), whom he had taken into partnership in 1896.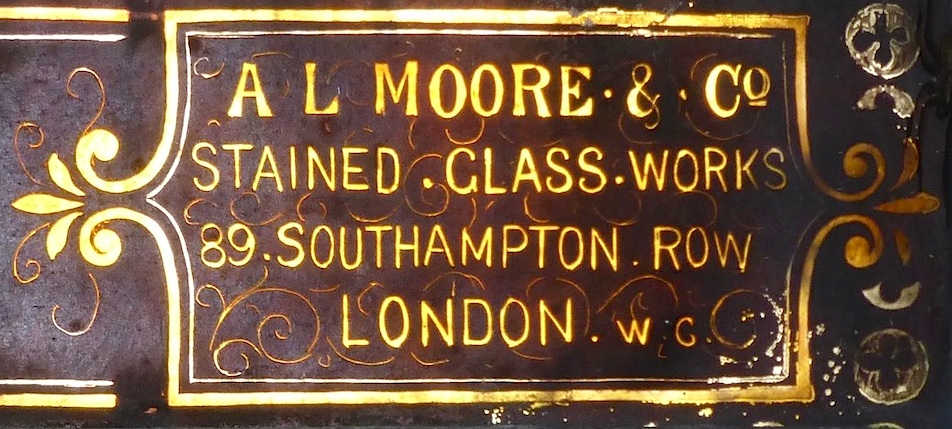 In its later history, A. L. Moore and Son remained in the Bloomsbury area until 1946, finally closing (as C. E. Moore) in about 1955 when it was located in Regent's Park Terrace. — Jacqueline Banerjee.
Works of A. L. Moore and C. E. Moore
Sources
"A. L. Moore & Son." V & A Archive of Art and Design. Web. 9 November 2015.
The Church of England Yearbook: The Offical Year Book of the National Assembly of the Church of England. Google Books (very partial view). Web. 9 November 2015.
---
Last modified 29 June 2017