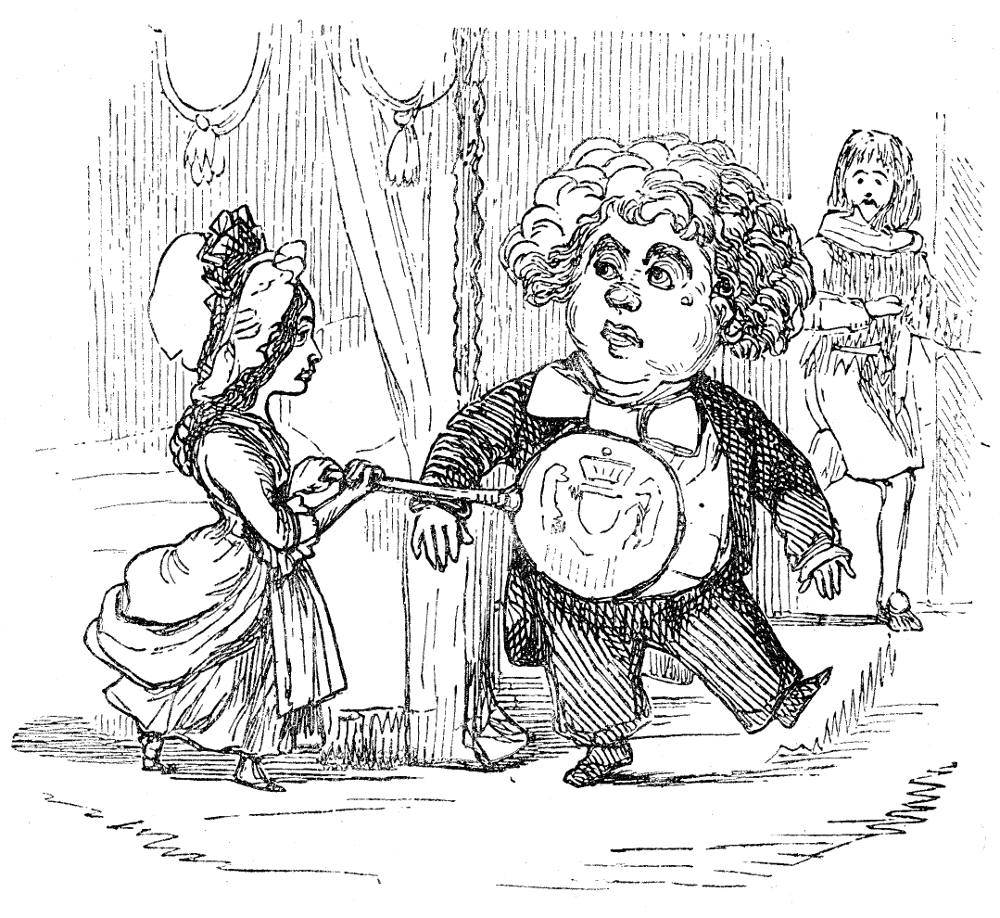 H. R. H. Prince Bulbo and the Chambermaid, uncaptioned half-page illustration by M. A. Titmarsh [W. M. Thackeray], 1855. Wood-engraving, probably by William Linton. 7.9 cm high by 8.9 cm wide (3 ⅛ by 3 ½ inches), vignetted, twenty-sixth illustration for The Rose and The Ring, p. 344. Descriptive headlines: "Jealousy, in Some Men's Souls, Warmer Burns than Pans of Coals" (pp. 344-345). [Click on the image to enlarge it; mouse over links.]
Passage Illustrated: Changing the Focus to the Maid, Betsinda
"Hands off; none of your impertinence, you vulgar, low people!" says Betsinda, walking off with her pan of coals. She heard the young gentlemen playing at billiards as she went upstairs: first to Prince Giglio's bed, which she warmed, and then to Prince Bulbo's room.
He came in just as she had done; and as soon as he saw her, "O! O! O! O! O! O! what a beyou — oo — ootiful creature you are! You angel — you peri — you rosebud, let me be thy bulbul — thy Bulbo, too! Fly to the desert, fly with me! I never saw a young gazelle to glad me with its dark blue eye that had eyes like shine. Thou nymph of beauty, take, take this young heart. A truer never did itself sustain within a soldier's waistcoat. Be mine! Be mine! Be Princess of Crim Tartary! My Royal father will approve our union; and, as for that little carroty-haired Angelica, I do not care a fig for her any more."
"Go away, Your Royal Highness, and go to bed, please," said Betsinda, with the warming-pan.
But Bulbo said, "No, never, till thou swearest to be mine, thou lovely, blushing chambermaid divine! Here, at thy feet, the Royal Bulbo lies, the trembling captive of Betsinda's eyes."
And he went on, making himself so absurd and ridiculous, that Betsinda, who was full of fun, gave him a touch with the warming-pan, which, I promise you, made him cry "O-o-o-o!" in a very different manner.
Prince Bulbo made such a noise that Prince Giglio, who heard him from the next room, came in to see what was the matter. As soon as he saw what was taking place, Giglio, in a fury, rushed on Bulbo, kicked him in the rudest manner up to the ceiling, and went on kicking him till his hair was quite out of curl. [Chapter IX, "How Betsinda Got the Warming Pan," pp. 342-343]
Commentary
The large-headed Prince in evening-wear of the mid-nineteenth century is about to lose his balance — and his heart — over the eighteenth-century costumed chambermaid, Betsinda, whom Thackeray introduced in Chapter V. In the background, Prince Giglio (in seventeenth-century attire), having heard the commotion, enters the room, preparing the reader for the farcical physical humour to follow.
Image scan and text by Philip V. Allingham. [You may use this image without prior permission for any scholarly or educational purpose as long as you (1) credit the person who scanned the image and (2) link your document to this URL in a web document or cite the Victorian Web in a print one. ]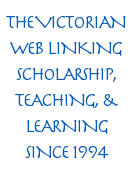 Bibliography
Furniss, Harry. The Rose and The Ring; or, The History of Prince Giglio and the Prince Bulbo. William Makepeace Thackeray's Christmas Books. With illustrations by the author and Harry Furniss. The Harry Furniss Centenary Edition. London: Macmillan and Co., 1911. Pp. 287-428.
Titmarsh, M. A. [W. M. Thackeray]. The Rose and The Ring London: Smith, Elder, 1855.
---
Created 26 July 2022