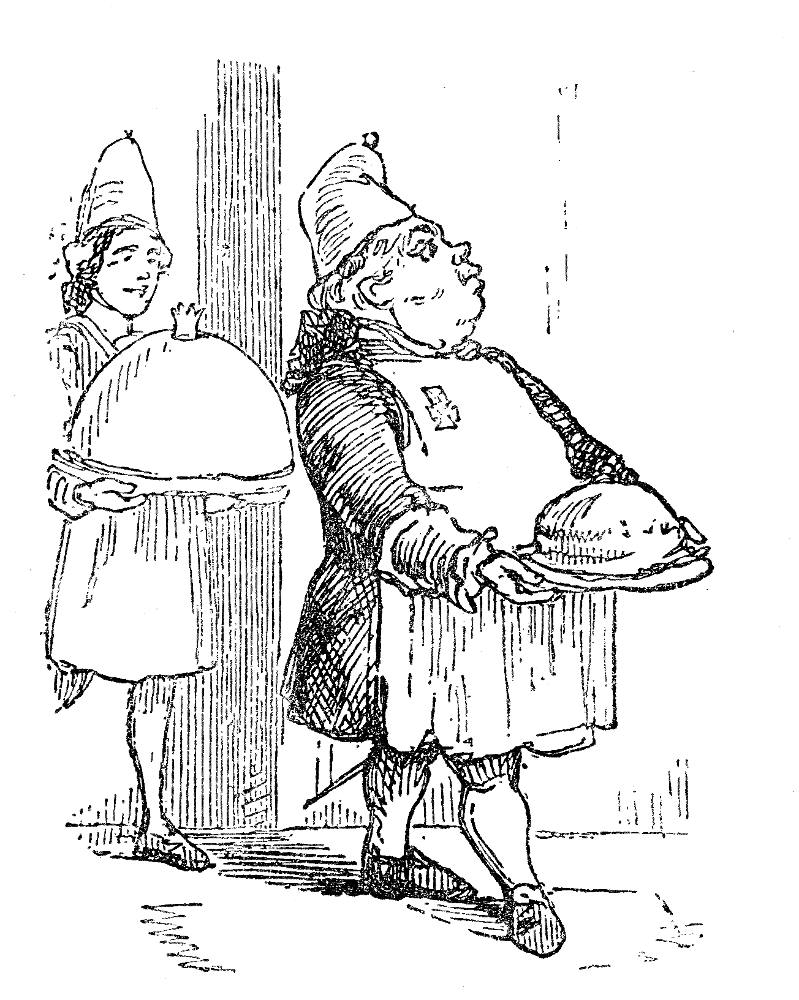 The Royal Pastrycook
W. M. Thackeray
1855
Wood engraving, probably by William Linton
6.9 cm high by 5 cm wide (2 ¾ by 2 inches), vignetted
Sixteenth illustration for Thackeray's The Rose and The Ring, p. 320.
Scanned image and text by Philip V. Allingham.
[You may use this image without prior permission for any scholarly or educational purpose as long as you (1) credit the person who scanned the image and (2) link your document to this URL in a web document or cite the Victorian Web in a print one.]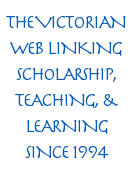 Passage Illustrated: King Valoroso addicted to Pastries
King Valoroso was very delicate in health, and withal so fond of good dinners (which were prepared for him by his French cook Marmitonio), that it was supposed he could not live long. Now the idea of anything happening to the King struck the artful Prime Minister and the designing old lady-in-waiting with terror. For, thought Glumboso and the Countess, 'when Prince Giglio marries his cousin and comes to the throne, what a pretty position we shall be in, whom he dislikes, and who have always been unkind to him. We shall lose our places in a trice; Mrs. Gruffanuff will have to give up all the jewels, laces, snuff-boxes, rings, and watches which belonged to the Queen, Giglio's mother; and Glumboso will be forced to refund two hundred and seventeen thousand millions nine hundred and eighty-seven thousand four hundred and thirty-nine pounds, thirteen shillings, and sixpence halfpenny, money left to Prince Giglio by his poor dear father.'
So the Lady of Honour and the Prime Minister hated Giglio because they had done him a wrong; and these unprincipled people invented a hundred cruel stories about poor Giglio, in order to influence the King, Queen, and Princess against him; how he was so ignorant that he could not spell the commonest words, and actually wrote Valoroso Valloroso, and spelt Angelica with two l's; how he drank a great deal too much wine at dinner, and was always idling in the stables with the grooms; how he owed ever so much money at the pastrycook's and the haberdasher's; how he used to go to sleep at church; how he was fond of playing cards with the pages. So did the Queen like playing cards; so did the King go to sleep at church, and eat and drink too much; and, if Giglio owed a trifle for tarts, who owed him two hundred and seventeen thousand millions nine hundred and eighty-seven thousand four hundred and thirty-nine pounds, thirteen shillings, and sixpence halfpenny, I should like to know? Detractors and tale-bearers (in my humble opinion) had much better look at HOME. All this backbiting and slandering had effect upon Princess Angelica, who began to look coldly on her cousin, then to laugh at him and scorn him for being so stupid, then to sneer at him for having vulgar associates; and at Court balls, dinners, and so forth, to treat him so unkindly that poor Giglio became quite ill, took to his bed, and sent for the doctor. ["VI. How Prince Giglio Behaved Himself," pp. 318-320]
Commentary
Thackeray demonstrates the effects of too much pastry in one's diet not by a depiction of a portly King Valoroso, but by showing his portly pastry chef carrying in an enormous pie on a small serving dish. Descriptive headlines: "Much I Fear when Hearts are Ill, Small's the Good of Doctor's Pill" (320-21).
Bibliography
Furniss, Harry. The Rose and The Ring; or, The History of Prince Giglio and the Prince Bulbo. William Makepeace Thackeray's Christmas Books. With illustrations by the author and Harry Furniss. The Harry Furniss Centenary Edition. London: Macmillan and Co., 1911. Pp. 287-428.
Titmarsh, M. A. [W. M. Thackeray].The Rose and The Ring. London: Smith, Elder, 1855.
---

Victorian
Web

Visual
Arts

Illus-
tration

William M.
Thackeray

Next
Created 19 July 2022