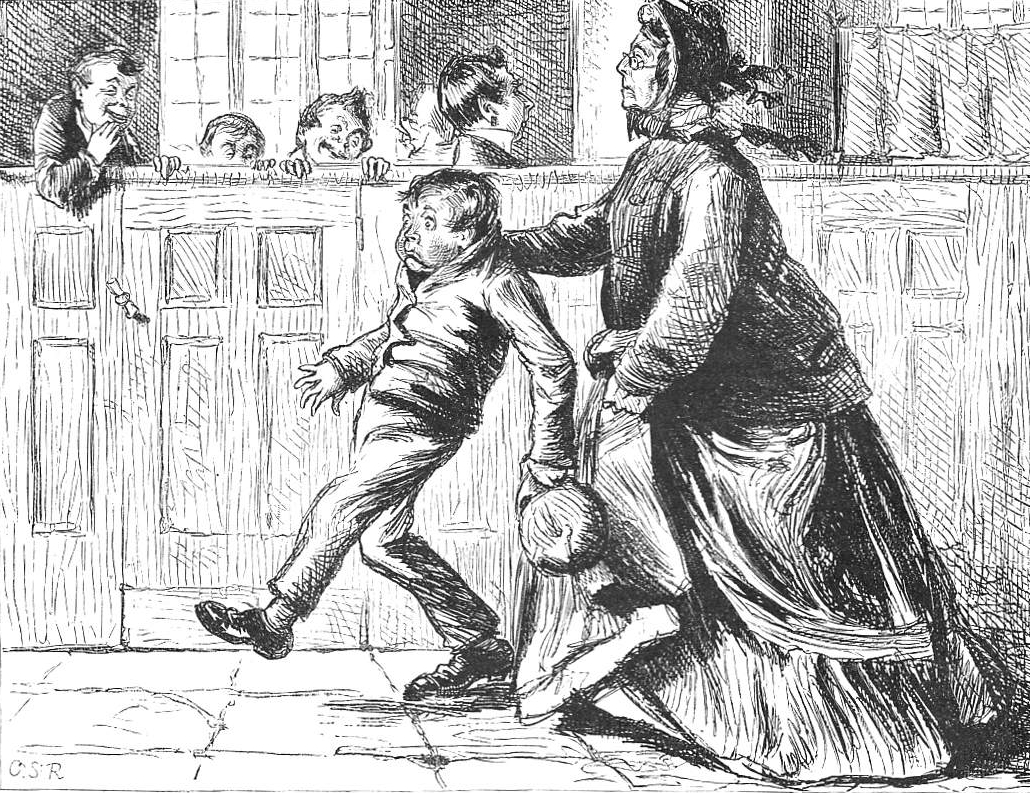 And with his eyes going before him like a prawn's by Charles S. Reinhart (1844-96). 10.2 cm high by 13.3 cm wide (half-page, horizontally mounted in the middle of 42). [Click on image to enlarge it.]
The wood-engraving illustrates a scene on pages 41-42 in "City of London Churches," the ninth chapter in Charles Dickens's The Uncommercial Traveller, this essay having first appeared in All the Year Round on 5 May 1860. The American Household Edition, also containing Reinhart's wood-engravings for Hard Times (1854) and Fildes' for The Mystery of Edwin Drood (1870), was published by Harper and Brothers in 1876.
Passage Illustrated
We are so quiet in our dulness that the three sniggering boys, who have got away into a corner by the altar-railing, give us a start, like crackers, whenever they laugh. And this reminds me of my own village church where, during sermon-time on bright Sundays when the birds are very musical indeed, farmers' boys patter out over the stone pavement, and the clerk steps out from his desk after them, and is distinctly heard in the summer repose to pursue and punch them in the churchyard, and is seen to return with a meditative countenance, making believe that nothing of the sort has happened. The aunt and nephew in this City church are much disturbed by the sniggering boys. The nephew is himself a boy, and the sniggerers tempt him to secular thoughts of marbles and string, by secretly offering such commodities to his distant contemplation. This young Saint Anthony for a while resists, but presently becomes a backslider, and in dumb show defies the sniggerers to 'heave' a marble or two in his direction. Here in he is detected by the aunt (a rigorous reduced gentlewoman who has the charge of offices), and I perceive that worthy relative to poke him in the side, with the corrugated hooked handle of an ancient umbrella. The nephew revenges himself for this, by holding his breath and terrifying his kinswoman with the dread belief that he has made up his mind to burst. Regardless of whispers and shakes, he swells and becomes discoloured, and yet again swells and becomes discoloured, until the aunt can bear it no longer, but leads him out, with no visible neck, and with his eyes going before him like a prawn's. This causes the sniggerers to regard flight as an eligible move, and I know which of them will go out first, because of the over-devout attention that he suddenly concentrates on the clergyman. In a little while, this hypocrite, with an elaborate demonstration of hushing his footsteps, and with a face generally expressive of having until now forgotten a religious appointment elsewhere, is gone. Number two gets out in the same way, but rather quicker. Number three getting safely to the door, there turns reckless, and banging it open, flies forth with a Whoop! that vibrates to the top of the tower above us. [Chapter 9, "City of London Churches," p. 41-42]
Commentary
Dickens's persona himself mentions that, having gained some familiarity on his travels with the churches of Rome, he realised one Sunday that he possessed no such familiarity with the churches in the metropolis of his own country. His "Sunday journeys" (40) into these edificies with their famous tombs lasted, by his own admission, "a year." Slater and Drew, upon testimonial evidence from Charles Dickens, Jr. (1895) and a careful reading of the Dombey and Son, instalment no. 18 (February 1848), in which Florence Dombey finally marries Walter Gay, conclude that this piece is the result of a series of "expeditions" into London churches that Charles Dickens made with his oldest son while the family was still living at No. 1, Devonshire Terrace, Regent's Park (now Marleybone Road). In other words, the material dates from early 1848 through the autumn of 1851. Slater and Drew indicate that the geographical setting of the particular anecdote that Reinhart has selected for realisation is likely "St. Michael Paternoster Royal, on College Hill, . . . although the church was in fact constructed in 1686-94 and the steeple in 1713-17, on either side of the reign of Queen Anne" (106).
There is no parallel illustration by Edward G. Dalziel in the British Household Edition, although Dalziel does include a full-page wood-engraving of a melancholy scene set in a London churchyard to complement Chapter 21, "The City of the Absent," which describes the result of London's depopulation in the second half of the nineteenth century: "Blinking old men who are let out of workhouses by the hour, have a tendency to sit on bits of coping stone in these churchyards. . . . The more depressed class of beggars, too, bring hither broken meats, and munch" (facing p. 105). In contrast to the moribund scene in the churchyard, Reinhart has constructed a lively scene of physical comedy, one based on the practical jokes and incipient romances of Charles Dickens's schoolboy days. Although an American, illustrator C. S. Reinhart has accurately depicted the interior of the eighteenth-century English church, particularly the family pews, over which the malefactor's fellows snigger at him as the rigorous aunt ejects her misbehaving charge from the sacred precincts.
Scanned image and text by Philip V. Allingham [You may use this image without prior permission for any scholarly or educational purpose as long as you (1) credit the photographer and (2) link your document to this URL in a web document or cite the Victorian Web in a print one.]
Bibliography
Bentley, Nicolas, Michael Slater, and Nina Burgis. The Dickens Index. New York and Oxford: Oxford U. P., 1990.
Dickens, Charles. The Uncommercial Traveller, Hard Times, and The Mystery of Edwin Drood. Il. Charles Stanley Reinhart and Luke Fildes. The Household Edition. New York: Harper and Brothers, 1876.
Dickens, Charles. The Uncommercial Traveller. Il. Edward Dalziel. The Household Edition. London: Chapman and Hall, 1877.
Scenes and Characters from the Works of Charles Dickens; being eight hundred and sixty-six drawings, by Fred Barnard, Hablot Knight Browne (Phiz); J. Mahoney; Charles Green; A. B. Frost; Gordon Thomson; J. McL. Ralston; H. French; E. G. Dalziel; F. A. Fraser, and Sir Luke Fildes; printed from the original woodblocks engraved for "The Household Edition." New York: Chapman and Hall, 1908. Copy in the Robarts Library, University of Toronto.
Slater, Michael, and John Drew, eds. Dickens' Journalism: 'The Uncommercial Traveller' and Other Papers 1859-70. The Dent Uniform Edition of Dickens' Journalism, vol. 4. London: J. M. Dent, 2000.
---
Created 23 April 2013

Last modified 6 January 2020