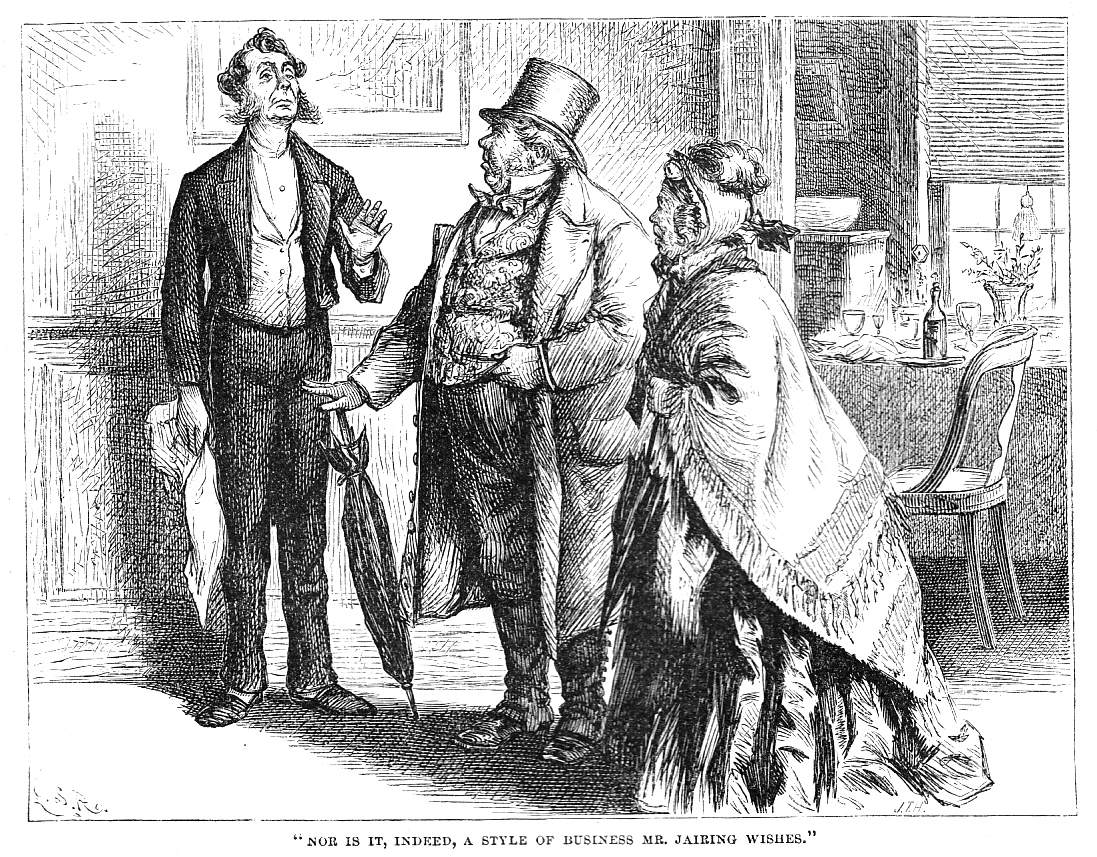 Nor is it, indeed, a style of business Mr. Jairing wishes. by Charles S. Reinhart (1844-96). 10.2 cm high by 13.3 cm wide (half-page, horizontally mounted in the middle of 30). [Click on image to enlarge it.]
The wood-engraving illustrates a scene on page 29 in "Refreshments for Travellers," the sixth chapter in Charles Dickens's The Uncommercial Traveller, this essay having first appeared in All the Year Round on 24 March 1860. The American Household Edition, also containing Reinhart's wood-engravings for Hard Times (1854) and Fildes' for The Mystery of Edwin Drood (1870), was published by Harper and Brothers in 1876.
Passage Illustrated
Now, Jairing's being an hotel for families and gentlemen, in high repute among the midland counties, Mr. Grazinglands plucked up a great spirit when he told Mrs. Grazinglands she should have a chop there. That lady, likewise felt that she was going to see Life. Arriving on that gay and festive scene, they found the second waiter, in a flabby undress, cleaning the windows of the empty coffee-room; and the first waiter, denuded of his white tie, making up his cruets behind the Post-Office Directory. The latter (who took them in hand) was greatly put out by their patronage, and showed his mind to be troubled by a sense of the pressing necessity of instantly smuggling Mrs. Grazinglands into the obscurest corner of the building. This slighted lady (who is the pride of her division of the county) was immediately conveyed, by several dark passages, and up and down several steps, into a penitential apartment at the back of the house, where five invalided old plate-warmers leaned up against one another under a discarded old melancholy sideboard, and where the wintry leaves of all the dining-tables in the house lay thick. Also, a sofa, of incomprehensible form regarded from any sofane point of view, murmured "Bed;" while an air of mingled fluffiness and heeltaps, added, "Second Waiter's." Secreted in this dismal hold, objects of a mysterious distrust and suspicion, Mr. Grazinglands and his charming partner waited twenty minutes for the smoke (for it never came to a fire), twenty-five minutes for the sherry, half an hour for the tablecloth, forty minutes for the knives and forks, three-quarters of an hour for the chops, and an hour for the potatoes. On settling the little bill — which was not much more than the day's pay of a Lieutenant in the navy — Mr. Grazinglands took heart to remonstrate against the general quality and cost of his reception. To whom the waiter replied, substantially, that Jairing's made it a merit to have accepted him on any terms; "for," added the waiter (unmistakably coughing at Mrs. Grazinglands, the pride of her division of the county), "when indiwiduals is not staying in the 'Ouse, their favours is not as a rule looked upon as making it worth Mr. Jairing's while; nor is it, indeed, a style of business Mr. Jairing wishes." Finally, Mr. and Mrs. Grazinglands passed out of Jairing's hotel for Families and Gentlemen, in a state of the greatest depression, scorned by the bar; and did not recover their self-respect for several days. [Chapter 6, "Refreshments for Travellers," p. 29]
Commentary
Michael Slater and John Drew relate Dickens's writing this early, satirical Uncommercial Traveller essay to the second reading of the new Liberal Gladstone administration's "Refreshment Houses and Wine Licensing Bill," which passed second reading at about this date, although this law to provide civilised restaurant service for English railway travellers did not come into effect until 1 July 1860.
We have already seen the difficulties that the affluent middle-class visitors from the Midlands, Mr. and Mrs. Grazinglands, encountered in trying to find something edible for sale at a pastrycook's shop near St. Paul's Cathedral as they take in the sights of the City; Edgar G. Dalziel in the British Household Edition offers a similar visual commentary on the husband's rejecting the "utilitarian buns" produced in the establishment's "beetle-haunted kitchen" in the volume's frontispiece, "Mr. Grazinglands looked in at a pastry cook's window, hesitating as to the expediency of lunching at that establishment". Reinhart now takes up the story graphically by presenting what befalls the hapless couple when they attempt to purchase a palatable meal at Jairing's Family Hotel, immediately around the corner from the pastrycook's. Afterward, the Uncommercial Traveller offers an anecdote about his own misadventures with a hotel restaurant and a haughty waiter in the twenty minutes he has available before the departure of his train. In The Examiner for 31 March 1860, Saturday Review critic Sir James Fitzjames Stephen, who had so lately been highly unappreciative of Dickens's A Tale of Two Cities, lauded this satirical piece by Dickens as both highly "entertaining" (Slater and Drew, 75) and painfully accurate. The running head in the American Household Edition is informative: "Plunder and Cookery at the Bull's Head" (31).
In the Reinhart drawing, the figures of the Grazinglands are somewhat more corpulent, — Reinhart's Mrs. Grazinglands is nothing like the youthful, slender, fashionably dressed beauty of Dalziel's frontispiece, which incorporates considerable detail about the streets of central London. Rather, Reinhart has set his illustration inside the hotel, presumably in the corridor just outside the dining room (seen off to the right). Reinhart telegraphs the hotel waiter's hauteur through his stony expression and cautionary gesture of contradiction as Grazinglands complains about the poor quality and exorbitant cost of the service. Whereas Dalziel's focus is the reaction of the Grazinglands to the meagre and unappetizing fare in the window of the pastryshop, perhaps in order to respond to two of the essay's scenes at once, Reinhart focuses on the supercilious waiter; on the same page as the illustration is the Uncommercial Traveller's own narrative about a similar waiter he once encountered in the coffee-room of a hotel near a railway terminus:
It is a most astonishing fact that the waiter is very cold to you. Account for it how you may, smooth it over how you will, you cannot deny that he is cold to you. He is not glad to see you, he does not want you, he would much rather you hadn't come. He opposes to your flushed condition, an immovable composure. As if this were not enough, another waiter, born, as it would seem, expressly to look at you in this passage of your life, stands at a little distance, with his napkin under his arm and his hands folded, looking at you with all his might. You impress on your waiter that you have ten minutes for dinner, and he proposes that you shall begin with a bit of fish which will be ready in twenty. That proposal declined, he suggests — as a neat originality — "a weal or mutton cutlet." You close with either cutlet, any cutlet, anything. He goes, leisurely, behind a door and calls down some unseen shaft. A ventriloquial dialogue ensues, tending finally to the effect that weal only, is available on the spur of the moment. You anxiously call out, "Veal, then!" Your waiter having settled that point, returns to array your tablecloth, with a table napkin folded cocked-hat-wise (slowly, for something out of window engages his eye), a white wine-glass, a green wine-glass, a blue finger-glass, a tumbler, and a powerful field battery of fourteen casters with nothing in them; or at all events — which is enough for your purpose — with nothing in them that will come out. All this time, the other waiter looks at you — with an air of mental comparison and curiosity, now, as if it had occurred to him that you are rather like his brother. Half your time gone, and nothing come but the jug of ale and the bread, you implore your waiter to "see after that cutlet, waiter; pray do!" He cannot go at once, for he is carrying in seventeen pounds of American cheese for you to finish with, and a small Landed Estate of celery and water-cresses. The other waiter changes his leg, and takes a new view of you, doubtfully, now, as if he had rejected the resemblance to his brother, and had begun to think you more like his aunt or his grandmother. Again you beseech your waiter with pathetic indignation, to "see after that cutlet!" He steps out to see after it, and by-and-by, when you are going away without it, comes back with it. Even then, he will not take the sham silver cover off, without a pause for a flourish, and a look at the musty cutlet as if he were surprised to see it — which cannot possibly be the case, he must have seen it so often before. A sort of fur has been produced upon its surface by the cook's art, and in a sham silver vessel staggering on two feet instead of three, is a cutaneous kind of sauce of brown pimples and pickled cucumber. You order the bill, but your waiter cannot bring your bill yet, because he is bringing, instead, three flinty-hearted potatoes and two grim head of broccoli, like the occasional ornaments on area railings, badly boiled. You know that you will never come to this pass, any more than to the cheese and celery, and you imperatively demand your bill; but, it takes time to get, even when gone for, because your waiter has to communicate with a lady who lives behind a sash-window in a corner, and who appears to have to refer to several Ledgers before she can make it out — as if you had been staying there a year. You become distracted to get away, and the other waiter, once more changing his leg, still looks at you — but suspiciously, now, as if you had begun to remind him of the party who took the great-coats last winter. Your bill at last brought and paid, at the rate of sixpence a mouthful, your waiter reproachfully reminds you that "attendance is not charged for a single meal," and you have to search in all your pockets for sixpence more. He has a worse opinion of you than ever, when you have given it to him, and lets you out into the street with the air of one saying to himself, as you cannot again doubt he is, "I hope we shall never see you here again!" [30-31]
One can only conclude that the standards of the service and the comestibles were equally deplorable in London, in contrast to the sterling calibre of Paris's food-service industry, with which more and more English rail travellers were becoming acquainted. One is reminded of Dickens's earlier satire on waiters in David Copperfield and Phiz's delightful portrait of such a waiter in "The Friendly Waiter and I" (June 1849); however, the waiters in this 1860 essay, having no material reason to be pleasant and serviceable, are quite the opposite. Reinhart shows that the dining room itself is hospitable, with flowers on the table, comfortable chairs, good crystal, and elegant napery (right). And the Grazinglands, in advanced middle-age, are certainly respectably-dressed, bourgeoisie whose custom the hotel should welcome. However, the im macutely dressed waiter with the mutton-chop sideburns and superior air, dismisses them as they are not actually staying in the hotel. As a graphic satire on the problems that travellers encounter in trying to find reasonable meals in pleasant surroundings, Reinhart's plate depicting an uncomfortable couple's confronting a waiter is a brilliant complement to both Dickens's essay and Dalziel's illustration about the don't of dining out in London in 1860.
Scanned image and text by Philip V. Allingham [You may use this image without prior permission for any scholarly or educational purpose as long as you (1) credit the photographer and (2) link your document to this URL in a web document or cite the Victorian Web in a print one.]
Bibliography
Bentley, Nicolas, Michael Slater, and Nina Burgis. The Dickens Index. New York and Oxford: Oxford U. P., 1990.
Dickens, Charles. The Uncommercial Traveller, Hard Times, and The Mystery of Edwin Drood. Il. Charles Stanley Reinhart and Luke Fildes. The Household Edition. New York: Harper and Brothers, 1876.
Dickens, Charles. The Uncommercial Traveller. Il. Edward Dalziel. The Household Edition. London: Chapman and Hall, 1877.
Scenes and Characters from the Works of Charles Dickens; being eight hundred and sixty-six drawings, by Fred Barnard, Hablot Knight Browne (Phiz); J. Mahoney; Charles Green; A. B. Frost; Gordon Thomson; J. McL. Ralston; H. French; E. G. Dalziel; F. A. Fraser, and Sir Luke Fildes; printed from the original woodblocks engraved for "The Household Edition." New York: Chapman and Hall, 1908. Copy in the Robarts Library, University of Toronto.
Slater, Michael, and John Drew, eds. Dickens' Journalism: 'The Uncommercial Traveller' and Other Papers 1859-70. The Dent Uniform Edition of Dickens' Journalism, vol. 4. London: J. M. Dent, 2000.
---
Created 4 April 2013

Last modified 6 January 2020