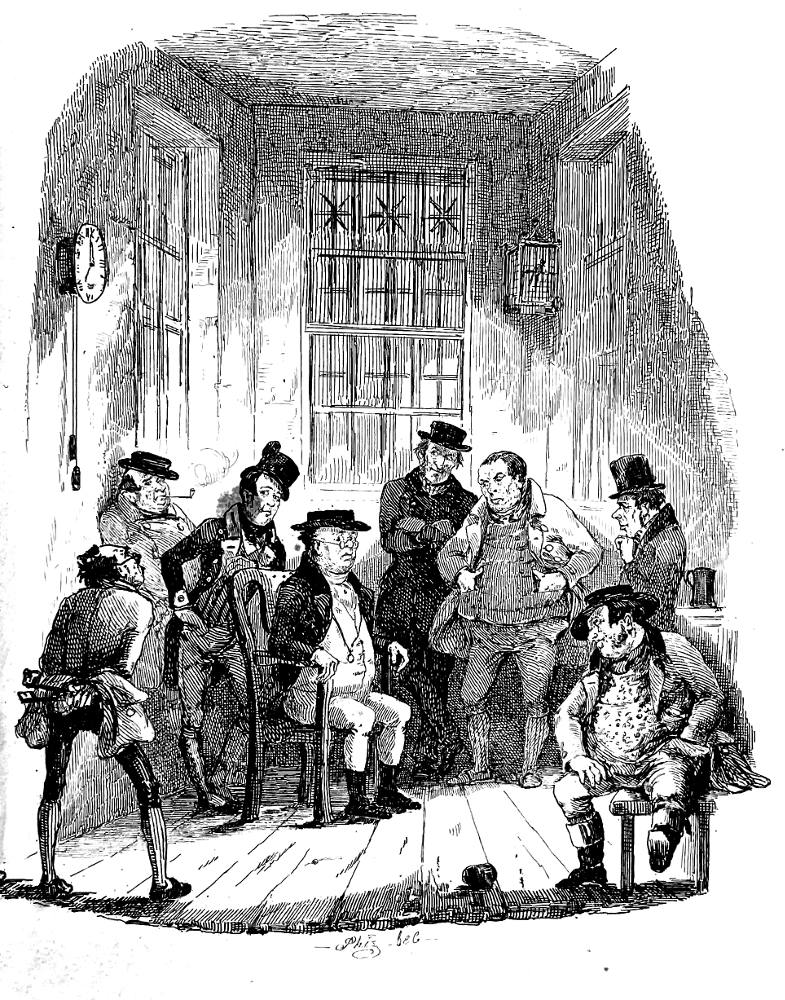 Mr. Pickwick sits for his Portrait
Phiz (Hablot K. Browne)
May 1837
Steel Engraving
Dickens's Pickwick Papers
Details
Scanned image and text by Philip V. Allingham.
[You may use this image without prior permission for any scholarly or educational purpose as long as you (1) credit the person who scanned the image and (2) link your document to this URL in a web document or cite the Victorian Web in a print one.]
Phiz depicts the passage in which the prison staff gathers around poor Pickwick to memorize what he looks like — a necessary procedure in the days before photography. In other words, our protagonist undergoes what some in the twenty-first century euphemistically and bureaucratically term "security imaging processing." Pickwick has found himself in this situation because he has stubbornly refused to be "bailed" or to have his solicitor, Perker, pay the damages awarded by the court.
Here they stopped, while the tipstaff delivered his papers; and here Mr. Pickwick was apprised that he would remain, until he had undergone the ceremony, known to the initiated as "sitting for your portrait."
"Sitting for my portrait?" said Mr. Pickwick.
"Having your likeness taken, sir," replied the stout turnkey. "We're capital hands at likenesses here. Take 'em in no time, and always exact. Walk in, sir, and make yourself at home."
Mr. Pickwick complied with the invitation, and sat himself down; when Mr. Weller, who stationed himself at the back of the chair, whispered that the sitting was merely another term for undergoing an inspection by the different turnkeys, in order that they might know prisoners from visitors.
"Well, Sam," said Mr. Pickwick, "then I wish the artists would come. This is rather a public place."
"They von't be long, Sir, I des-say," replied Sam. "There's a Dutch clock, sir."
"So I see," observed Mr. Pickwick.
"And a bird-cage, sir," says Sam. "Veels vithin veels, a prison in a prison. Ain't it, Sir?"
As Mr. Weller made this philosophical remark, Mr. Pickwick was aware that his sitting had commenced. The stout turnkey having been relieved from the lock, sat down, and looked at him carelessly, from time to time, while a long thin man who had relieved him, thrust his hands beneath his coat tails, and planting himself opposite, took a good long view of him. A third rather surly-looking gentleman, who had apparently been disturbed at his tea, for he was disposing of the last remnant of a crust and butter when he came in, stationed himself close to Mr. Pickwick; and, resting his hands on his hips, inspected him narrowly; while two others mixed with the group, and studied his features with most intent and thoughtful faces. Mr. Pickwick winced a good deal under the operation, and appeared to sit very uneasily in his chair; but he made no remark to anybody while it was being performed, not even to Sam, who reclined upon the back of the chair, reflecting, partly on the situation of his master, and partly on the great satisfaction it would have afforded him to make a fierce assault upon all the turnkeys there assembled, one after the other, if it were lawful and peaceable so to do.
At length the likeness was completed, and Mr. Pickwick was informed that he might now proceed into the prison. [end of chapter 40]
Pickwick, indignant at having lost his breach-of-promise case against Mrs. Bardell, refuses to pay the substantial damages the court has awarded her. In due course, upon arriving back in London, he is arrested, and consigned to the Fleet, a debtors' prison then at the junction of London's Fleet and Farringdon Streets. Rebuilt after the Gordon Riots of 1780, the Fleet Prison was demolished in 1845-46 to make way for the Holborn Viaduct Railway Station in Central London. Owing to its location, Londoners often referred to the Fleet as "The Farringdon Hotel." While so many of the people whom Pickwick meets in his induction to the penal system would give anything to be released, Samuel Pickwick enters prison of his own volition, in preference to admitting his guilt by paying a fine that, as a retired businessman, he is more than capable of paying.
By the solemn expression on the prisoner's face in Phiz's second May 1837 illustration the viewer can surmise that the full significance of his choosing debtors' prison on a point of principle has now occurred to the determined little man. It must now also be dawning on him that no artists will be arriving to render his likeness, and the the expression "sitting for his portrait" simply means that the various turnkeys are studying his face so that they do not confuse him for a visitor and inadvertently release him. The officials in the room are exactly as Dickens describes them in position, appearance, and posture (hands in pockets, under coat tails, and so forth), with the exception of the small man smoking a pipe in the upper-left corner — he is apparently Phiz's invention. The picture is a realisation not merely of a physical situation but also of Samuel Pickwick's mental state as the artist gives us his principal subject's growing sense of the seriousness of his refusal to pay an unjust judgment.
And at this point in the composition of The Posthumous Papers of the Pickwick Club and the production of its two monthly illustrations fate intervened. The death of Dickens's beloved young sister-in-law, Mary Hogarth, on the 6th of May came as such a shock to the writer that he produced no copy for Phiz to illustrate, so that Chapman and Hall issued the next illustrations in the series in July 1837.
References
Cohen, Jane Rabb. Charles Dickens and His Original Illustrators. Columbus: Ohio State U. P., 1980.
Guiliano, Edward, and Philip Collins, eds. The Annotated Dickens. Vol. 1. New York: Clarkson N. Potter, 1986.
Hammerton, J. A. The Dickens Picture-Book. London: Educational Book Co., 1910.
Steig, Michael. Dickens and Phiz. Bloomington & London: Indiana U.P., 1978. Pp. 51-85.
Dickens, Charles. "Pickwick Papers (1836-37). London: Chapman & Hall.
---

Victorian
Web

Pickwick
Papers

Illus-
tration

Phiz

Next
Last modified 14 December 2011