Mr. Squeers and Mrs. Sliderskew Unconscious of Visitors
Phiz (Hablot K. Browne)
Dickens's Nicholas Nickleby
September 1839
Etching
Source: Hammerton, page 168
Image scan and text by Philip V. Allingham.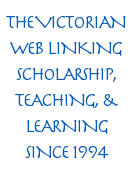 Even as Squeers and Arthur Gride's repulsive housekeeper, Peg Sliderskew, gloat over the legal documents she has stolen from her employer, including one relating to Madeline Bray's inheritance, Frank Cheeryble and Newman Noggs advance upon the schemers "with noiseless footsteps" in chapter 57, "How Ralph Nickleby's Auxiliary went about his Work, and how he prospered with it " (Part 18). Anything that cannot be readily converted to cash, such as promissory notes from profligate Members of Parliament (who, while sitting members, could not be sued), Squeers instructs Peg to burn. Among the last of Gride's cache of financial papers Squeers finds one reading, "Madeline Bray — come of age or marry — the said Madeline. . . ."
The scene is an upstairs garret in a ramshackle house located in an obscure court in Lambeth, on the south side of the Thames. As in the letterpress, in the illustration, the "stealthy comers" have stolen by degrees to a position immediately behind Squeers (acting once again as Ralph Nickleby's agent) so that Frank can read by the light of the single candle (centre) whatever deeds Squeers picks up to inspect. Newman has snatched up a pair of bellows with which to knock Squeers unconscious at an opportune moment. The smoke from the stove drifts left while the shadow cast by Noggs's hat points right, balancing the forces that intend to rescue the document against those that intend to destroy it and thereby deprive Madeline Bray of her inheritance. Documents intended for disposal lie strewn across the floor in the foreground as in the letterpress, although the dingy ceiling does not contain 'fantastic figures traced upon it by the wet and damp"; nevertheless, Phiz well communicates the gloomy, chaotic cell and the unfolding drama that will culminate with the bellows, extreme left, being brought down upon Squeers's head, centre.
This, with the large bare room, damp walls, and flickering doubtful light, combined to form a scene which the most careless and indifferent spectator (could any such have been present) could scarcely have failed to derive some interest from, and would not readily have forgotten.
Phiz adds to the excitement of the moment by showing Noggs poised to strike, and Frank cautioning him to wait, as the eye moves from the left-hand register, with Noggs's hat and its shadow as the apex of a triangle, to the right, the stove only partially sketched in, wherein Peg is burning documents and the small deal box she discovered them in.
Reference
Hammerton, J. A. The Dickens Picture-Book. London: Educational Book, 1910.
---

Victorian
Web

Nicholas
Nickelby

Illus-
tration

Phiz

Next
Last modified 11 May 2009