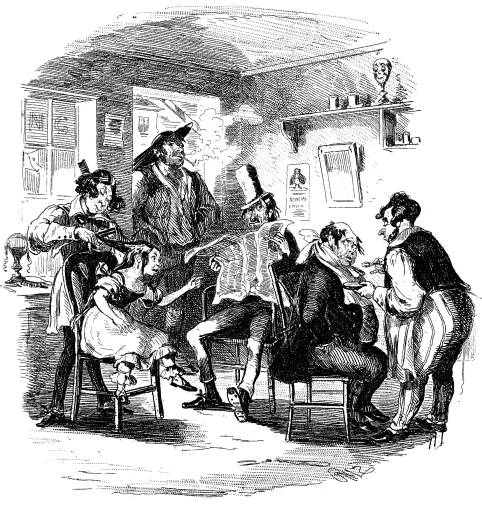 Great Excitement of Miss Kenwigs at the Hairdresser's Shop
Phiz (Hablot K. Browne)
Dickens's Nicholas Nickleby
1839
Etching
Source: Hammerton, page 167.
Image scan and text by Philip V. Allingham.
[You may use this image without prior permission for any scholarly or educational purpose as long as you (1) credit the person who scanned the image and (2) link your document to this URL in a web document or cite the Victorian Web in a print one. ]
The scene could easily be from one of Dickens's earliest Sketches by Boz, for it reveals his penchant for character comedy and eye for detail in situations common enough in lower middle-class early nineteenth-century London. However, here the cast of characters is not entirely random or accidental, for coincidence connects Noggs, Miss Kenwigs, and the gentleman being shaved. The comic and domestic action, constituting a "recognition scene," contrasts with the more serious and tumultuous action scene, "The Last Brawl between Sir Mulberry and His Pupil," in the previous month's illustrations. In chapter 52, "Nicholas despairs of rescuing Madeline Bray, but plucks up his Spirits again, and determines to attempt it. Domestic Intelligence of the Kenwigses and Lillyvicks," Dickens loosely stitches the comic subplot involving the Kenwigses to the main plot involving the conspiracy of the old moneylender and Ralph Nickleby against Madeline Bray and her invalid father. The point of conjunction is the local hairdresser's-cum-barber's in the neighbourhood of the Kenwigses' residence, where Ralph Nickleby's clerk, Newman Noggs (seen reading a newspaper in Phiz's illustration), rents the upstairs rooms. Providentially, Lillyvick has returned to London after Miss Petowker abandoned him in favour of a half-pay officer, and is now reunited with his relatives. Note that Phiz cannot pass up the opportunity to depict the coal-heaver ("the applicant" who has just been rejected as a customer), even though he has left before the "recognition" scene occurs:
The applicant stared; grinned at Newman Noggs, who appeared highly entertained; looked slightly round the shop, as if in depreciation of the pomatum pots and other articles of stock; took his pipe out of his mouth and gave a very loud whistle; and then put it in again, and walked out.
The old gentleman who had just been lathered, and who was sitting in a melancholy manner with his face turned towards the wall, appeared quite unconscious of this incident, and to be insensible to everything around him in the depth of a reverie — a very mournful one, to judge from the sighs he occasionally vented — in which he was absorbed. Affected by this example, the proprietor began to clip Miss Kenwigs, the journeyman to scrape the old gentleman, and Newman to read last Sunday's paper, all three in silence: when Miss Kenwigs uttered a shrill little scream, and Newman, raising his eyes, saw that it had been elicited by the circumstance of the old gentleman turning his head, and disclosing the features of Mr Lillyvick the collector.
Reference
Hammerton, J. A. The Dickens Picture-Book. London: Educational Book, 1910.
---

Victorian
Web

Nicholas
Nickelby

Illus-
tration

Phiz

Next
Last modified 9 May 2009