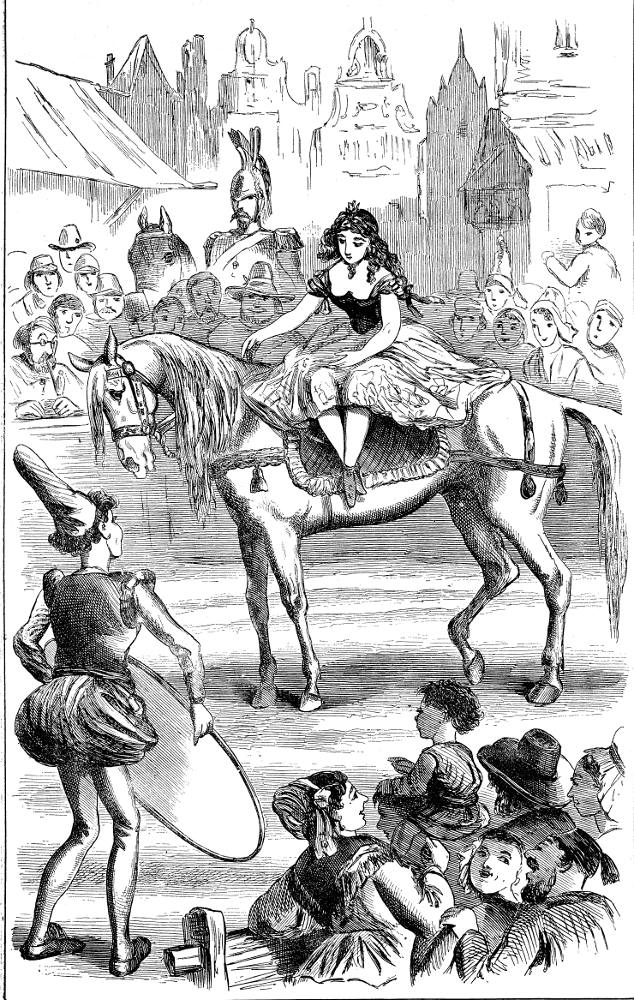 The girl, with a graceful slide, seated herself on his back.
Phiz
Engraver: Edmund Evans (1826-1905)
1862
Steel-engraving
Framed engraving 12.6 cm (5 inches) high by 7.9 cm (3 ⅛ inches) wide
Charles Lever's A Day's Ride; or, The Romance of Life, Chapter XLII, facing p. 381 (1862; rpt., 1882).
Scanned image, sizing, caption, and commentary by Philip V. Allingham.
[You may use this image without prior permission for any scholarly or educational purpose, as long as you (1) credit the person who scanned the image, and (2) link your document to this URL in a web document or cite the Victorian Web in a print one.]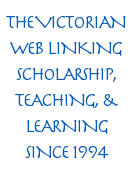 Passage Illustrated: By Coincidence Potts finds Blondel
"There, there! Look at her; yonder she goes! and there's the young Prince — they call him a Prince, at least — who follows her everywhere."
I could not but smile at the poor jailer's simplicity, and would willingly have explained to him that we have outlived the age of Cinderella. Indeed, I had half turned towards him with this object, when a perfect roar of the crowd beneath me drew off my attention from him to what was going on below. I soon saw what it was that entranced the public: it was the young girl, who now, standing on Blondel's back, was careering round the circle at full speed. It is an exercise in which neither the horse nor the rider is seen to advantage; the heavy monotonous tramp of the beast, cramped by the narrow limits, becomes a stilty, wooden gallop. The rider, too, more careful of her balance than intent upon graceful action, restricts herself to a few, and by no means picturesque attitudes. With all this, the girl now before me seemed herself so intensely to enter into the enjoyment of the scene, that all her gestures sprang out of a sort of irrepressible delight. Far from unsteadying her foot, or limiting her action, the speed of the horse appeared to assist the changeful bendings of her graceful figure, as now, dropping on one knee, she would lean over to caress him, or now, standing erect, with folded arms and leg advanced, appeared to dare him to displace her. Faultlessly graceful as she was, there was that in her own evident enjoyment that imparted a strange delight to the beholder, and gave to the spectacle the sort of magnetism by which pleasure finds its way from heart to heart throughout a multitude. At least, I suppose this must have been so, for in the joyous cheering of that crowd there was a ring of wild delight far different from mere applause.
At last, poor Blondel, blown and wearied, turned abruptly into the middle of the ring, and with panting sides and shaking tail came to a dead halt. The girl, with a graceful slide seated herself on his back and patted him playfully. And to me this was by far the most graceful movement of the whole. [Chapter XLII, "A Glimpse of an Old Friend," pp. 380-381]
Commentary: Blondel and Catinka turn up together in a travelling Circus
In what is clearly a case of mistaken identity the Tyrolean authorities have apprehended the narrator-protagonist on the road as the notorious Rouge, Socialist, and swindler named Harpar who has recently assaulted a former partner-in-crime, Rigges. Although identifying Potts as nothing like Harpar should be straight-forwasrd, the accuser ("Herr von Rigges") has already gone to Innspruck, where Potts will be put on trial. Consequently, Potts is being transported by wagon under heavily armed guard so that he can confront his accuser in open court. Temporarily imprisoned in a mediaeval tower adjacent to the marketplace of Steuben in the Arlberg region, Potts enjoys a bird's-eye view of a travelling circus. To his surprise, the star performer proves to be none other than his lost mount, the retired circus horse, Blondel. Although still very much a prisoner, Potts exhorts his gaoler to put in a bid on his behalf in order to recover Blondel for perhaps eighty or ninety florins. Having been performing acrobatics on the beast, the beautiful, young equestrian ("the Moorish girl," Catinka, whom Potts had met earlier in his travels, accompanied by the juggler Vaterchen) has just reseated herself on Blondel's back in the fanciful illustration of the circus ring and peasant audience.
In order to better describe the equestrian performance, Phiz has adopted the vantage point of one of the crowd at the level of the platz, and not utilized Potts's aerial perspective. In Phiz's illustration, we see the elements of description as given by Lever's narrator of Catinka: "her spangles and tinsel, the golden fillet of her hair, and the tawdry fringe of her sandals" (381). As is Phiz's wont, he has expended considerable energy on detailing the horse, and it is he rather than Catinka or the ring-master who is the centre of the composition. Phiz has not even introduced her antagonist,"a tall man, well-dressed and of striking appearance" (381) who pushes his way into the ring, and presents the girl with a bouquet. The illustrator has inserted a sketched-in backdrop of ornately roofed buildings to suggest the Tyrolean village, but has not included the crowd's scooping up and presenting to Catinka the gold napoleon that Potts throws down to her from his turret window.
Related Serial Illustrations
N. B.: A Ride for a Day, 23 March 1861: Instalment No. 33 (Chapters 42-43), has no illustrations.
Bibliography
Lever, Charles. A Day's Ride; A Life's Romance. Illustrated by William Newman. Harper's Weekly: A Journal of Civilization. Vols. IV and V (18 August 1860 through 13 April 1861) in 35 weekly parts.
_______. A Day's Ride; A Life's Romance. Illustrated by "Phiz" (Hablot Knight Browne). London: Chapman and Hall, 1863, rpt. Routledge, 1882.
_______. The Daltons and A Day's Ride. Illustrated by Hablot Knight Browne ('Phiz'). Vol. VI of Lever's Works. New York: P. F. Collier, 1882; rpt. from Chapman and Hall, 1852, 1862.
_______. A Day's Ride: A Life's Romance.  Illustrated by Hablot Knight Browne ('Phiz'). Vol. XIV of Lever's Works. New York: Peter Fenelon Collier, 1900. rpt. from Chapman and Hall, 1862.
Lever, Charles James. A Day's Ride; A Life's Romance. http://www.gutenberg.org//files/32692/32692-h/32692-h.htm
Stevenson, Lionel. Dr. Quicksilver: The Life of Charles Lever. New York: Russell & Russell, 1939, rpt. 1969.
Sutherland, John. "Charles Lever." The Stanford Companion to Victorian Fiction. Stanford, Cal.: Stanford U. P., 1989. 372-374.
---

Victorian
Web

Illustra-
tion

Phiz

A Day's Ride

Next
Last modified 28 March 2022