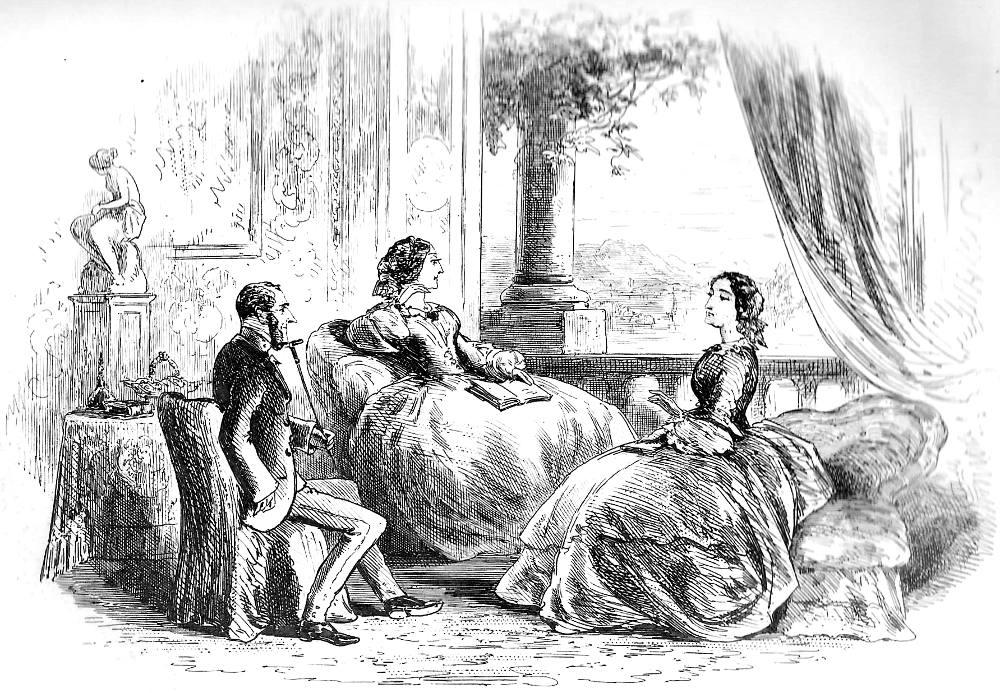 Mr. Spicer and Two "Fine Ladies" by Phiz (Hablot K. Browne), second serial illustration for Charles Lever's Davenport Dunn: A Man of Our Time, Part 1 (July 1857), Chapter 2, "How Two 'Fine Ladies' Pass the Morning," facing page 17. Steel-plate etching, 4 by ¾ inches (10.2 cm high by 14.3 cm wide), vignetted. The three figures who are conversing quietly indoors after the morning exercise scene on the patio complement the companion crowd scene in the July 1857 number. The pair of illustrations, taken together, suggest that this will be a Silver Fork novel, that is, a story about the highest levels of English society — and such hangers-on as the confidential booking-agent Spicer, seen here in conference with Lady Lackington.
Scanned image by Simon Cooke; colour correction, sizing, caption, and commentary by Philip V. Allingham. [You may use this image without prior permission for any scholarly or educational purpose, as long as you (1) credit the person who scanned the image, and (2) link your document to this URL in a web document or cite the Victorian Web in a print one.] Click on the image to enlarge it.
Passage Illustrated: A Behind-the-Scenes Conversation
"Well, one thing is certain!" said Lady Lackington, "nothing that you predicted turned out afterwards. Glaucus was beaten, and I lost my three hundred pounds — only fancy, dearest, three hundred pounds, with which one could do so many things! I wanted it in fifty ways, and I never contemplated leaving it with the legs at Newmarket."
"Not the legs, I assure you, my Lady — not the legs. I made your book with Colonel Stamford and Gore Middleton —"
"As if I cared who won it!" said she, haughtily.
"I never knew that you tempted fortune in this fashion!" said Lady Grace, languidly. [Chapter II, "How Two 'Fine Ladies' Pass the Morning," p. 18]
Commentary: The Back-Story on the Viscountess and Lady Grace Adderley
"Mr. Spicer, my Lady," said a servant, entering, "wishes to know if your Ladyship will receive him."
"Not this morning; say I'm engaged at present Tell him — But perhaps you have no objection — shall we have him in?"
"Just as you please. I don't know him."
Lady Lackington whispered a word or two, and then added aloud, "And one always finds them 'useful,' my dear!" [Chapter II, "How Two 'Fine Ladies' Pass the Morning," pp. 16-17]
Commentary: Developing the Enigmatic Dunn's Position of Influence among the Aristocracy
The illustration informs the reader that Lady Lackington will indeed agree to receive the little man whom we saw dashing across the plateau in wrappers in the initial illustration. Lackington had hinted that Spicer was a betting agent, but could not see how such fellows get on. The forthcoming interview reveals that the aging "blade of the turf" (identified at once by his riding crop in the illustration) is getting on quite well. The illustration, however, does not cover the ladies' initial discussion of divorce, or the later visitor, an Englishman with a highly placed portfolio in the Roman Catholic Church.
The ladies' conversation advances the readers' appreciation of Davenport Dunn's political and financial influence among the aristocracy. His name occurs in Lady Lackington's dialogue with her unhappily married friend, Lady Grace, prior to Spicer's appearing to report on the Viscountess's having lost three hundred pounds at the Newmarket races. Although Spicer seems to have made himself as something of a "fixer" as well as a bookie to the English aristocracy living on the Continent, he is apparently not as knowledgeable about horses and racing matters as he pretends. Lady Lackington's attitude towards the significant loss is not entirely casual — nor is her friend's interest in the politically-connected Dunn's recently having negotiated a divorce action through the House of Commons on behalf of Lady Muddleton, since prior to the passage of the Matrimonial Causes Act in 1857 every divorce was a separate act of Parliament:
". . . I confess to have some curiosity to know him. They tell me he can do anything he pleases with each House of Parliament, and has no inconsiderable influence in a sphere yet higher. It is quite certain that the old Duke of Wycombe's affairs were all set to rights by his agency, and Lady Muddleton's divorce bill was passed by his means."
The word "divorce" seemed to rally Lady Grace from her fit of musing, and she said, "Is that certain?"
"Julia herself says so, that's all. He got a bill, or an act, or clause, or whatever you call it, inserted, by which she succeeded in her suit, and she is now as free —— as free ——"
"As I am not!" broke in Lady Grace, with a sad effort at a smile. [16]
Dunn has also served as a confidential investment advisor to the Viscountess, arranging some time before for her purchasing Guatemalan bonds, upon which she made a tidy profit. Perhaps without her husband's involvement but with greater success than at Newmarket, Lady Lackington has been gambling on the foreign bond market, under Dunn's guidance, apparently:
"I never knew that you tempted fortune in this fashion!" said Lady Grace, languidly.
"I do so very rarely, my dear. I think Mining Shares are better, or Guatemala State Bonds. I realised very handsomely indeed upon them two years ago. To be sure it was Dunn that gave me the hint: he dined with us at the Hôtel de Windsor, and I asked him to pay a small sum for me to Hore's people, and when I counted the money out to him, he said, 'Why not buy in some of those Guanaxualo shares; they'll be up to —' — I forget what he said — 'before a month. Let Storr wait, and you'll pay him in full.' And he was quite right, as I told you. I realised about eight hundred pounds on my venture." [18]
Although the text advances the reader's knowledge of Davenport Dunn's influence in the upper echelons of British business and government, even as they only obliquely allude to the novel's eponymous character, Phiz in the illustrations for the opening chapters deftly establishes the aristocratic characters with whom Dunn associates. However, instead of showing readers scenes involving Dunn the financial wizard, Phiz depicts the relatively minor fixer and hanger-on, Spicer, whose advice on racing matters leads to Lady Lackington's losing rather than making money. The interview concludes with Lady Lackington's instructing Spicer to arrange for their stay in a Renaissance palace in Florence.
The ladies' second visitor, an elegantly dressed Monsignore in the Catholic Church, seems to have an apostolic mission in that he is attempting to convert these English aristocrats to Catholicism. Through this lively and handsome proselytizer (who is himself an English convert to Catholicism) Lever would seem to be alluding to the resurgence of the Roman Catholic Church in England which resulted from the influx of Irish after the famines of the 1840s.
Related Material
References
Lever, Charles. Davenport Dunn: A Man of Our Day. Illustrated by "Phiz" (Hablot Knight Browne). London: Chapman and Hall, 1859.
Shanley, Mary Lyndon. "Divorce." Victorian Britain: An Encyclopedia. Edited by Sally Mitchell. Garland Reference Library of Social Science (Vol. 438). London and New York: Garland, 1988. Pp. 223-224.
---
Last modified 6 July 2019