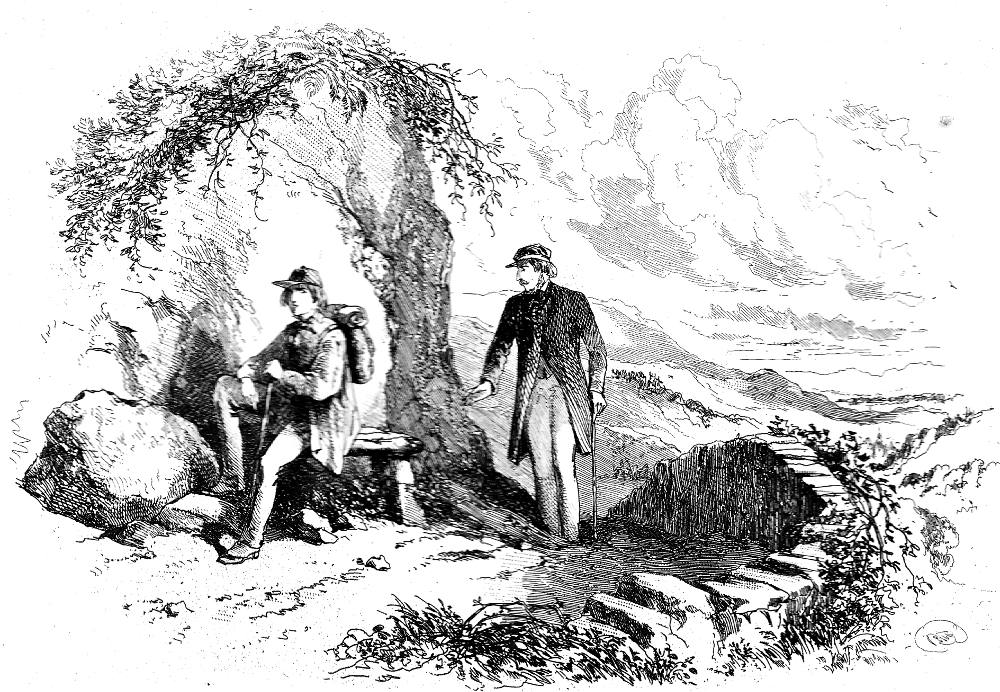 A Fellow Traveller — eighteenth illustration engraved by the Dalziels for the 1852 Chapman and Hall edition of The Daltons, or, Three Roads in Life by Phiz (Hablot Knight Browne). Chapter XXIX, "Frank's Journey" (facing 233). 10 cm by 16 cm (3 ⅞ by 6 ¼ inches), vignetted. This is the fourth vertically oriented plate in the two-volume novel. [Click on the image to enlarge it.]
Passage Illustrated: Yet another picturesque scene in the German countryside
The sound of feet upon the snow suddenly roused him, and, on looking round, Frank saw a traveller slowly coming up the pass. His dress at once proclaimed that he was not a pedestrian, save from choice, and was merely sauntering along in advance of his carriage. In the mere cursory glance Frank bestowed upon him he could see that he was a young and handsome man, with a certain soldierlike bearing in his air that well suited his bold but somewhat stern features.
"You journey well, young fellow," said he, addressing Frank familiarly. "This is the fifth day we have been fellow-travellers; and although I have post-horses, you have always kept up with me on your feet."
Frank touched his cap with a somewhat stiff courtesy at this unceremonious address; and, without deigning a reply, employed himself in arranging the straps of his knapsack.
"Are you a soldier?" asked the stranger.
"A cadet!" replied Frank as bluntly.
"In what regiment, may I ask?"
"The Franz Carl."
"Ah! my own old corps," said the other, gayly. "I served four years with them in the Banat. From what part of the Empire are you you haven't the accent of an Austrian?"
"I am an Irishman."
"Oh! that explains it. And your name?"
"Dalton. And now, sir, what may be yours, for I don't see why this curiosity is to be one-sided," said Frank, with an air even more insolent than the words.
"I am Count Ernest of Walstein," said the other, without a touch of irritation. [Chapter XXIX, "Frank's Journey," pp. 233-234]
Commentary: The Picturesque Sublime
Alpine scenery had a powerful effect on the Romantic poets, but it also seems to have stimulated Phiz's sense of the sublime in nature, an aspect of the Continental setting to which the English illustrator consistently responds with panoramic views whenever Lever's characters traverse spectacular mountains. Lever has already established the picturesque scene which provides the backdrop for Phiz's elegant plate, set against a splendid mountain scene familiar to English tourists by the 1850s, the Arlberg, a massif between Vorarlberg and Tyrol in Austria:
Avoiding, from a sense of pride, to associate with the "Travelling Youths," as they are called, he walked along from early morning to late evening, alone and companionless. It was mostly a dreary and uninteresting road, either leading through dark and gloomy pine forests or over great plains of swampy surface, where the stubble of the tall maize, or the stunted vines, were the only traces of vegetation. As he drew near the Tyrol, however, the great mountains came in sight, while the continual ascent told that he was gradually reaching the land of glaciers and snow-peaks. Day by day he found the road less and less frequented: these lonely districts were little resorted to by the wandering apprentices, so that frequently Frank did not meet a single traveller from day-dawn till night. Perhaps he felt little regret at this, leaving him, as it did, more time for those daydreams in which he loved to revel. Now and then some giant mountain glittering in the sun, or some dark gorge thousands of feet below him, would chase away his revery, and leave him for a time in a half-bewildered and wondering astonishment; but his thoughts soon resumed their old track, and he would plod along, staff in hand, as before.
Walking from before daybreak to a late hour of the evening, Frank frequently accomplished in his day's journey as many miles as the traveller who, by post, only spent the few hours of mid-day on the road; in fact, he might have thus measured his speed, had he been less wrapped up in his own fancies, since, for several days, a caleche, drawn by three post-horses, had regularly passed him on the road, and always about the same hour. [Chapter XXIX, pp. 232-233]
To establish that he is returning to the story of Frank Dalton and his journey on foot to report to his Austrian military posting, Lever provides an intense verbal landscape painting of the picturesque Arlberg region "on a bright and frosty" morning on a zig-zag footpath. Phiz has taken full advantage of Lever's leisurely-paced description to realise the scene, including the "low parapet," the narrow path nearby, and the "deep and almost perpendicular precipice, at the foot of which, above two thousand feet beneath, stood the village of Stuben" (233). However, rather than dwell on the alpine scenery Phiz brings the eye well forward to study the figures of Cadet Frank Dalton and Count Ernest of Walstein. The picture therefore exists to introduce the mysterious Austrian aristocrat who seems to have taken a fancy to the young Irishman. The illustrator distinguishes the two by Frank's trekker's outfit, complete with knapsack, which contrasts with the formal greatcoat of the middle-aged aristocrat.
Scanned image and text by Philip V. Allingham. [You may use this image without prior permission for any scholarly or educational purpose as long as you (1) credit the person who scanned the image and (2) link your document to this URL in a web document or cite the Victorian Web in a print one.]
Bibliography
Browne, John Buchanan. Phiz! Illustrator of Dickens' World. New York: Charles Scribner's, 1978.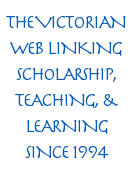 Downey, Edmund. Charles Lever: His Life in Letters. 2 vols. london; William Blackwood, 1906.
Fitzpatrick, W. J. The Life of Charles Lever. London: Downey, 1901.
Lester, Valerie Browne. Phiz: The Man Who Drew Dickens. London: Chatto and Windus, 2004.
Lever, Charles. The Daltons, or, Three Roads in Life. Illustrated by "Phiz" (Hablot Knight Browne). London: Chapman and Hall, 1852, rpt. 1872.
Lever, Charles James. The Daltons, or, Three Roads in Life. http://www.gutenberg.org//files/32061/32061-h/32061-h.htm
Skinner, Anne Maria. Charles Lever and Ireland. University of Liverpool. PhD dissertation. May 2019.
Stevenson, Lionel. Dr. Quicksilver: The Life of Charles Lever. New York: Russell & Russell, 1939, rpt. 1969.
_______. "The Domestic Scene." The English Novel: A Panorama. Cambridge, Mass.: Houghton Mifflin and Riverside, 1960.
---
Last modified 3 May 2022