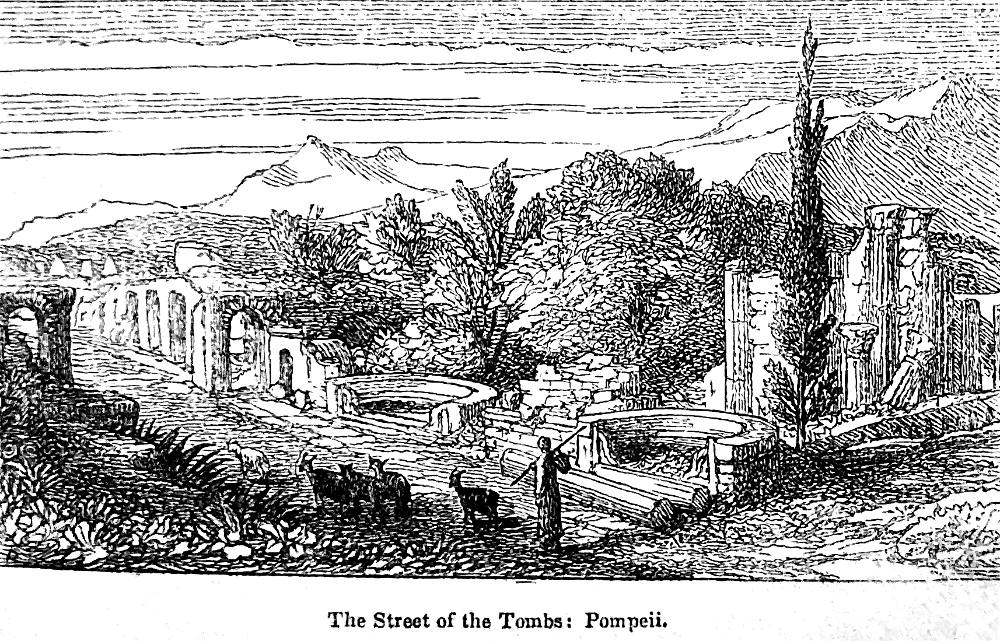 The Street of the Tombs: Pompeii by Samuel Palmer, RWS (1805-1881). Title-page vignette for Charles Dickens's Pictures from Italy. 4.1 cm by 7.4 cm. (1 ½ by 2 ⅞ inches), framed. From the first edition published by Bradbury & Evans in 1846. [Click on the illustration to enlarge it.]
Passage Anticipated: The Street of the Tombs
If it be solemn to behold from this new City of the Dead, with its dark smoke hanging in the clear sky, how much more awful and impressive is it, viewed from the ghostly ruins of Herculaneum and Pompeii!
Stand at the bottom of the great market-place of Pompeii, and look up the silent streets, through the ruined temples of Jupiter and Isis, over the broken houses with their inmost sanctuaries open to the day, away to Mount Vesuvius, bright and snowy in the peaceful distance; and lose all count of time, and heed of other things, in the strange and melancholy sensation of seeing the Destroyed and the Destroyer making this quiet picture in the sun. Then, ramble on, and see, at every turn, the little familiar tokens of human habitation and every-day pursuits; the chafing of the bucket-rope in the stone rim of the exhausted well; the track of carriage-wheels in the pavement of the street; the marks of drinking-vessels on the stone counter of the wine-shop; the amphoræ in private cellars, stored away so many hundred years ago, and undisturbed to this hour — all rendering the solitude and deadly lonesomeness of the place, ten thousand times more solemn, than if the volcano, in its fury, had swept the city from the earth, and sunk it in the bottom of the sea.
After it was shaken by the earthquake which preceded the eruption, workmen were employed in shaping out, in stone, new ornaments for temples and other buildings that had suffered. Here lies their work, outside the city gate, as if they would return to-morrow. [Chapter XII, "A Rapid Diorama — Pompeii," pp. 243-244]
Related Material
Scanned images and commentary by Philip V. Allingham. [You may use these images without prior permission for any scholarly or educational purpose, as long as you (1) credit the person who scanned them, and (2) link your document to this URL in a web document or cite the Victorian Web in a print one.]
Bibliography
Dickens, Charles. Pictures from Italy. The Vignette Illustrations on Wood, by Samuel Palmer. London: Bradbury and Evans, 1846.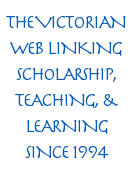 Dickens, Charles. Pictures from Italy and American Notes for General Circulation. Illustrated by Marcus Stone. The Illustrated Library Edition. London: Chapman and Hall, 1874.
---
Created 3 August 2007 Last modified 4 July 2023