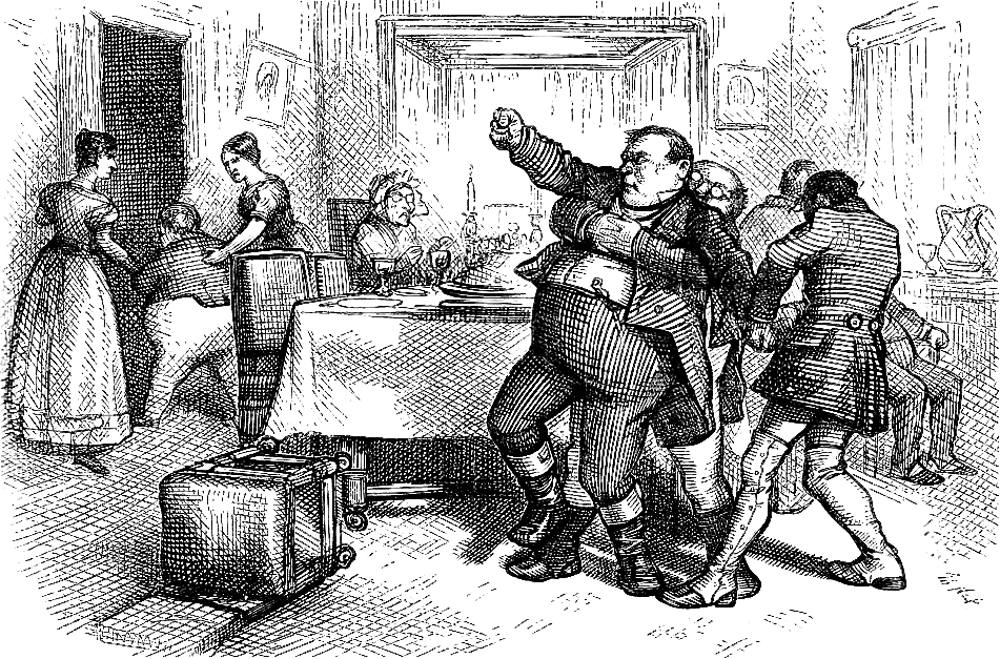 "Mr. Winkle, take your hands off. Mr. Pickwick, let me go, Sir!" by Thomas Nast (1873), p. 57.
Bibliographical Note
The illustration appears in the American Edition of Charles Dickens's The Posthumous Papers of The Pickwick Club, Chapter IX, "A Discovery and A Case," page 57. Wood-engraving, 3 ½ inches high by 5 ¼ inches wide (9 cm high by 13.5 cm wide), framed, half-page; referencing text on pages 56-7; descriptive headline: "Temporary Insanity of Mr. Tupman" (p. 57). New York: Harper & Bros., Franklin Square, 1873.
Scanned image, colour correction, sizing, caption, and commentary by Philip V. Allingham. [You may use this image without prior permission for any scholarly or educational purpose, as long as you (1) credit the person who scanned the image, and (2) link your document to this URL in a web document or cite the Victorian Web in a print one.]
Textual Context of the Illustration: Wardle Incensed at Jingle's Perfidious Conduct
"Lord preserve us!" ejaculated Mr. Pickwick, eyeing the extraordinary gestures of his friend with terrified surprise. "He's gone mad! What shall we do?"
"Do!" said the stout old host, who regarded only the last words of the sentence. "Put the horse in the gig! I'll get a chaise at the Lion, and follow 'em instantly. Where?" — he exclaimed, as the man ran out to execute the commission — "where's that villain, Joe?"
"Here I am! but I hain't a willin," replied a voice. It was the fat boy's.
"Let me get at him, Pickwick," cried Wardle, as he rushed at the ill-starred youth. "He was bribed by that scoundrel, Jingle, to put me on a wrong scent, by telling a cock-and-bull story of my sister and your friend Tupman!" (Here Mr. Tupman sank into a chair.) "Let me get at him!"
"Don't let him!" screamed all the women, above whose exclamations the blubbering of the fat boy was distinctly audible.
"I won't be held!" cried the old man. "Mr. Winkle, take your hands off. Mr. Pickwick, let me go, sir!" [Chapter IX, "A Discovery and A Case," p. 57]
Commentary: The Elopement Plot Revealed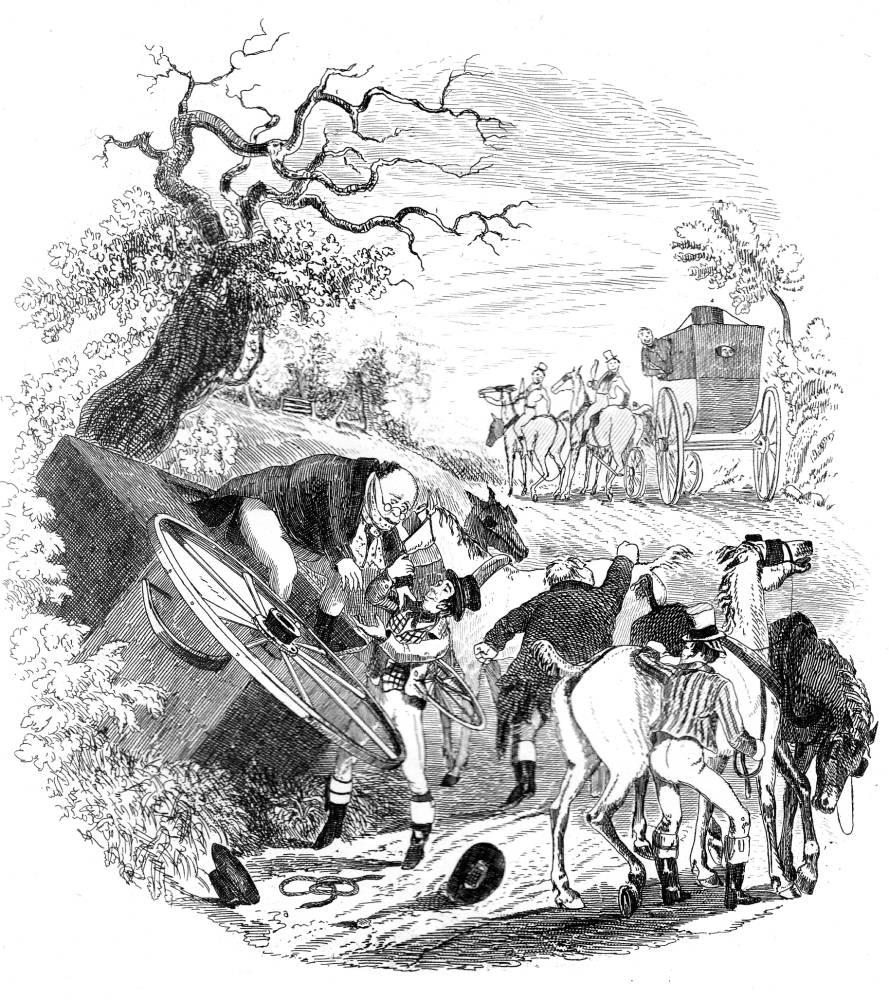 Nast takes up the elopement plot with relish as he depicts Old Wardle's sudden rage at the fortune-hunter's absconding with his sister, Rachael, under his very nose. Tupman is likewise upset because he stupidly provided Alfred Jingle with the financial means to arrange the elopement, stealing the woman that he, too, had hoped to marry. At issue in all likelihood for both Jingle and Tupman is an inheritance that Mr. Wardle controls. In the period in which Dickens was writing The Posthumous Papers of the Pickwick Club (1836-37), once married, formerly propertied women under British law enjoyed no control over their own finances, other than whatever money their husbands might choose to give them. Accordingly, whether the groom would be Alfred Jingle or Tracy Tupman, he would feel that, in marrying Rachael Wardle, he would be gaining control over a substantial fortune. In 1882 Parliament finally legislated meaningful reform to protect wealthy spinsters from fortune-hunters such as Jingle. Only then were women in Rachel Wardle's position able to retain control over the property they owned prior to their marriage.
At her father's request, Emily rings the bell for dinner, hoping to summon Jingle and his sister. Wardle's aged mother is still seated a the table, ready for the meal when the domestic servants, led by the Fat Boy, announce the elopement, one of them having witnessed the couple depart in a rented carriage from the Blue Lion, Muggleton. Wardle suspects that Jingle has bribed Joe to put him off the scent, and now struggles with Pickwick and Winkle, who are attempting to restrain him from thrashing the Fat Boy. Tupman sinks back into his chair, feeling thoroughly defeated by the unscrupulous, out-of-work actor. The chase now begins as Wardle and Pickwick pursue Jingle in a gig with a servant, Tom, at the reins. At the first inn, they learn that Jingle is only 45 minutes ahead of them. The pursuit continues through the night, but Jingle escapes to London with his prize when Wardle's gig suffers a breakdown. Thus, Dickens and his illustrators set up one of the most significant scenes in English humour, the meeting of Sam Weller and Mr. Pickwick at The White Hart in the Borough.
Rather than being distraught about Jingle's stealing his beloved, Tupman seems more concerned about his having advanced Jingle a loan of ten pounds. In Phiz's The Breakdown (July 1836) Jingle temporarily escapes from his indignant pursuers, Wardle and Pickwick, waving his handkerchief as he sends his love to "Tuppy." Curiously, Phiz avoids the elopement plot in his illustrations for the British Household Edition, although redress for married women's losing their property rights was still a decade away.
Other artists who illustrated this work, 1836-1910
Related Material
Bibliography
Dickens, Charles. The Pickwick Papers. Illustrated by Robert Seymour and Hablot Knight Browne. London: Chapman & Hall, 1836-37; rpt., 1896.
Dickens, Charles. The Pickwick Papers. Illustrated by Robert Seymour and Hablot Knight Browne. London: Chapman & Hall, 1896.
Dickens, Charles. The Posthumous Papers of the Pickwick Club. The Household Edition. Illustrated by Thomas Nast. New York: Harper and Brothers 1873.
Dickens, Charles. Pickwick Papers. Illustrated by Hablot Knight Browne ('Phiz'). The Household Edition. London: Chapman and Hall, 1874.
---
Last modified 13 November 2019