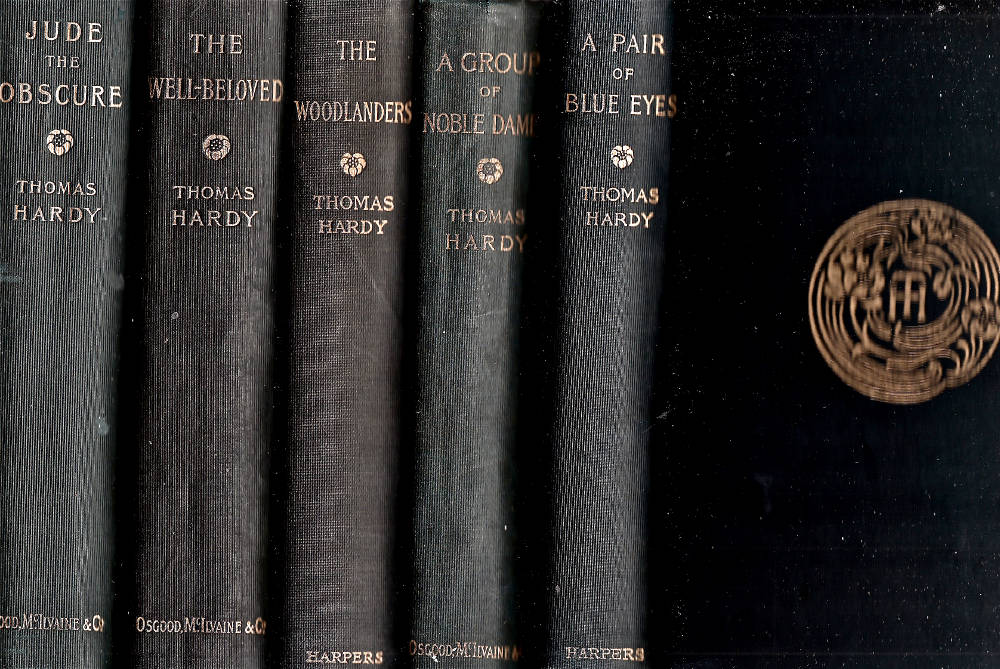 The Osgood, McIlvaine Complete Uniform Edition of the Wessex Novels, in eighteen volumes (1895-1897), added under the Macmillan imprint an eighteenth volume, "A Changed Man." "The Waiting Supper" and Other Tales. Concluding with "The Romantic Adventures of a Milkmaid." (1913), but its format is not entirely consistent with that of 1895-97 in that the frontispiece is a black-and-white photograph taken by Hermann Lea rather than an engraving by Henry Macbeth-Raeburn. The Harper & Bros. (New York) volumes appear identicasl to those published in London by Osgood, McIlvaine, but in each case lack the explanatory page facing the frontispiece.
Photograph and text by Philip V. Allingham. [You may use this image without prior permission for any scholarly or educational purpose as long as you (1) credit the person who scanned the image and (2) link your document to this URL in a web document or cite the Victorian Web in a print one.]
Osgood, McIlvaine's edition is an important one. The text of every novel was thoroughly and carefully revised, the topography (names and distances) corrected where necessary, chapters frequently retitled, and much rewriting done. In addition Hardy prepared a special preface for each volume (prefaces which have a peculiar interest when read consecutively as the work of 1895-6) and assumed the drudgery of proof-reading. The first volume of the edition was published at 6s., 4 April 1895, and subsequent volumes followed at monthly intervals, the last [i. e., vol. XVI, Under the Greenwood Tree] appearing in September 1896.
Sheets of the Osgood, McIlvaine edition of the Wessex Novels with an a ltered title-page were published in America by Harper & Brothers, except for the copyright volumes they already had in type. The plates were used for a number of impressions by Osgood, McIlvaine, their successors Harper & Brothers (London), and after 1902 by Macmillan & Co. for their uniform edition. — Richard Little Purdy, "Part II: Collected Editions," p. 281.
The Complete Wessex Novels were published by Osgood, McIlvaine of 45 Albemarle Street, London, between 1894 and 1897 in a uniform octavo format. Each volume in the first English edition was printed on laid paper, with an etched frontispiece (with a tissue guard) and Hardy's full-page map of Wessex at the back of each text, original series binding being of decorative dark-green ribbed cloth gilt, with an elborate "TH" monogram blocked in gilt on upper cover, gilt back, and gilt top. Osgood, McIlvaine's Wessex Novels remains the first uniform and complete edition of Hardy's works, preceding the 1913-1930 Macmillan uniform Wessex edition.
The first complete uniform set of the Wessex Novels together with the Wessex Tales and short stories appeared in 18 volumes between 1894 and 1897 (17 volumes were published by Osgood, and then the edition later included another volume of short stories featuring "A Changed Man," added by MacMillan), and included three first volume editions: The Well-Beloved, Jude the Obscure, and "A Changed Man" and Other Stories. This first Osgood uniform set is now very hard to find and much less common than the set carrying the Harper's imprint or the later Macmillan uniform set. Each volume has a new preface by the author introducing the contents, and for Osgood-McIlvaine Hardy made some significant revisions. Finally, each of the original sixteen volumes is prefaced by an etched frontispiece specifically designed for the author by the young Scottish portrait artist Henry Macbeth-Raeburn (1860-1947). Hardy re-read the text of every novel thoroughly and made careful revisions, correcting and adjusting where necessary the topography (both place-names and distances between locations), frequently re-entitling chapters, and doing much rewriting generally. In addition, "Hardy prepared a special preface for each volume" (Purdy, 281); sometimes the Preface is particularly important for its indication of sources. Each of the sixteen volumes has an etched frontispiece by Macbeth-Raeburn depicting a scene from the novel drawn on the spot such as The Budmouth Harbour of the Story for The Trumpet-Major (the ninth volume) and a map of Wessex drawn by Hardy himself. In terms of book production, these volumes are often regarded by Hardy collectors as the finest trade editions of Hardy's works. All volumes in this series are scarce, especially in good condition. — See Richard L. Purdy, p. 35 and p. 281.
Bibliography
Flynn, Susanne Johnson. "Hardy and the Creation of Wessex." Accessed 14 January 2017. Gettysburg College. http://public.gettysburg.edu/academics/english/hardy/land/wessex.html
Gatrell, Simon. Hardy the Creator: A Textual Biography. Oxford: Clarendon, 1988.
Hardy, Thomas. A Changed Man and Other Tales. Volume Eighteen in the Complete Uniform Edition of the Wessex Novels. London: Macmillan, 1914.
Kay-Robinson, Denys. The Landscape of Thomas Hardy.Exeter: Webb & Bower, 1984.
Lea, Hermann. Thomas Hardy's Wessex. London: Macmillan, 1913.
Millgate, Michael. Thomas Hardy: A Biography Revisited. Oxford: Oxford U. P., 2004.
Pinion, F. B. A Hardy Companion. Trowbridge, Wiltshire: Macmillan, 1968.
Purdy, Richard L. Thomas Hardy: A Bibliographical Study. Oxford: Clarendon, 1954, rpt. 1978.
Ray, Martin. Thomas Hardy: A Textual Study of the Short Stories. London: Ashgate, 1988.
Seymour-Smith, Martin. Hardy. London: Bloomsbury, 1994.
Turner, Paul. The Life of Thomas Hardy. A Critical Biography. Oxford: Blackwell, 1998.
Wright, Sarah Bird. Thomas Hardy A to Z: The Essential Reference to His Life and Work. New York: Facts on File, 2002.
---
Last modified 3 February 2017