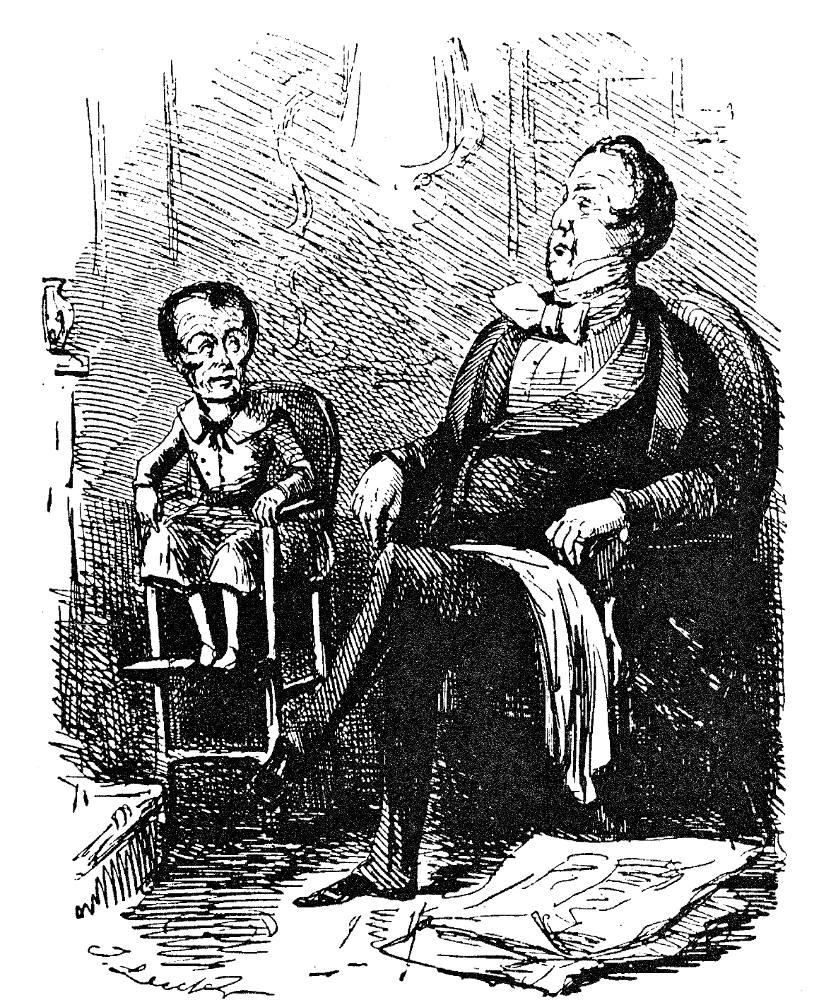 "Dombey and Son": Lord Russell as Paul Dombey (1847)
John Leech
Wood Engraving
11.8 cm high x 9.1 cm wide, vignetted.
[You may use this image without prior permission for any scholarly or educational purpose as long as you (1) credit the person who scanned the image, and (2) link your document to this URL in a web document or cite the Victorian Web in a print one.]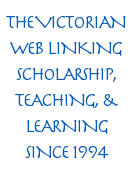 Caption: "Mr. Dombey was in a difficulty. He would have liked to give him (the boy) some explanation involving the terms circulating-medium, currency, depreciation of currency, paper, bullion, rates of exchange, value of precious metals in the market, and so forth." Punch (1847).
The Cartoon's Political Context
1846: Disraeli and Bentinck organised Tory opposition against the repeal. On the vital vote, only 112 Tories supported Peel and the repeal of the Corn Laws was carried by Whig/Liberal votes. Peel was defeated on a Coercion Bill for Ireland and resigned. Peel refused to lead a group of Conservatives that supported Free Trade.
1847: The General Election confirmed the majority of Whigs/Liberals. Peel offered advice to the Liberals on Free Trade policies. [Timeline of Sir Robert Peel's Life]
Leech composed this satirical cartoon when Dombey's serial run was well under way and Sir Robert Peel, the former Tory Prime Minister, was advising with the new Liberal administration on economic policy. Leech seems to have found Lord John Russell, victor in the recent general election, an easy target. Like Dickens's merchant prince, Paul Dombey, Senior, Russell was shy, vain, and somewhat aloof, and was derided by his Tory critics as "out of touch." Leech, something of a Radical and Reformer himself, may have been a bit ambivalent about the new Prime Minister because Russell was the chief architect of the Great Reform Bill of 1832. Although Peel, the former Prime Minister, was a Conservative, Russell hoped for the support of Peel and his progressive colleagues in the Tory caucus, as well as the support of the few Radicals in the Commons. However, Russell found it difficult to cement a progressive alliance because of the economic and social challenges of The Hungry Forties, and the international tensions caused by the Year of Revolutions on the Continent and Chartist agitation in Britain. Peel, a Reforming Tory who had been responsible for much innovative social legislation, had run into opposition from traditionally-minded landowners when the disastrous harvests of the early 1840s provoked Peel to repeal the Corn Laws, which had protected the British market from cheap foreign imports of wheat.  After much debate and dissent within his own party, in June 1846, Peel was able to repeal the Corn Laws. However, on the very same day, he was defeated on an Irish bill, and, resigning for the final time, was forced to call a general election.
The Leech cartoon alludes to just Phiz's illustration for the serial run of the Dickens novel: Paul and Mrs. Pipchin (Dec., 1846); later British illustrators such as Fred Barnard (1877) and Harry Furniss (1910) may have borrowed from Leech the notion of depicting Mr. Dombey and his son sitting wordlessly before the fire in such plates as Dombey and Son (1877, 1910). The humour of the caption lies in the fact that Lord Russell as Dombey is contemplating how to raise financial issues in such a way that the "child" will understand them, but that Peel was in fact well versed in the economic theories associated with Free Trade. Leech would seem to have the following passage in mind:
He was childish and sportive enough at times, and not of a sullen disposition; but he had a strange, old-fashioned, thoughtful way, at other times, of sitting brooding in his miniature arm-chair, when he looked (and talked) like one of those terrible little Beings in the Fairy tales, who, at a hundred and fifty or two hundred years of age, fantastically represent the children for whom they have been substituted. He would frequently be stricken with this precocious mood upstairs in the nursery; and would sometimes lapse into it suddenly, exclaiming that he was tired: even while playing with Florence, or driving Miss Tox in single harness. But at no time did he fall into it so surely, as when, his little chair being carried down into his father's room, he sat there with him after dinner, by the fire. They were the strangest  pair at such a time that ever firelight shone upon. Mr. Dombey so erect and solemn, gazing at the glare; his little image, with an old, old face, peering into the red perspective with the fixed and rapt attention of a sage. Mr. Dombey entertaining complicated worldly schemes and plans; the little image entertaining Heaven knows what wild fancies, half-formed thoughts, and wandering speculations. Mr Dombey stiff with starch and arrogance; the little image by inheritance, and in unconscious imitation. The two so very much alike, and yet so monstrously contrasted. [Chapter 8, "Paul's Further Progress, Growth and Character"]
Relevant Illustrations by Phiz, Barnard, and Furniss for Ch. 8 in
Dombey and Son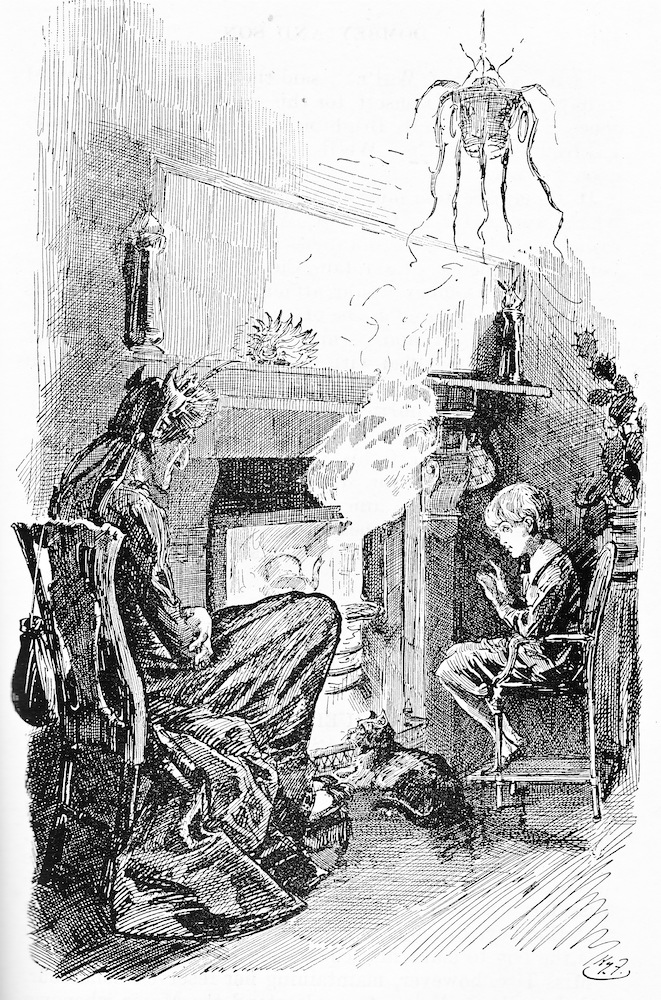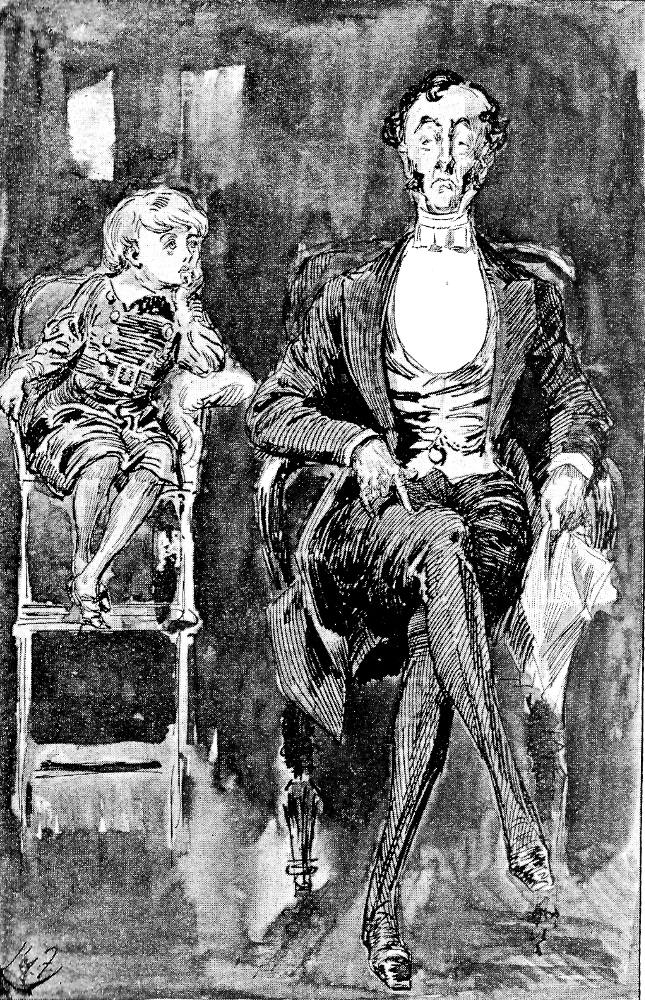 Left: Phiz's original serial illustration for December 1846, Paul and Mrs. Pipchin. Left of centre: Fred Barnard's 1877 illustration may owe as much to Leech as Phiz: Dombey and Son. Right of centre: Harry Furniss's impressionistic revision of the Phiz scene, Paul Puzzling Mrs. Pipchin (1910). Right: Furniss based his frontispiece partly on Barnard's revision of the same scene, Paul Puzzling Mrs. Pipchin (1910).
Bibliography
Dickens, Charles. Dombey and Son. Illustrated by Hablot K. Browne ("Phiz"). The Clarendon Edition, ed. Alan Horsman. Oxford: Clarendon, 1974.
_________. Dealings with the Firm of Dombey and Son: Wholesale, Retail, and for Exportation. Illustrated by Harry Furniss. The Charles Dickens Library Edition. London: Educational Book Company, 1910. IX.
__________. Dombey and Son. Illustrated by Sol Eytinge, Jr., and engraved by A. V. S. Anthony. 14 vols. Boston: Ticknor & Fields, 1867. III.
Hammerton, J. A. "Chapter 16: Dombey and Son."The Dickens Picture-Book. The Charles Dickens Library Edition.Illustrated by Harry Furniss. 18 vols. London: Educational Book Co., 1910. Vol. 17, 294-337.
John Leech's Pictures of Life and Character from the Collection of Mr. Punch. London: Bradbury, Agnew, & Co., 1886.
Lester, Valerie Browne. Ch. 12, "Work, Work, Work." Phiz: The Man Who Drew Dickens. London: Chatto and Windus, 2004, pp. 128-160.
---

Victorian
Web

Punch

Illus-
tration

John
Leech
Last modified 2 January 2021