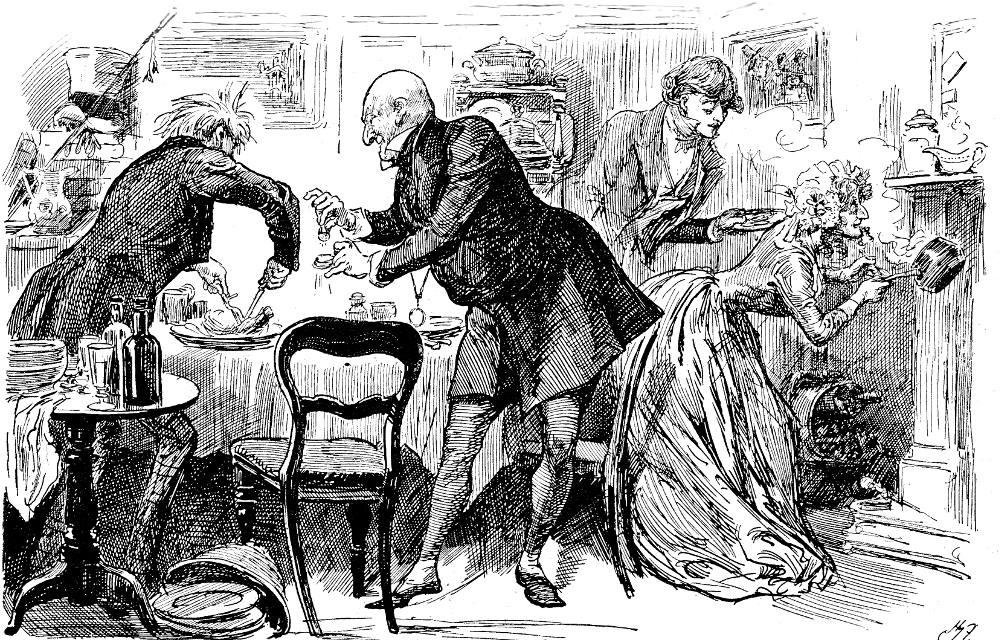 The little Dinner at Copperfield's Lodgings by Harry Furniss. Sixteenth illustration for Dickens's Personal History and Experience of David Copperfield, Volume 10 in the Charles Dickens Library Edition (1910), Chapter XXVIII, "Mr. Micawber's Gauntlet," facing page 416. 8.9 x 13.7 cm (3 ½ by 5 ⅜ inches) vignetted. Caption: Traddles cut the mutton into slices; Mr. Micawber covered them with pepper, mustard, salt, and cayenne; I put them on the gridiron; and Mrs. Micawber continually stirred some mushroom ketchup in a little saucepan. — Copperfield, p. 413. [Click on the image to enlarge it.]
Passage Illustrated: Micawber, Traddles, and David cooking up a storm
There was a gridiron in the pantry, on which my morning rasher of bacon was cooked. We had it in, in a twinkling, and immediately applied ourselves to carrying Mr. Micawber's idea into effect. The division of labour to which he had referred was this: — Traddles cut the mutton into slices; Mr. Micawber (who could do anything of this sort to perfection) covered them with pepper, mustard, salt, and cayenne; I put them on the gridiron, turned them with a fork, and took them off, under Mr. Micawber's direction; and Mrs. Micawber heated, and continually stirred, some mushroom ketchup in a little saucepan. When we had slices enough done to begin upon, we fell-to, with our sleeves still tucked up at the wrist, more slices sputtering and blazing on the fire, and our attention divided between the mutton on our plates, and the mutton then preparing.
What with the novelty of this cookery, the excellence of it, the bustle of it, the frequent starting up to look after it, the frequent sitting down to dispose of it as the crisp slices came off the gridiron hot and hot, the being so busy, so flushed with the fire, so amused, and in the midst of such a tempting noise and savour, we reduced the leg of mutton to the bone. My own appetite came back miraculously. I am ashamed to record it, but I really believe I forgot Dora for a little while. I am satisfied that Mr. and Mrs. Micawber could not have enjoyed the feast more, if they had sold a bed to provide it. Traddles laughed as heartily, almost the whole time, as he ate and worked. Indeed we all did, all at once; and I dare say there was never a greater success. [Chapter XXVIII, "Mr. Micawber's Gauntlet," 413]
Commentary: Dickens foreshadows the domestic consequences of David's marriage
Harry Furniss offers a significant revision to the cookery scene since he has deliberately omitted the arrival of Steerforth's devious valet, Littimer. However, the scene offers only one other significant difference from its Phizzian original: Mrs. Micawber's assisting with the sauce, a function which is consistent with the text. In both the 1850 and 1872 illustrations the un-domesticated Dora, not yet David's wife, is not present. Although David had persuaded his dictatorial landlady, Mrs. Crupp, to cook for his bachelor dinner party, having made him promise to dine out for a fortnight, she abandons her cookery after the fish course. Mr. Micawber rises to the occasion, pitching in with the cooking and compounding his favourite beverage, punch.
Whereas Phiz emphasizes the arrival of Littimer in the equivalent serial plate, Furniss presents Micawber as the master of the kitchen, Tommy Traddles as his useful adjutant, and David as quite supernumary. "However will he survive marriage with the utterly incompetent domestic manager, Dora Spenlow?" Furniss causes readers to wonder.
Other Studies of "Males in the Kitchen" (1850 & 1872)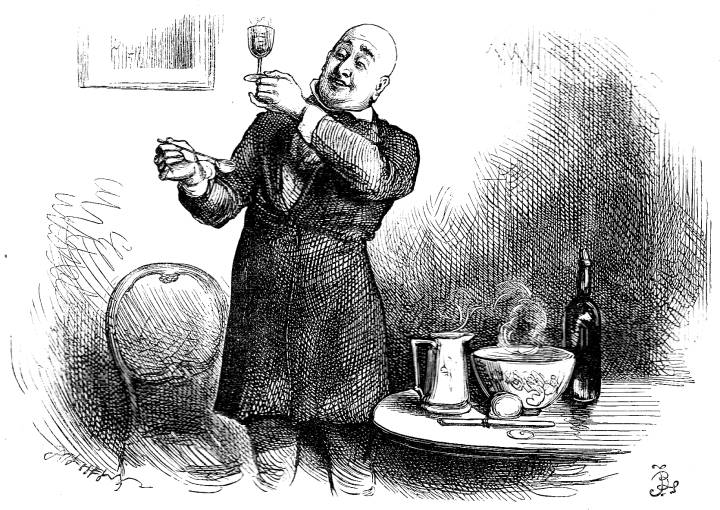 Left: Fred Barnard's British Household Edition version of Micawber as pleased with his punch: Mr. Micawber in His Element (1872). Right: Phiz's original serial illustration of the cookery scene interrupted by Littimer, Steerforth's devious valet: We are Disturbed in our Cookery (Instalment No. 10, February 1850). [Click on the images to enlarge them.]
Relevant Illustrated Editions of this Novel (1849 through 1910)
Scanned image and text by Philip V. Allingham. [You may use this image without prior permission for any scholarly or educational purpose as long as you (1) credit the person who scanned the image and (2) link your document to this URL in a web document or cite the Victorian Web in a print one.]
Bibliography
Bentley, Nicolas, Michael Slater, and Nina Burgis. The Dickens Index. Oxford and New York: Oxford U. P., 1988.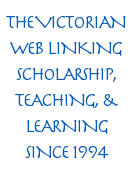 Davis, Paul. Charles Dickens A to Z: The Essential Reference to His Life and Work. New York: Facts On File, 1998.
Dickens, Charles. The Personal History of David Copperfield, illustrated by Hablot Knight Browne ("Phiz"). The Centenary Edition. London & New York: Chapman & Hall, Charles Scribner's Sons, 1911. 2 vols.
_______. The Personal History of David Copperfield. Illustrated by Sol Eytinge, Jr. The Diamond Edition. 14 vols. Boston: Ticknor & Fields, 1867. Vol. V.
_______. David Copperfield, with 61 illustrations by Fred Barnard. Household Edition. London: Chapman and Hall, 1872. Vol. III.
_______. The Personal History and Experiences of David Copperfield. Illustrated by Harry Furniss. The Charles Dickens Library Edition. London: Educational Book Company, 1910. Vol. X.
"Dora Spenlow." George Arents Collection. The New York Public Library Digital Collections. https://digitalcollections.nypl.org/items/510d47de-789e-a3d9-e040-e00a18064a99
Hammerton, J. A., ed. The Dickens Picture-Book: A Record of the the Dickens Illustrations. London: Educational Book, 1910.
Steig, Michael. Dickens and Phiz. Bloomington & London: Indiana U. P., 1978.
---
Created 12 March 2022