The Artful Dodger and Charley Bates
Sol Eytinge, Jr.
1867
Although other illustrators have depicted Oliver's dubious companions in Fagin's crib with greater effectiveness, and usually in the act of committing petty thefts, as in George Cruikshank's original 1837 serial plate, Oliver amazed at the Dodger's mode of going to work, Eytinge employs contrast to distinguish their characters.
Scanned image and text by Philip V. Allingham.
[You may use this image without prior permission for any scholarly or educational purpose as long as you (1) credit the person who scanned the image and (2) link your document to this URL in a web document or cite the Victorian Web in a print one.].
Passage Illustrated
One afternoon, the Dodger and Master Bates being engaged out that evening, the first-named young gentleman took it into his head to evince some anxiety regarding the decoration of his person (to do him justice, this was by no means an habitual weakness with him); and, with this end and aim, he condescendingly commanded Oliver to assist him in his toilet, straightway.
Oliver was but too glad to make himself useful; too happy to have some faces, however bad, to look upon; too desirous to conciliate those about him when he could honestly do so; to throw any objection in the way of this proposal. So he at once expressed his readiness; and, kneeling on the floor, while the Dodger sat upon the table so that he could take his foot in his laps, he applied himself to a process which Mr. Dawkins designated as "japanning his trotter-cases." The phrase, rendered into plain English, signifieth, cleaning his boots. [Chapter 18, "How Oliver passed his time in the improving society of his reputable friends," p. 79]
Commentary
Although Fagin directs a string of street gypsies, the only two who stand out are the quick-witted pickpocket Jack Dawkins (otherwise, "The Artful Dodger," a sobriquet doubtless conferred by Fagin himself) and Charley Bates, far more benign and facetious figures than Fagin's chief criminal associate, the burglar Bill Sikes. For all his wit and "artfulness," Dawking is sentenced to transportation for life to New South Wales, Britain's Australian penal colony. However, Dickens fashions a very different fate for Charley, whose explication of a professional technicality betrays his fear of hanging for his many petty thefts: at the close of the story, Charley reforms, returns to his rural roots as a grazier, becoming a prosperous burgess over time in his native Northamptonshire.
Dressed on casty-off adult clothing, Charley and the Dodger look like a bit like the anonymous street waif depicted in John Leech's 1843 political cartoon Substance and Shadow (left, inspecting a painting) from Punch Magazine. However, the Eytinge rogues are better dressed and less ill-kempt, although the American illustrator captures their grittier natures as he depicts them as street toughs in miniature, smoking, drinking (note the pot of porter on the table, left), and posturing. Purely to distinguish one from the other, Eytinge has Charley (right) laughing, and the Dodger (left, tophat tilted rakishly askew) scowling. The decaying plaster in the background suggests that the boys are in Fagin's garret.
Relevant Illustrations from the serial edition (1838), Household Edition (1871), and Charles Dickens Library Edition (1910)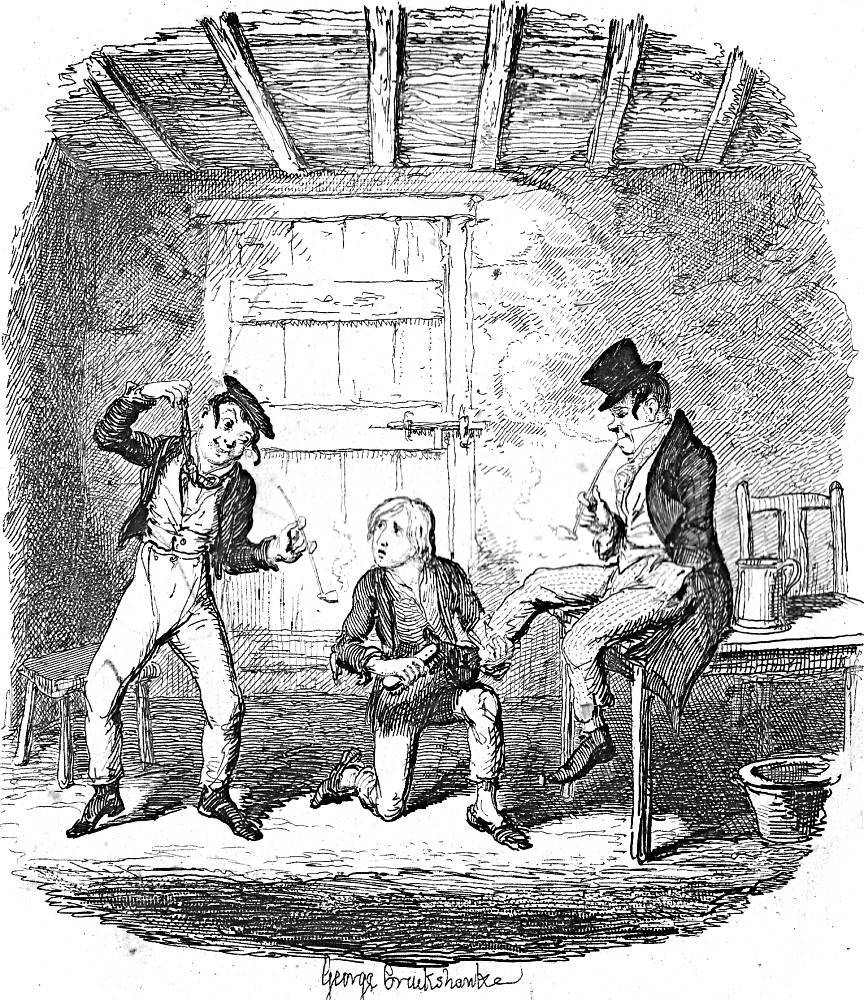 Left: George Cruikshank's Master Bates explains a professional technicality (1838). Right: Harry Furniss's Charles Dickens Library Edition illustration The Dodger's Toilet (1910). [Click on images to enlarge them.]
Above: James Mahoney's "What's become of the boy?" (1871). [Click on images to enlarge them.]
Bibliography
Bentley, Nicolas, Michael Slater, and Nina Burgis. The Dickens Index. New York and Oxford: Oxford U. P., 1990.
Cohen, Jane Rabb. "George Cruikshank." Charles Dickens and His Original Illustrators. Columbus: Ohio State U. P., 1980. Pp. 15-38.
Darley, Felix Octavius Carr. Character Sketches from Dickens. Philadelphia: Porter and Coates, 1888.
Davies, Philip. "Warren of Sunless Courts." Lost London, 1870-1945. Croxley Green, Hertfordshire: Transatlantic, 2009. Pp. 258- 260.
Davis, Paul. Charles Dickens A to Z: The Essential Reference to His Life and Work. New York: Facts On File, 1998.
Dickens, Charles. The Adventures of Oliver Twist; or, The Parish Boy's Progress. Il. George Cruikshank. London: Bradbury and Evans; Chapman and Hall, 1846.
Dickens, Charles. Oliver Twist. Works of Charles Dickens. Household Edition. 55 vols. Il. F. O. C. Darley and John Gilbert. New York: Sheldon and Co., 1865.
Dickens, Charles. The Adventures of Oliver Twist. Works of Charles Dickens. Diamond Edition. 14 vols. Il. Sol Eytinge, Jr. Boston: Ticknor and Fields, 1867.
Dickens, Charles. Oliver Twist. . Household Edition. Il. James Mahoney. London: Chapman and Hall, 1871.
Dickens, Charles. Oliver Twist. The Annotated Dickens. Ed. Edward Guiliano and Philip Collins. New York: Clarkson N. Potter, 1986. Vol. 1. Pp. 534-823.
Dickens, Charles. The Adventures of Oliver Twist. Works of Charles Dickens. Charles Dickens Library Edition. Il. Harry Furniss. London: Educational Book Company, 1910. Vol. 3.
Forster, John. "Oliver Twist 1838." The Life of Charles Dickens. Ed. B. W. Matz. The Memorial Edition. 2 vols. Philadelphia: J. B. Lippincott, 1911. Vol. 1, book 2, chapter 3. Pp. 91-99.
Kitton, Frederic G. "George Cruikshank." Dickens and His Illustrators: Cruikshank, Seymour, Buss, "Phiz," Cattermole, Leech, Doyle, Stanfield, Maclise, Tenniel, Frank Stone, Topham, Marcus Stone, and Luke Fildes. 1899. Rpt. Honolulu: U. Press of the Pacific, 2004. Pp. 1-28.
---

Victorian
Web

Illus-
tration

Oliver
Twist

Sol
Eytinge

Next
Last modified 10 October 2014