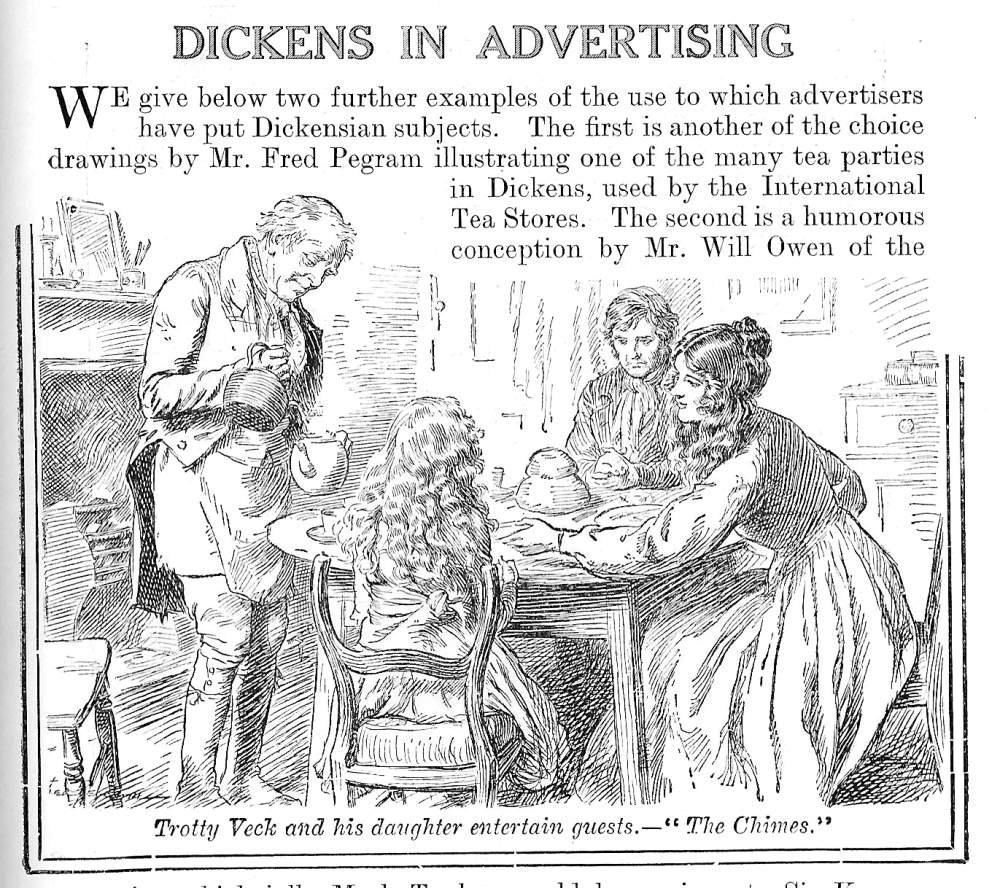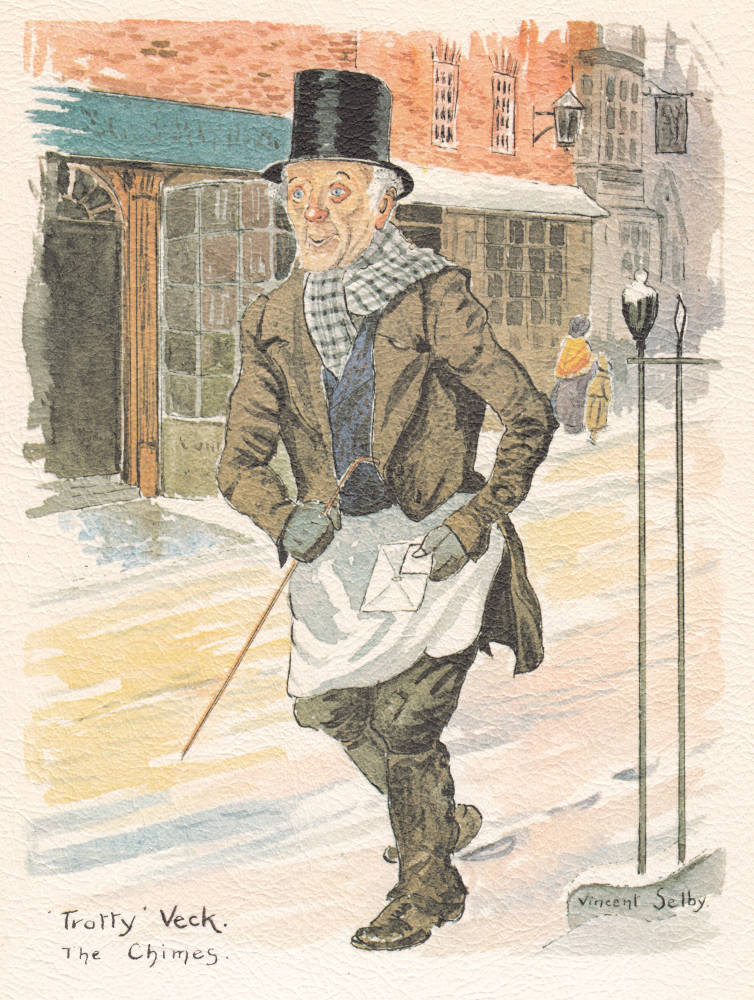 Left to right: (a) Fred Pegram's Trotty Veck and his daughter entertains guests. — 'The Chimes'. Vincent Selby's (b) Trotty Veck. (c) Frank Reynolds's Trotty Veck. [Click on these images for larger pictures.]
The 1929 Dickensian contains two pictures of the affable Trotty Veck used in recent advertisements. The first, Trotty Veck and his daughter entertains guests. — 'The Chimes' (53), drawn by London commercial artist Fred Pegram (1870-1937), appeared as part of a tea advertisement as one in a series of "tea parties in Dickens." The second is one of a series of reproductions of Punch illustrator Frank Reynolds (1876-1953)' "Characters from Dickens," originally commissioned by the Bachanan Whisky Company (Glasgow and London) at the turn of the century when the London-born Reynolds (1876-1953, a graduate of Heatherley's School of Art) was illustrating a number of Dickens titles for Hodder and Stoughton: David Copperfield (1911, The Pickwick Papers (1912), and The Old Curiosity Shop (1913), and The whiskey manufacturers between 1925 and 1930 released a promotional portfolio of thirteen well-beloved characters plus a likeness of Dickens himself and companion pictures of the Old Black Swan distillery itself in the eighteenth century (1790) and the early twentieth century (1913):
Their premises in Holborn, London, occupy the site of the Distillery Dickens so graphically described in the concluding chapters of Barnaby Rudge. Lord Woolavington, the head of the firm, is well known as a great Dickens lover, and it is interesting to note that he specially commissioned Mr. Reynolds to paint this series of Dickens studies. [54]
Known chiefly for his English landscape paintings, Vincent Selby (1919-2004) was born in Cheshire and trained as an artist in the 1930s, serving in the Royal Artillery during the Second World War, so that the four watercolours likely date from his youth. Apparently he based his watercolour "Trotty Veck" on Reynolds' painting in the Buchanan portfolio. Whereas two of the other three Selby studies are of characters from an early Dickens novel (Tony Weller and Samuel Pickwick are both from The Pickwick Papers), Trotty comes from the middle period of the Dickens canon, being the protagonist of a work long since forgotten but still popular in the 1920s. The fourth figure is one of Dickens's greatest comic inventions, Wilkins Micawber from David Copperfield. Whereas the four Selby pictures are relatively small, the Reynolds pictures in the Buchanan portfolio are suitable for framing at ten inches by seven inches; only Selby's study of Trotty Veck bears any similarity to pictures in the Reynolds portfolio.
Reference
"Advertising in Dickens." The Dickensian (1929): 53-54.
---
Last modified 22 June 2013