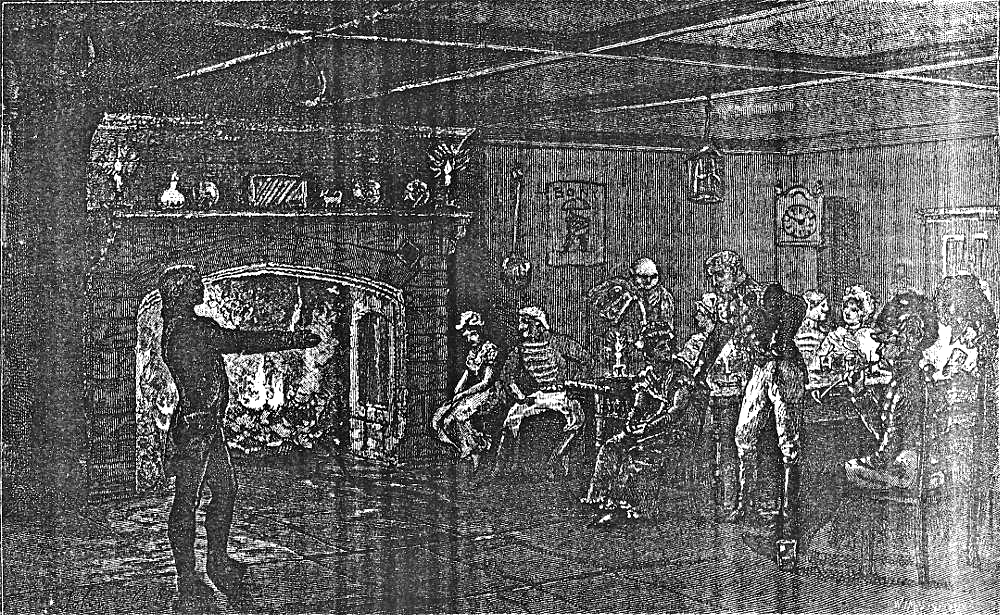 "Welcome, Master Derriman" by John Collier. Plate 5, Thomas Hardy's The Trumpet-Major. Good Words, February 1880 (105), framed: 11.2 cm high by 18.1 cm high. Original caption: "Welcome, Master Derriman." The full-page dark plate in Chapter 5, "The Song and The Stranger," illustrates a passage on the facing page, 106.
Passage Illustrated
"'Tis young Squire Derriman, old Mr. Derriman's nephew," murmured voices in the background.
Without waiting to address anybody, or apparently seeing who were gathered there, the colossal man waved his cap above his head and went on in tones that shook the window-panes: —
When hus'-bands with' their wives' agree'. And maids' won't wed' from mod'-es-ty', Then lit'-tle Bo'-ney he'll pounce down', And march' his men' on Lon'-don town'!
Chorus.—Rol'-li-cum ro'-rum, tol'-lol-lo'-rum, Rol'-li-cum ro'-rum, tol'-lol-lay.
It was a verse which had been omitted by the gallant Stanner, out of respect to the ladies.
The new-comer was red-haired and of florid complexion, and seemed full of a conviction his whim of entering must be their pleasure, which for the moment it was.
"No ceremony, good men all," he said; "I was passing by, and my ear was caught by the singing. I like singing; 'tis warming and cheering, and shall not be put down. I should like to hear anybody say otherwise."
"Welcome, Master Derriman," said the miller, filling a glass and handing it to the yeoman. "Come all the way from quarters, then? I hardly knowed ye in your soldier's clothes. You'd look more natural with a spud in your hand, sir. I shouldn't ha' known ye at all if I hadn't heard that you were called out." [Chapter 5, "The Song and The Stranger," 106]
Scanned image, colour correction, sizing, caption, and commentary by Philip V. Allingham. [You may use this image without prior permission for any scholarly or educational purpose, as long as you (1) credit the person who scanned the image, and (2) link your document to this URL in a web document or cite the Victorian Web in a print one.] Click on the image to enlarge it.
Bibliography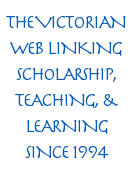 Hardy, Thomas. The Trumpet-Major (1880). Illustrated by John Collier. Good Words. January-December, 1880.
Jackson, Arlene M Illustration and the Novels of Thomas Hardy. Totowa, NJ: Rowman and Littlefield, 1981/
Vann, J. Don. "Thomas Hardy. The Trumpet-Major in Good Words, January-December 1880." (Twelve parts). New York: MLA, 1985. 84-85.
---
Created 28 December 2004

Last modified 4 May 2020