'Mr. Alfred Bryan (from a photo by the London
Stereoscopic Company)', in Forbes 53.
'Alfred Bryan' (1852-1899) was the pen-name of Charles William Grineau, a prolific cartoonist of the late nineteenth century. Across a thirty-year career, Bryan was best-known for his caricatures for the theatrical weekly Entr'acte and Footlight Favourites, more serious illustrations for the Illustrated Sporting and Dramatic News, and political cartoons for the conservative satirical weeklies Judy and Moonshine.
Beginning work at a young age (17 years old) – and with no specific training - Bryan's first cartoons appeared in the satirical weekly The Hornsey Hornet (later known as just The Hornet); also contributing cartoons to the gossip columns of the London Figaro (1871-1897). His Christmas-themed illustrations appeared in The World from 1878 until his death, and he drew serious illustrations as well as caricatures for the Illustrated Sporting and Dramatic News.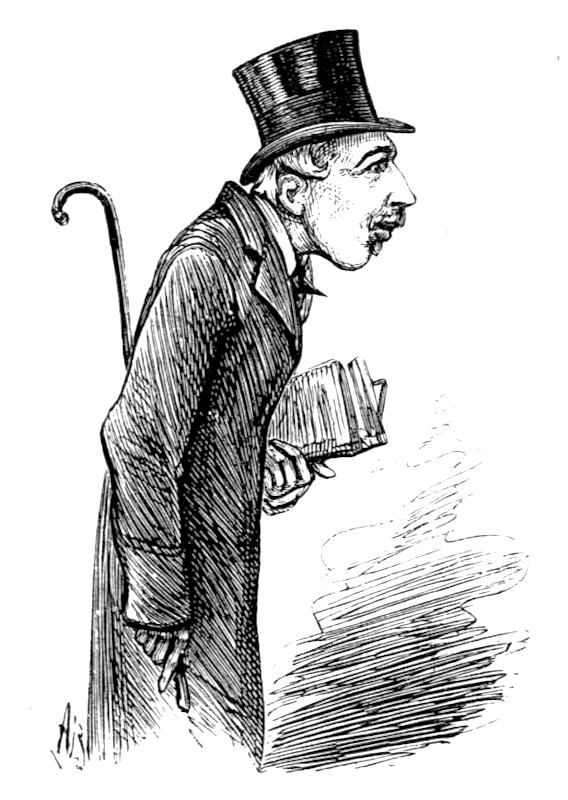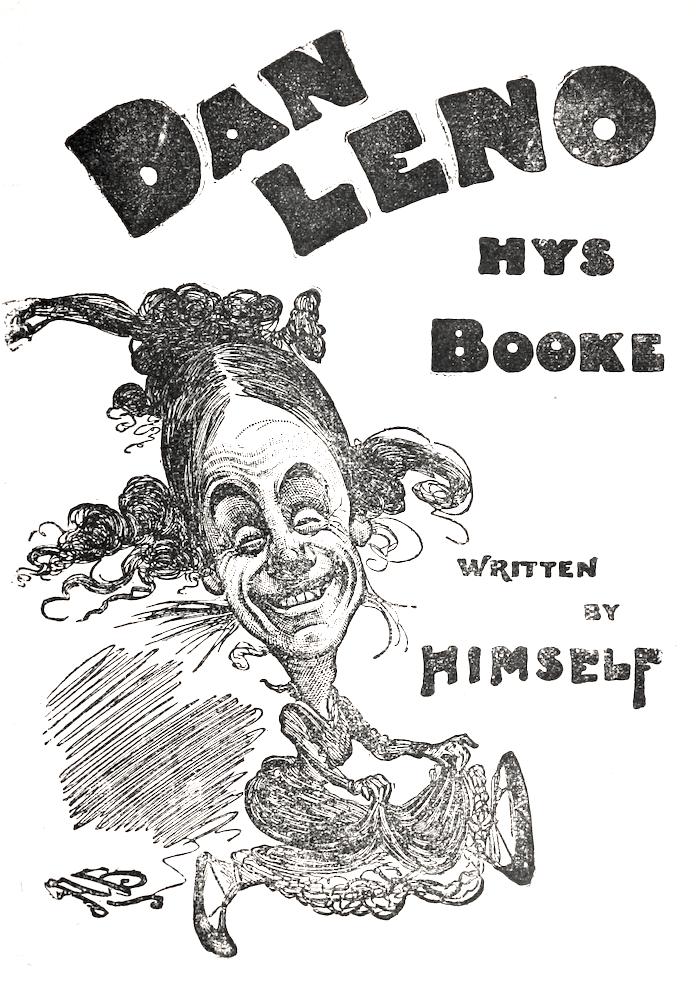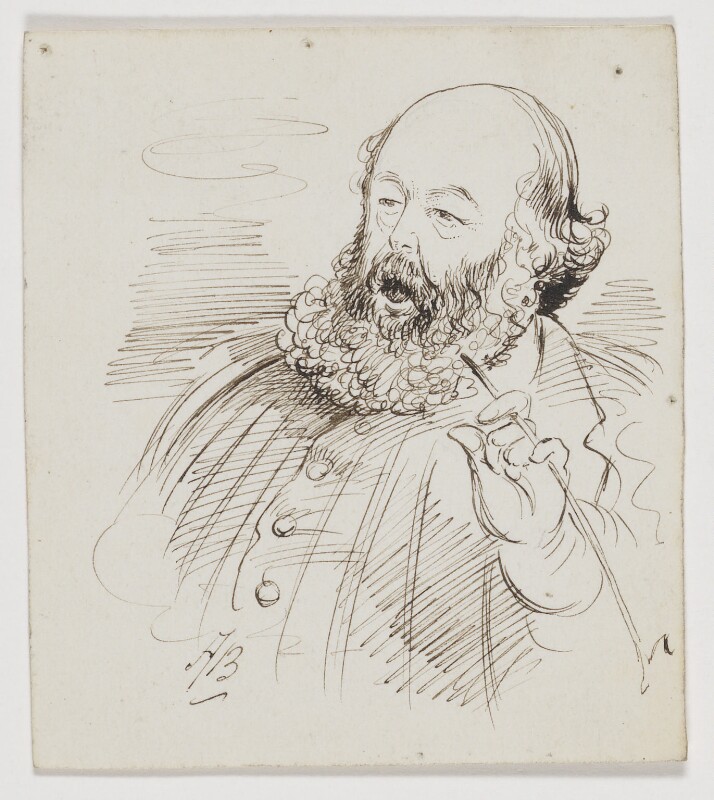 Left to right: (a) The playwright Edward Litt Laman Blanchard (1820-89) in c. 1883 (Scott and Howard, facing p. 546). (b) Dan Leno, depicted on the front cover of his Dan Leno, Hys Booke. (c) Pen and ink drawing of Lord Salisbury, © National Portrait Gallery, London. [Click on the images to enlarge them, and for more details about them.]
Bryan was particularly adept at caricaturing celebrities of the day, but also sketch portraits of the likes of Jenny Lind and Lord Salisbury (several of which are in the National Portrait Gallery). He was described by Walter Sickert as 'the most brilliant, the most prodigal, and the least advertised' draughtsman (1897), who also hailed his cartoons and drawings as 'unfaltering in their mastery of line, their perfect style, their elegance and wit' (1896). Sickert judged Bryan a better caricaturist than Francis Carruthers Gould, and believed his work was the equal of that of Honore Daumier. More than acceptable to a Conservative such as Sickert, Bryan's cartoons did prompt some criticism, including from Gladstone himself, who once held up a Bryan caricature of John Bright at a political meeting to illustrate the sorry state of public opinion and debate.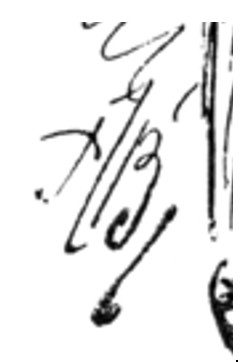 Above: A typical rendering of Bryan's 'AB' monogram.
Having worked on Judy during Charles H. Ross' time as editor, and illustrated a number of Ross's publications (including 'Stage Whispers,' and 'Shouts Without', 1881), Bryan was chosen to succeed John Proctor as chief cartoonist of the other conservative comic weekly, Moonshine, in 1889. As well as the classic Victorian 'big cut', Bryan also contributed a series of 'Days with Celebrities', showing the great and the good engaged in all sorts of amusing daily activities. Remarkably, he continued his work on other papers (Judy included, but also the new Ally Sloper's Half Holiday), becoming one of the most prolific cartoonists and comic artists of his day.
Bryan also taught the craft to a number of notable students, including Thomas Downey (who succeeded him at Judy in 1898), Horace Morehen, and J. A. Shepherd (both of whom worked on Moonshine).
Bryan died quite suddenly in 1899, leaving Moonshine without a cartoonist (a position filled briefly again by Proctor). Bryan was survived by his son, Charles William Grineau (1883-1957) who was an artist specialising in depictions of automobiles (and who signed himself 'Bryan de Grineau' or 'John Bryan').
Just prior to Bryan's death, Max Beerbohm penned a tribute to his friend, claiming that 'there is more talent in his little finger than in half the emblazoned hierarchy of "pen-and-ink draughtmen," on whose potterings and peddlings we all lavish so much admiration'. Beerbohm probably had in mind Sir John Tenniel, as the only rivals to Bryan he mentioned were Phil May and Leonard Raven-Hill. Aside from them, 'there is no one, engaged in pen-and-ink work of a popular kind, who can be compared with him, merely in point of technical mastery'.
Bibliography
Adcock, John. 'A Chat with Alfred Bryan.' Yesterday's Papers, February 6, 2009, at: http://john-adcock.blogspot.com/2009/02/chat-with-alfred-bryan.html.
Beerbohm, Max. 'A.B.' (1899), in More, London: William Heinemann, 1922.143-149.
Forbes, Frank. 'Our Leading Cartoonists I. - A Chat with Mr. Alfred Bryan', The Temple Magazine, v3, 1898: 53-57.
Scully, Richard. Eminent Victorian Cartoonists – Volume II: The Rivals of 'Mr Punch'. London: Political Cartoon Society, 2018.
Sickert, Walter. 'The Art of Caricature.' The Speaker, October 31, 1896, in Walter Sickert, The Complete Writings on Art. Ed. Anna Gruetzner Robins, Oxford: Oxford University Press, 2003. 105-07.
Sickert, Walter. 'Pictures of Actors.' The Speaker, May 29, 1897, in Walter Sickert, The Complete Writings on Art, ed. Anna Gruetzner Robins. Oxford: Oxford University Press, 2003. 172-174.
Thorpe, James. English Illustration – the Nineties. London: Faber and Faber, 1935.
---
Created 29 January 2022