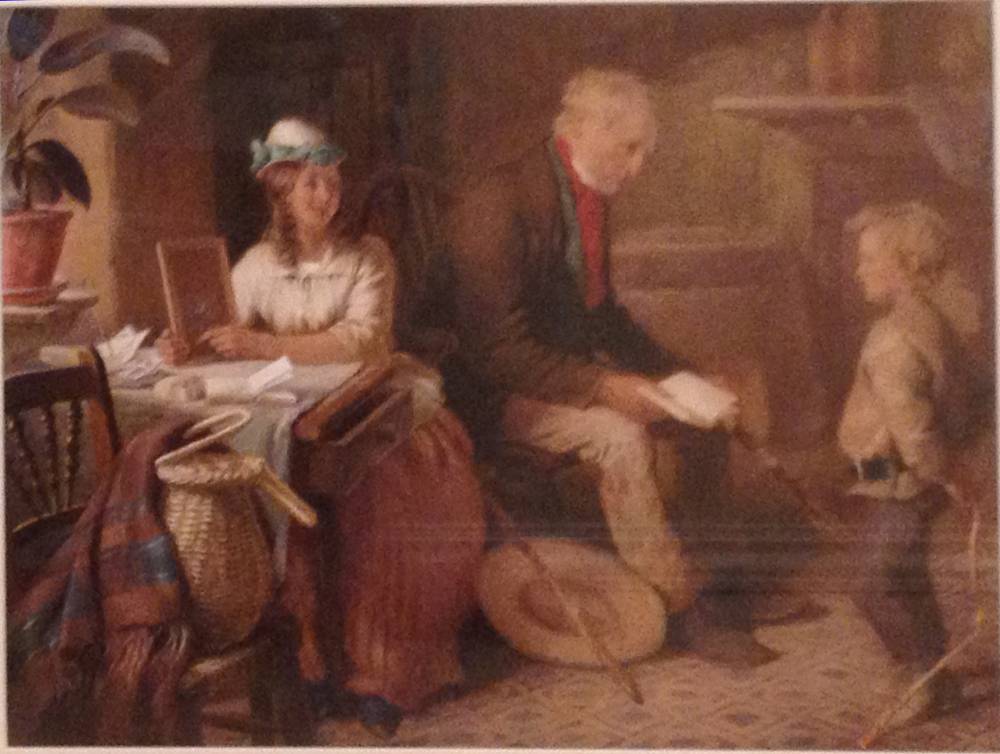 Scene from "David Copperfield". Watercolor by Fred Barnard. Private collection, Australia. Photograph by the owner. [Click on image to enlarge it.]
According to the present owner, the watercolor depicts "a young David Copperfield standing in front of Edward Murdstone, who is holding an open book and birch. Clara is sitting behind Murdstone writing the answers on slate for David to see." The figure identified as Murdstone does not look anything like the much younger, heavily bewhiskered man in the artist's published illustrations, such as "And when we came at last to the five thousand cheeses (canes he made it that day, I remember), my mother burst out crying." (image) and neither does the little boy in the watercolor look much like the dark-haired, well-dressed boy in the illustration. Furthermore, the stick near the elderly gentleman, who holds an open book, seems more like a rough walking stick than the cane Murdstone flexes.
Barnard — unlike Phiz, the best known of all illustrators of Dickens's — is not known to have done many watercolors (personal communication from Philip V. Allingham). He does not even appear in the third volume of Martin Hardie's massive Watercolour Painting in Britain (1968), which covers the Victorian period. Therefore, this work, which bears the signature, "F Barnard," seems particularly interesting: Is this in fact an illustration of David Copperfield or a genre painting in the manner of Wilkie or Webster?
If you know anything about this picture or have any suggestions, please contact the webmaster.
Related Material
Last modified 17 June 2012