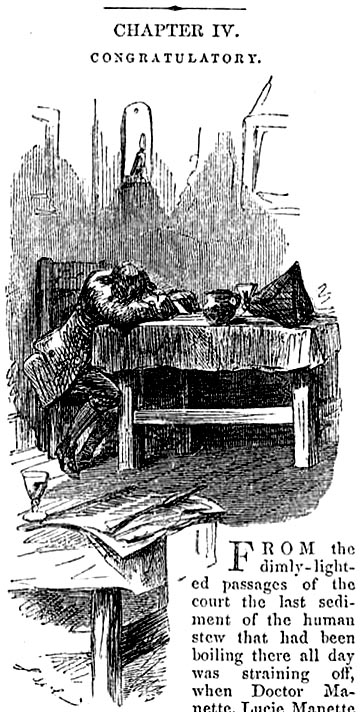 Headnote Vignette
John McLenan
1859
Dickens's A Tale of Two Cities, Book II, Chapter 4, "Congratulatory"
Harper's Weekly (18 June 1859): 405; this text previously appeared in the UK in All the Year Round on 11 June 1859
"When he was left alone, this strange being took up a candle, went to a glass that hung against the wall, and surveyed himself minutely in it.
"'Do you particularly like the man?' he muttered, at his own image; 'why should you particularly like a man who resembles you? There is nothing in you to like; you know that. Ah, confound you! What a change you have made in yourself! A good reason for taking to a man, that he shows you what you have fallen away from, and what you might have been! Change places with him, and would you have been looked at by those blue eyes as he was, and commiserated by that agitated face as he was? Come on, and have it out in plain words! You hate the fellow.'
"He resorted to his pint of wine for consolation, drank it all in a few minutes, and fell asleep on his arms, with his hair straggling over the table, and a long winding-sheet in the candle dripping down upon him."
Scanned image by Philip V. Allingham; text by PVA and George P. Landow.