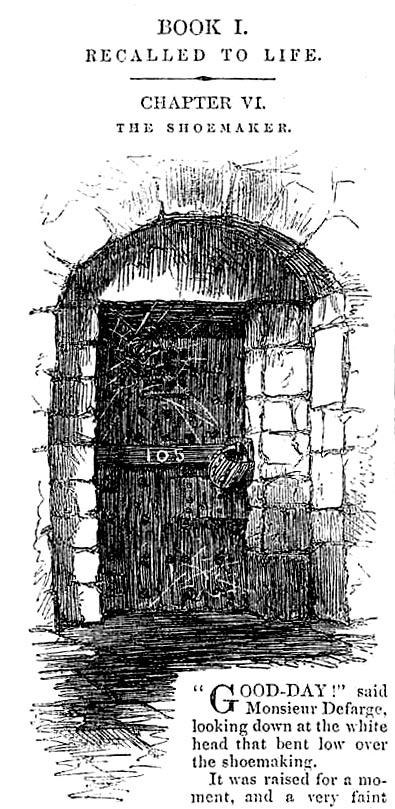 Headnote vignette
John McLenan
1859
Dickens's A Tale of Two Cities, Book I, Chapter 6, "The Shoemaker"
Harper's Weekly (28 May 1859): 348. This text previously appeared in the UK in All the Year Round on 21 May 1859.
Scanned image by Philip V. Allingham; text by PVA and George P. Landow.
[You may use this image without prior permission for any scholarly or educational purpose as long as you (1) credit the person who scanned the image and (2) link your document to this URL in a web document or cite the Victorian Web in a print one. .]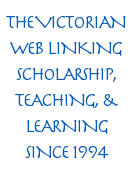 Passage Ilustrated
The headnote, which consists of an image of the door Dr. Manette's cell in 105 North Tower of the Bastille, tells us interesting things about illustrating a text both on account of what it does and does not do. First of all, it does not depict a scene dscribed in this chapter, which concerns Mr. Lorry's wakening the shattered former prisoner of the Bastille to life. Second, it provides a flashack of sorts, a movement back in the time of the narrative. Manette asks Lorry,
"Did you ask me for my name?"
"Assuredly I did."
"One Hundred and Five, North Tower."
"Is that all?"
"One Hundred and Five, North Tower."
With a weary sound that was not a sigh, nor a groan, he bent to work again, until the silence was again broken.
"You are not a shoemaker by trade?" said Mr. Lorry, looking steadfastly at him.
His haggard eyes turned to Defarge as if he would have transferred the question to him: but as no help came from that quarter, they turned back on the questioner when they had sought the ground.
"I am not a shoemaker by trade? No, I was not a shoemaker by trade. I — I learnt it here. I taught myself. I asked leave to — "
He lapsed away, even for minutes, ringing those measured changes on his hands the whole time. His eyes came slowly back, at last, to the face from which they had wandered; when they rested on it, he started, and resumed, in the manner of a sleeper that moment awake, reverting to a subject of last night. . . .
"Monsieur Manette"; Mr. Lorry laid his hand upon Defarge's arm; "do you remember nothing of this man? Look at him. Look at me. Is there no old banker, no old business, no old servant, no old time, rising in your mind, Monsieur Manette?"
As the captive of many years sat looking fixedly, by turns, at Mr. Lorry and at Defarge, some long obliterated marks of an actively intent intelligence in the middle of the forehead, gradually forced themselves through the black mist that had fallen on him. They were overclouded again, they were fainter, they were gone; but they had been there. And so exactly was the expression repeated on the fair young face of her who had crept along the wall to a point where she could see him, and where she now stood looking at him, with hands which at first had been only raised in frightened compassion, if not even to keep him off and shut out the sight of him, but which were now extending towards him, trembling with eagerness to lay the spectral face upon her warm young breast, and love it back to life and hope — so exactly was the expression repeated (though in stronger characters) on her fair young face, that it looked as though it had passed like a moving light, from him to her.
The image of the cell door serves as the image of the physical imprisonment that created the shattered man it enclosed and destroyed; and just as that door opened, so the mental imprisonment begins to end as Manette the shoemaker slowly becomes one again Dr. Manette, the physician.
References
Dickens, Charles. A Tale of Two Cities: A story of the French Revolution. Project Gutenberg e-text by Judith Boss, Omaha, Nebraska. Release Date: September 25, 2004 [EBook #98].
---

Victorian
Web

Visual
Arts

Illustra-
tion

A Tale of
Two Cities

John
McLenan

Next
Last modified 26 November 2007