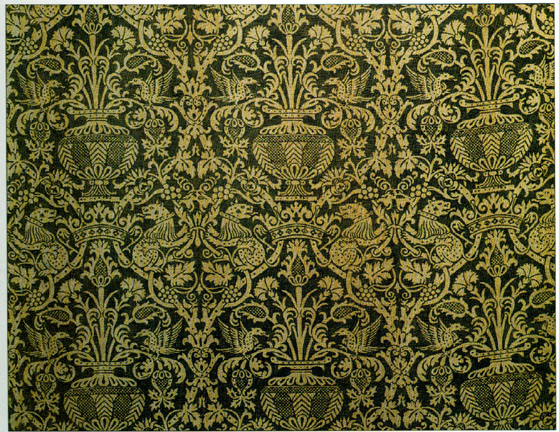 Lioness
Designer: Thomas Wardle 1831-1909
Manufacturer: Wardle & Co.
c. 1885
Printed linen
139 x 134.5 cm (54 3/4 X 53 inches)
Wardle's father had been a leading silk dyer so he was familiar svith both traditional and modern techniques of dyeing when he set up as a silk and calico dyer in 1870. Wardle met William Morris through his brother George who became general manager of Morris & Co. in 1870 and they became well-acquainted through their mutual interest in traditional dyeing. Wardle uras a founder member of the Silk Association and his wife Elizabeth set up the Leek Embroidery Society in 1879.
References
Arts & Crafts Textiles in Britain. Exhibition Catalogue. The Fine Art Society in Association with Francesca Galloway, nd. No. 25.
The Fine Art Society, London, has most generously given its permission to use information, images, and text from its catalogues in the Victorian Web, and this generosity has led to the creation of hundreds and hundreds of the site's most valuable documents on painting, drawing, sculpture, furniture, textiles, ceramics, glass, metalwork, and the people who created them. The copyright on text and images from their catalogues remains, of course, with the Fine Art Society. [GPL]
---

Victorian
Web

Visual
Arts

Decorative
Arts

Textiles

Next
Last modified 30 October 2007