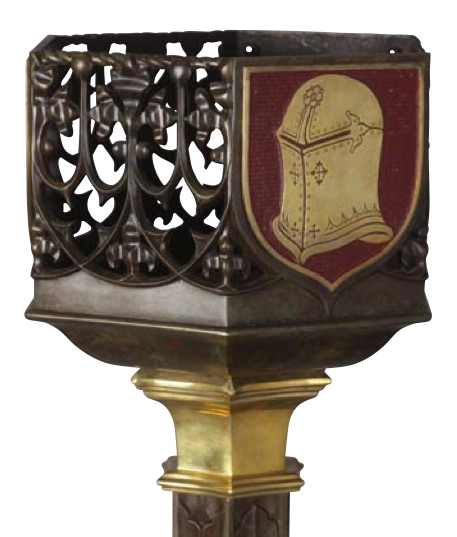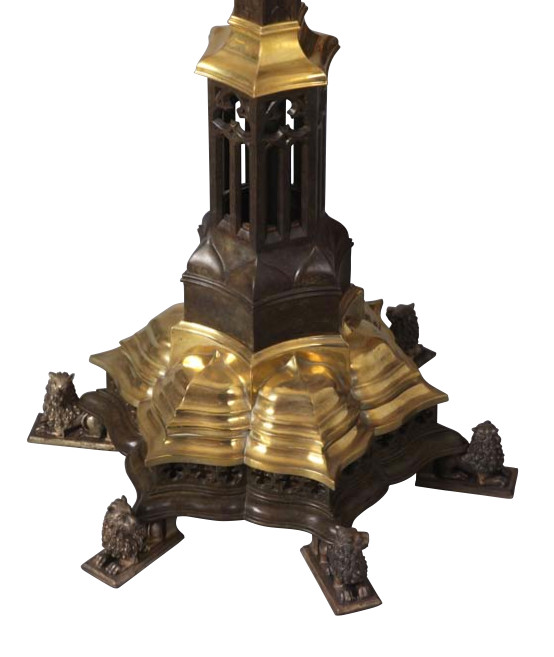 Pascal Candlestick. Designed by A. W. N. Pugin (1812-52) in about 1845. Bronze, brass, with enamel and gilded detail with cabochon decorations. Height 57" (145 cm), maximum width and depth 20" (51 cm). According to the exhibition catalogue (see "sources"): "This candlestick carries the arms of William George Ward (1812–1882). After his conversion to Catholicism in 1845, Ward moved to Ware where Pugin designed a small house for him, it is likely that this candlestick was presented by Ward to the chapel at St Edmunds College of which Pugin was the architect." [Images and caption © copyright The Fine Art Society with Haslam & Whiteway Ltd. Click on the images for larger pictures.]
Reviewing the autumn 1849 Exhibition of arts and manufactures in Birmingham, The Journal of Design and Manufactures (1850) commented on "[a]ll the exquisite chalices, monstrances, ciborial pastoral staves, patens, flagons, coronae lucis , candlesticks, thuribles, cruets, &c., which reproduce in mode of working all the medieval handwork processes" in the Hardman section, noting that they "emanate from the wonderfully versatile ability of Mr. Pugin" and praising the "grace of their forms and the elegance of their details." The reviewer also reflects very aptly on "the intense will and indomitable energy which have ... effected a complete revolution in demand" for this kind of ecclesiastical ware (54). — Jacqueline Banerjee.
Related Material
The Fine Art Society, London, has most generously given its permission to use information, images, and text from its catalogues in the Victorian Web. This generosity has led to the creation of hundreds and hundreds of the site's most valuable documents on painting, drawing, sculpture, furniture, textiles, ceramics, glass, metalwork, and the people who created them. The copyright on text and images from their catalogues remains, of course, with the Fine Art Society.
References
"Exhibition of arts and manufactures, Birmingham." The Journal of Design and Manufactures (1850): 51-69. University of Wisconsin Digital Collections. Web. 25 May 2014.
Whiteway, Michael. A. W. N. Pugin 1812-1852: An Exhibition Catalogue. London: The Fine Art Society with Haslam & Whiteway Ltd., 7-23 December 2011.
---
Last modified 25 May 2014