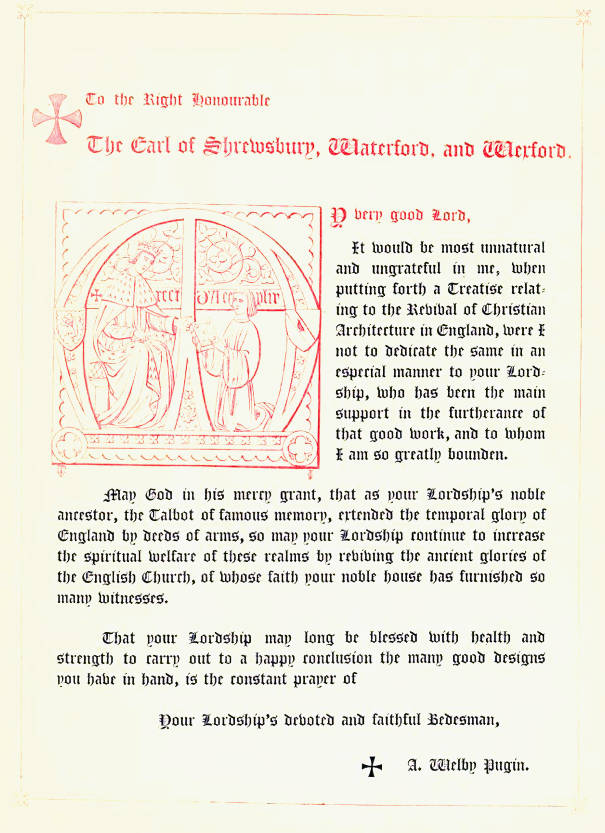 Dedication to the Earl of Shrewsbury
1843
27 x 21.2 cm.
Source: An Apology for the Revival of Christian Architecture in England
Beckwith, Victorian Bibliomania catalogue no. 41
Collection of the University of Toronto.
An architect and ideologue of the Gothic Revival, Augustus W. N. Pugin was critical of his own era. As a means of improving the social and cultural environment of the nineteenth century, he tried to revive the ideas and values that he believed influenced the culture and shaped political and social procedure in the Middle Ages. [continued below]
Click on image to enlarge it, and mouse over text below to find links
You may use this image without prior permission for any scholarly or educational purpose as long as you (1) credit the Internet Archive and the University of Toronto and (2) link your document to this URL in a web document or cite the Victorian Web in a print one.]
Commentary by Alice H. R. H. Beckwith
His reading of history differed from that of Henry Shaw and Frederic Madden (cats. 14, 40) in that Pugin saw the thirteenth and fourteenth centuries as the most creative and beautiful ages in Western history. He viewed all that followed as part of an artistic and social decline brought on by the "the decayed state of faith" throughout Europe in the fifteenth century (Stanton 85-86). He urged his fellow architects in An Apology for the Revival of Christian Architecture in England to build an architecture that was both Christian and English, saying, "Let us have an architecture, the arrangement and details of which will alike remind us of our faith and our country." Christian, Roman Catholic, and Gothic were synonymous in Pugin's vocabulary. He became a Roman Catholic in 1835, at the age of twenty-three, and was one of the most outspoken apologists for the faith in the early Victorian period (Stanton 10). The True Principles of Pointed or Christian Architecture is the fundamental statement of Pugin's creed as an architect and is discussed in the introduction to the present catalogue.
Pugin reinforced the themes in his books with his own designs, including illuminated initial letters and illustrations that resembled, but did not copy, miniatures from medieval manuscripts. His dedication page from the Apology is printed in red and black Gothic types and ornamented with an historiated capital M. The Apology was dedicated to Pugin's primary patron, the Earl of Shrewsbury, a descendant of the same John Talbot pictured in Henry Shaw's Dresses and Decorations of the Middle Ages (cat. 38). In Pugin's initial the seated noble is identified as Shrewsbury by the escutcheon with a lion rampant within an engrailed border, which is the first quartering of the Talbot arms. This coronetted peer receives a book from a kneeling author identified as Pugin by the armorial shield beside him. Carrying further the metaphor of subject and ruler, Pugin signed the dedication as a "devoted and faithful Bedesman." In this play on words Pugin associated himself with the scholarly Venerable Bede, and with the "bead men" or monks who prayed for others. Shrewsbury was portrayed in the text in the kingly role of the "main support" in the revival of Gothic architecture and as one who would "increase the spiritual welfare of these realms by rebuilding the ancient glories of the English Church."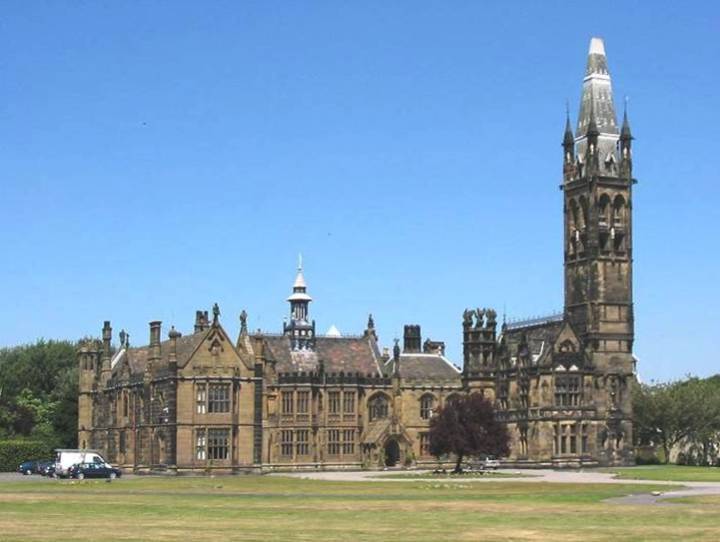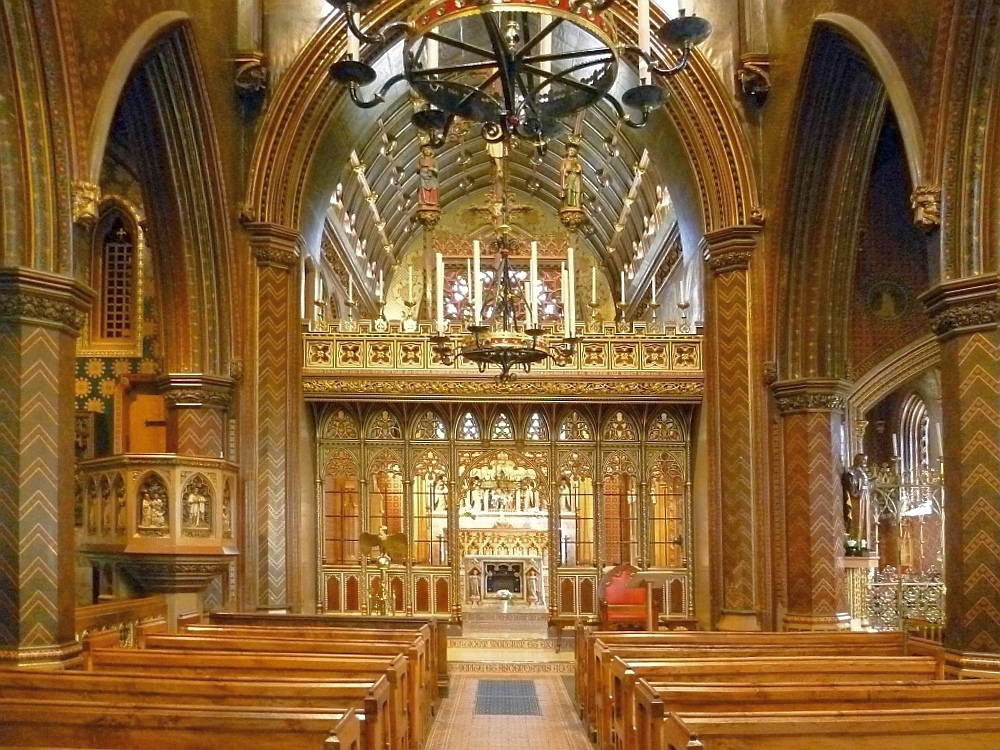 Two works by Pugin — Left to right: (a) Scarisbrick Hall. (b) St Giles' Church, Cheadle,. [Click on these images for larger pictures.]
Pugin used illuminated manuscripts in his buildings in three ways, designing illuminated legends, reproducing miniatures, and adapting ornamental details from manuscripts for furnishings and wall coverings. His script on the ceiling beams at the church of St. Mary, Warwick-Bridge, Cumberland, at Scarisbrick Hall, and on the Houses of Parliament comes from medieval scribal forms (Stanton 33, 96, 146). He had a miniature from an illuminated copy of The Roman de la Rose painted in the red room at Scarisbrick Hall (Croft-Murray vol. 2, 45). For St. Giles, Cheadle, a Shrewsbury commission, Pugin bought a fourteenth-century manuscript and employed details from it in the decoration of the church (Stanton 104-105). The relationship between St. Giles's interior and Victorian chromolithographed illuminated books as well as medieval sources has been noted by twentieth-century scholars (Stanton 108), and illustrates the multiple ways books and buildings were interrelated in nineteenth-century Britain.
References
Beckwith, Alice H. R. H. Victorian Bibliomania: The Illuminated Book in Nineteenth-Century Britain. Exhibition catalogue. Providence. Rhode Island: Museum of Art, Rhode Island School of Design, 1987.
Pugin, Augustus W. N. An Apology for the Revival of Christian Architecture in England. London: John Weale, 1843. Printer: W. Hughes. Illuminator-Designer: Pugin. Internet Archive version of a copy in the Library of the Sterling and FrancineCornell University. Web. 21 December 2013. The 1987 exhibition used a later edition from Library of Rhode Island School of Design, which Henry G. Bohn published in 1853.
Stanton, Phoebe B. Pugin. New York: Viking Press, 1972.
---

Victorian
Web

Visual
Arts

Decorative
Arts

Book
Design

A. W. N.
Pugin

Next
Last modified 22 December 2013