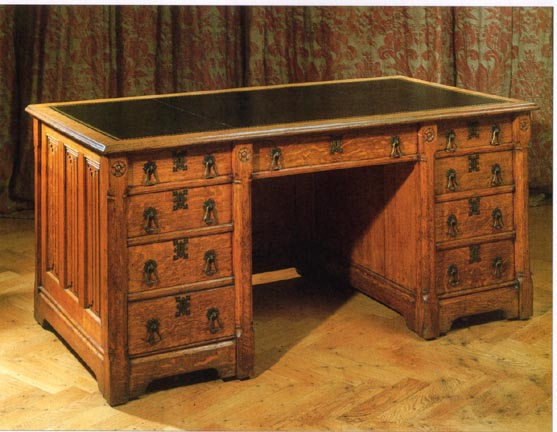 Gothic Revival Desk
Augustus Welby Northmore Pugin (1812-1852)
Gillow & Co., Lancaster and London (manufacturer)
1850
Oak with iron furniture
30 x 63 x 33 inches (76.2 x 160 x 83.8 cm)
A desk to this design was made for the Prime Minister's office in the New Palace of Westminster, London, designed by Pugin and Barry, and decorated by Pugin circa 1844. The handles and lock plates, also to Pugin's designs, were probably made by Hardman & Co. The Prime Minster's office is illustrated in Paul Atterbury & Clive Wainwright, Pugin a Gothic Passion, 1994 p.233, fig.439.
Despite his short life, Pugin was undoubtedly the most important and influential figure in design reform in nineteenth century Britain. He began his design career aged 15 years, producing furniture for Windsor castle made by Morel & Seddon and metalwork for the Royal goldsmiths Rundell, Bridge and Co. His numerous publications were highly influential; his Reformed Gothic ecclesiastical and domestic buildings set the pattern of the Gothic Revival in Britain for two decades; his work on the interior decoration of the new Palace of Westminster initiated many patterns and techniques that found their way into the commercial repertory of domestic design. Along with his closest allies Hardman, Crace, Myers and Minton he created the renowned Medieval Court at the 1851 Great Exhibition from which many items were purchased for the new South Kensington Musetim later the Victoria & Albert Museum.
References
Architect-Designers from Pugin to Mackintosh. Exhibition catalogue. London: The Fine Art Society with Haslam & Whiteway Ltd., 1981.
The Fine Art Society Story. Part I. London: The Fine Art Society, 2001. Catalogue number 115.
The Fine Art Society, London, has most generously given its permission to use information, images, and text from its catalogues in the Victorian Web. This generosity has led to the creation of hundreds and hundreds of the site's most valuable documents on painting, drawing, sculpture, furniture, textiles, ceramics, glass, metalwork, and the people who created them. The copyright on text and images from their catalogues remains, of course, with the Fine Art Society. [GPL]
---

Victorian
Web

Visual
Arts

Decorative
Arts

Furniture

A. W. N.
Pugin
Last modified December 1999