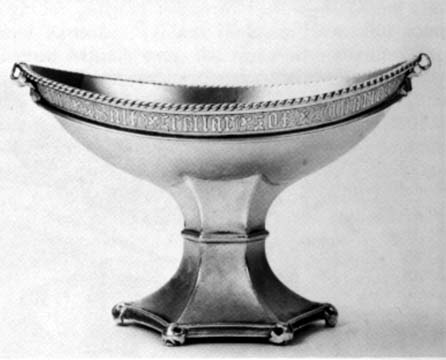 Salt Cellar
Augustus Welby Northmore Pugin (1812-1852)
Manufacturer: John Hardman & Company Silversmiths
1851
4 7/8 inches
Gilt brass
Private Collection
"In 1838, Pugin entered into partnership with John Hardman, the younger, member of a Birmingham button manufacturing firm, and also a Catholic, to manufacture metalwork to his designs. The firm eventually expanded to meet the requirements of Pugin's designs in other media: stained glass, mural decoration, embroidery, carving, in fact, all the requirements for church furnishing. John Hardman and Company were awarded medals for their exhibit at the Medieval Court of the Great Exhibition of 1851" [Elzea, Pre-Raphaelite Era, p. 18.].
References
Birmingham Gold and Silver, 1773-1973. City Museum and Art Gallery, Birmingham. 1973. No. C 17.
Elzea, Rowland and Betty. The Pre-Raphaelite Era, 1848-1914. Wilmington: Delaware Art Museum, 1976. No. 1-18.
Victorian and Edwardian Decorative Art: The Handley-Read Collection. Ed. Simon Jarvis. London: Royal Academy, 1972. Nos. B112-13.
---

Victorian
Web

Visual
Arts

Decorative
Arts

Metalwork

A. W. N.
Pugin
Last modified July 1999