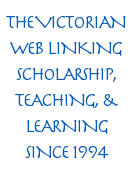 Keswick School of Industrial Art. 1893. Designed by Austin Paley and Austin, Lancaster. Photograph 2006 by Jacqueline Banerjee. [You may use this image without prior permission for any scholarly or educational purpose as long as you (1) credit the person who scanned the image and (2) link your document to this URL.]
The couplet over the front of the building reads: "The Loving Eye And Patient Hand, Shall Work With Joy and Bless The Land. " According to the history of the institution available from the local government website, "the design echo[ed] traditional Lakeland methods of construction, using local slate for the walls and the roof and gables made of Borrowdale Volcanic stone. The spinning-galleries of vernacular Lakeland barns and houses provided inspiration for a gallery which was built at the first floor with four arched bays. The external steps gave access to the showroom where the work of the School was displayed."
Canon Rawnsley, vicar of St. Kentigern's, and his wife Edith, who were friends and followers of John Ruskin, began what became the school with evening classes in repoussé metalwork, woodcarving, drawing, and design. The stated aims of the Keswick School of Industrial Art followed Ruskin's "The Nature of Gothic" (from The Stones of Venice) quite closely:
To counteract the pernicious effects of turning men into machines without the possibility of love for their work.
To make it felt that hand-work really does allow expression of a man's soul and self, and so is worth doing for it's own sake, and worth purchasing even at some cost to the buyer.
To try to displace by hand-work the crude metal and wooden ornaments produced by steel dies and hydraulic presses.
To show that here in England an abundance of skill of hand is wasted which, if any education worth its name were given to the whole working man — to his eye, hand, heart, as well as head — could and would help England.
According to the local website, "The School prospered and swiftly developed a reputation for high quality copper and silver decorative metalwork. By 1890 the School was exhibiting nationally and winning prizes. Special commissions began to arrive from regional and national customers. In the following decades the School, managed by a committee of Trustees, evolved into a commercial metalwork enterprise. This evolution included the adoption of stainless steel as a material in the 1930s, and the use of machinery from the 1960s." [GPL and JB]
Related pictures
---
Last modified 4 August 2006