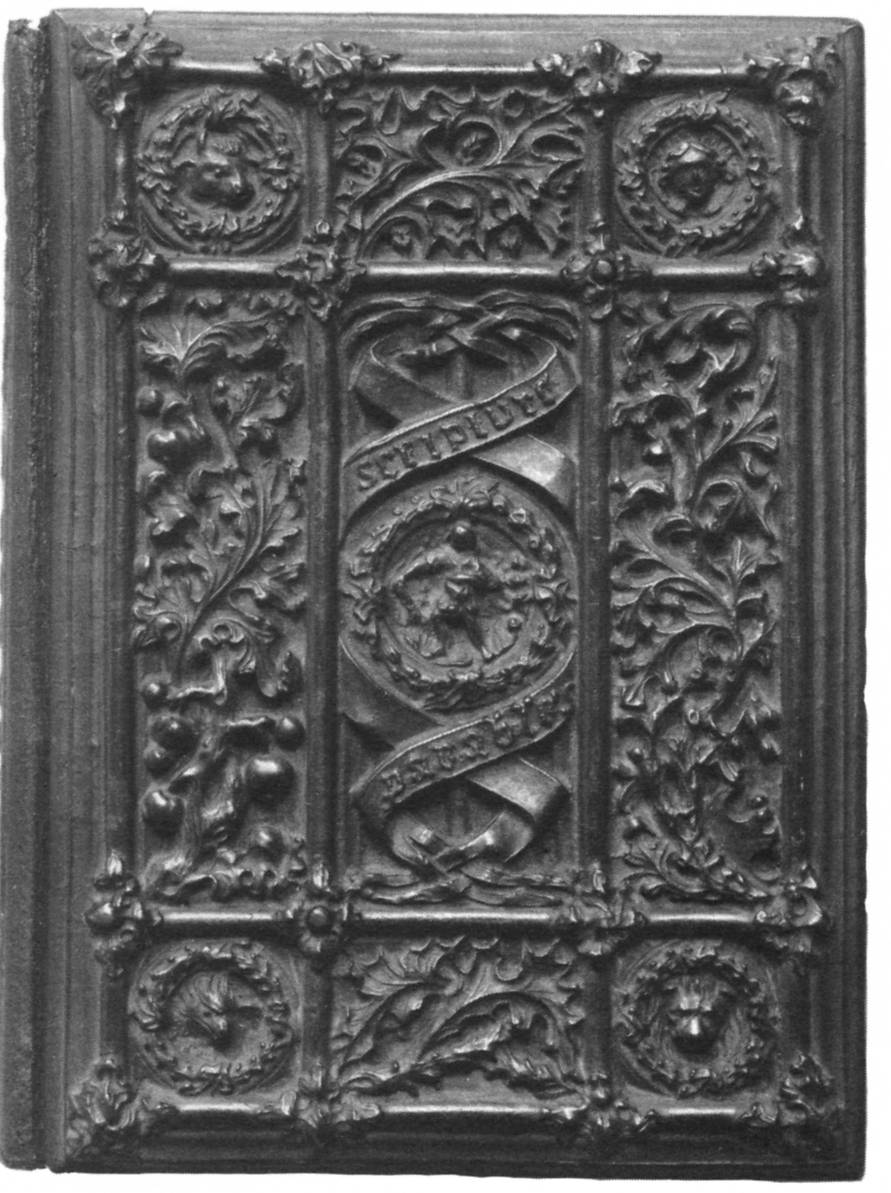 Parables of Our Lord
Henry Noel Humphreys, 1810-79, editor and illuminator
1848
Black papier-mâché.
16.9 x 11.8 cm.
Humphreys selected a series of Christ's parables from the Gospels for his first illuminated book in a black papier-mâché binding. In these teachings Christ explained religious mysteries and ethical standards through allegory and analogy. [continued below]
Mouse over text below to find links
The Ellen K. Morris Collection, which retains copyright
Commentary by Alice H. R. H. Beckwith
For instance, in the parable of the sower from Mark 4, which is suggested in the central figure on the cover of Humphreys' Parables, Christ likened the differences in individuals' abilities to receive the Christian message to the ways in which the same seed will wither in rocky soil or among thorns, and flourish in rich soil. The popularity of such a subject on both sides of the Atlantic in the Victorian period is attested to by the account books of Messrs. Longmans, which record that 2,000 The Parables were printed, of which 1,000 were sold to Appleton in New York with a changed title page. Further Longmans printed a second edition in the same year (McLean, Victorian Book Design, 100).
Humphreys was particularly interested in bringing the knowledge and enjoyment of arts and ideas, long the preserve of a wealthy intelligentsia, to a wider audience. He was not alone in discerning a new public hungry for information. In The English Common Reader, Richard D. Altick chronicled the effect on the book trade when Britain in the nineteenth century went from a population of 12 million people who were for the most part illiterate to one of 38 million people, most of whom could read. For this expanding readership Humphreys worked on at least fifteen books during the 1840s, on topics ranging from entomology to numismatics, as well as creating his illuminated works (cats. 8, 16-18, 30). His prefaces and afterwords were filled with additional information for his readers, as in The Parables where he defines the symbolism in his ornament and informs us that he has not copied any "old missals," but rather invented new designs for his illuminations.
Although The Parables is a relatively small book, the boldness of the cover makes it seem much larger. Vigorous curves and relief, combined with simplifying stylization, helped Humphreys achieve a lively and memorable design. Projecting rules divide the cover into three rectangles in both the vertical and horizontal dimensions. The Gospel authors Matthew, Mark, John, and Luke are represented in wreaths by the head of an angel, a lion, an eagle, and an ox in each of the four outer corners of the grid. Spiky stylized oak leaves fill the top and bottom central rectangles, beneath them, the main feature of the cover is the figure of a sower set inside a wreath around which two ribbons are wrapped on a staff. "Scripture Parables" appears in raised Gothic letters on the top and bottom crossings of the ribbons.
As in Owen Jones's books of the 1840s, Humphreys conceived of his pages as related pairs, and so designed with a double-page opening in mind. Both sides of his heavy card, gilt-edged pages were printed. He alternated the color schemes every two pages from cool, almost monochromatic hues to warm polychromy. Humphreys wrote the text in Gothic script, which imitated black letter type, on the lithographic stone. He elaborated the text with red, blue, and black line endings, illuminatcd initial letters, and miniatures, in the style of early hand-illuminated manuscripts.
References
Beckwith, Alice H. R. H. Victorian Bibliomania: The Illuminated Book in Nineteenth-Century Britain. Exhibition catalogue. Providence. Rhode Island: Museum of Art, Rhode Island School of Design, 1987.
Humphreys, Henry Noel. Parables of Our Lord. London: Longman, Brown, Green, and Longmans, 1847. Second issue: New York, Appleton & Co. 1848.
McLean, Ruari. Victorian Book Design and Colour Printing. 2nd edition. [London]: Faber & Faber, [1972].
---

Victorian
Web

Visual
Arts

Decorative
Arts

Henry Noel
Humphreys

Next
Last modified 18 December 2013