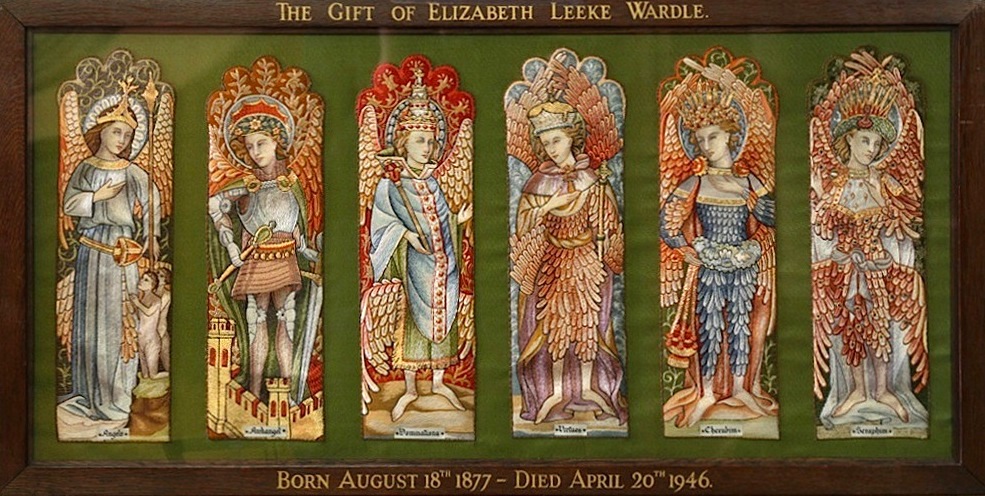 "The Hierarchy of Angels," or "Angel Orders". This quite spectacular embroidered panel, given by Elizabeth Leeke Wardle, is displayed at St Edward the Confessor, Leek. Elizabeth was one of the daughters of the Wardles, who founded the Leek Embroidery School. The piece must represent an enormous amount of work. The colours are beautifully modulated, with flesh tones (for which Lady Wardle herself had had a particular knack) standing out amid their surrounds, especially, in the last three figures, amid the flurries of feathers. The amount of detail in the faces, and in the individual feathers of the wings, the raiment and the accoutrements, is extraordinary. [Click on this and the following images to enlarge them.]

Close-ups of the first three orders from the left, representing Angels, Archangels and Dominations.
Two little supplicating figures kneel at the first angel's knees, pale like newly-born souls, while the jointed armour of the archangel in the middle is complemented by a castle wall and turrets in gold thread. "Dominations," of course, wears a castellated crown and carries a sceptre. There are fleur-de-lys in the upper part here, picked out in gold thread on the red background. The mixture of fancy and verisimilitude is strking, especially against the rich green silk material used as backing.


Close-ups of the three orders on the right, representing Virtues, Cherubims and Seraphim.
These three figures, their wings curved and meeting high over their heads, are almost fully feathered — unhampered at the front by robes or armour, and birdlike, as if continually employed in flight. Unlike the others, the cherubim and seraphim have spiky headgear reminiscent of rays of light. The middle one holds a censer for wafting incense.
A similar set-piece panel showing two orders of angels was the work of a teacher at the embroidery school, copied from a painted rood screen in Southwold Church, Suffolk, and dating from 1899. Perhaps this one would have had the same kind of background (see "Nine Orders of Angels, Leek").
Photographs by Michael Critchlow, and text by Jacqueline Banerjee. You may use these images without prior permission for any scholarly or educational purpose as long as you (1) credit the photographer and (2) link your document to this URL in a web document or cite the Victorian Web in a print one.
Sources
"Elizabeth Leeke Wardle." Geni. Web. 26 January 2016.
"The Nine Choirs of Angles." Catholic Online. Web. 26 January 2016.
"Nine Orders of Angels, Leek." Staffordshire Past Track (Staffordshire County Council). Web. 26 January 2016.
---
Created 26 January 2016