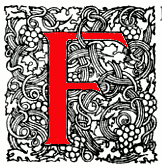 rederick Garrard was born in Kensington, Middlesex (now London) in 1837, the son of Stephen Garrard, Attorney at Law and Solicitor of the Court of Chancery and his wife Elizabeth. He had an elder sister, Louisa and was brought up in a fairly prosperous home with as many as five servants. By 1861, the Census lists him as an Architect, living with his parents at 8 Portsmouth Road, Kingston, Surrey. In 1868 The Architect's, Engineer's and Building Trade's Directory, also lists him as an Architect, living in Suffolk Street, London. It appears from comments in George Edmund Street's book The Cathedral of the Holy Trinity, commonly called Christ Church Cathedral, Dublin, published in London in 1882, that Garrard was working with Street as he is referred to as "….my old assistant and friend, Mr Garrard." He is thought to have been indentured to Street at the age of 14 and it is most likely that it was at Street's practice that he met Richard Norman Shaw who specified Garrard's tiles for many projects undertaken for his country house and church clients.
The 1871 Census places Garrard at Anne Cottage, Luton Place, Greenwich and on the night of the Census, the Architect William Eden Nesfield and his wife were staying as guests. By this time, Garrard is listed as a Master Potter and has a wife named Elizabeth. He is known to have taken a lease on three cottages situated at the works of the Millwall Pottery, Wharf Road, Millwall, probably in 1871. The 1881 Census shows him and his wife living at Fairfax House, Beaconsfield Road, Greenwich, just across the River Thames from Millwall, close to a convenient ferry, landing just a few yards from the pottery. His occupation is now listed as "Pottery Manager" and he was able to employ a cook and a housemaid.
Why Garrard would want to leave the security of working for a large architectural practice such as Street's is a mystery – from the comment above, Street seems to have held him in high esteem. Perhaps it was something to do with the fact that Street had paid a number of visits to Spain in order to study the Gothic architecture of the country, which resulted in his 1869 book: Gothic Architecture in Spain, published by John Murray in London. Did Garrard accompany Street on one or more of his journeys and become inspired by the tiles he saw?
Because of his connections with the world of architecture, Garrard appears to have had a very successful business at Millwall, but at the height of its success in the 1890s, he was struck down with diabetes, a problem which at the time had no cure and in 1893, he died aged just 55. This was not to be the end of tile production in Millwall, however. The pottery was continued until at least 1911 by Garrard's fireman, John Lewis James.
---
Last modified 9 April 2013