Note: This is an edited extract taken from Ainslie Waller's article, 'The Guild of Women Binders', which appeared in The Private Library 3rd Series, 6:3 (Autumn 1983): 99–131. Reproduced with permission of The Private Libraries Association.
The Guild had a small beginning. Two or three women who had previously bound books for pleasure came to the conclusion that bookbinding as a profession would suit their ends. The work was light and could be carried out at home without interfering with domestic duties. Accordingly:
Other women interested in the art were communicated with, the final result being the exhibition of a large case of beautifully bound books at Earl's Court in 1897, which by their originality of design and excellence of workmanship, aroused the admiration of all who saw them. [D. Courtney, The Ladies' Magazine, 1, 1901]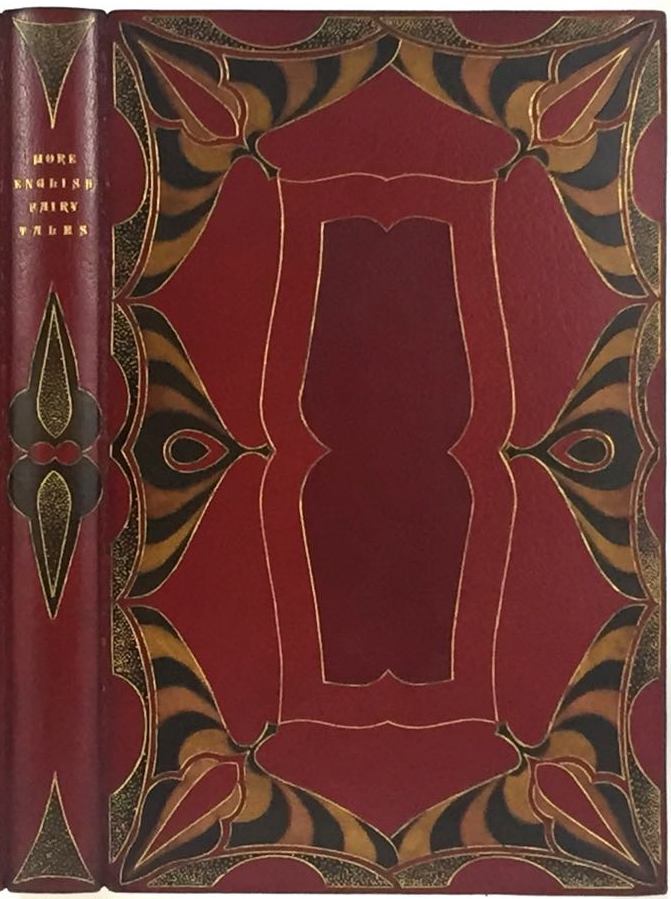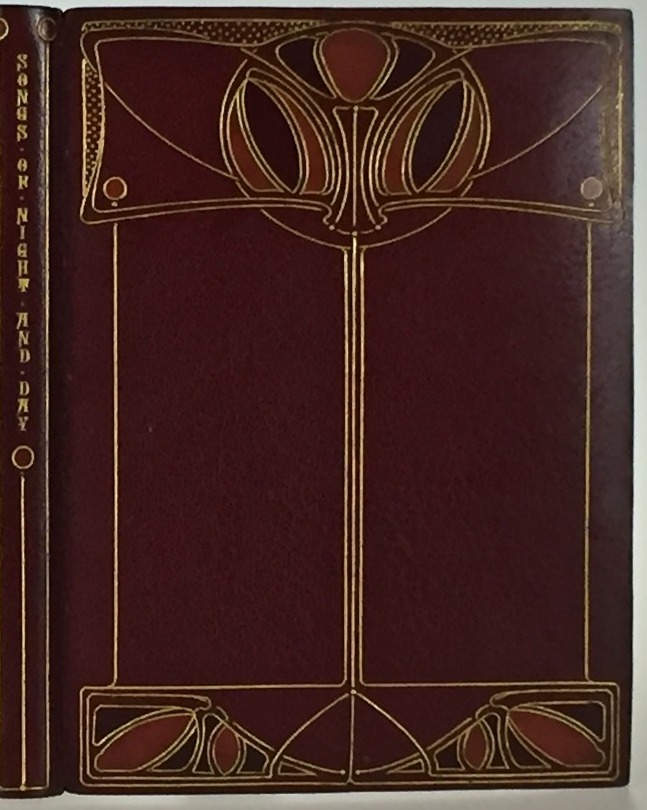 Left: More English Fairy Tales by Helen Scholfield. Right: Songs of Night and Day by Constance Karslake. [Click on images to enlarge them.]
Frank Karslake was among the more interested spectators. Having an 'eye for art effects, and a knowledge of artistic bookbinding' due to his long and varied connection with the book world, he recognized that here was a large field for women's work. He contacted all the ladies concerned, about thirty, and arranged for another exhibition to take place the following winter. This exhibition was an 'experience' said Curzon Eyre in his introduction to the catalogue of the exhibition which followed it in 1898–99, but was so successfully attended and so well patronised that it was decided to form a Guild in Women Binders. Mr Karslake would act as agent and he made his premises at Charing Cross Road available as a central shop where the finished work would be disposed of:
At its permanent depot, 61, Charing Cross Road, week by week, and all the year round, whatever is newest and best of the work, finds a temporary resting place, and a means of ready disposal. [Curzon Eyre, Exhibition Catalogue, 1898–99]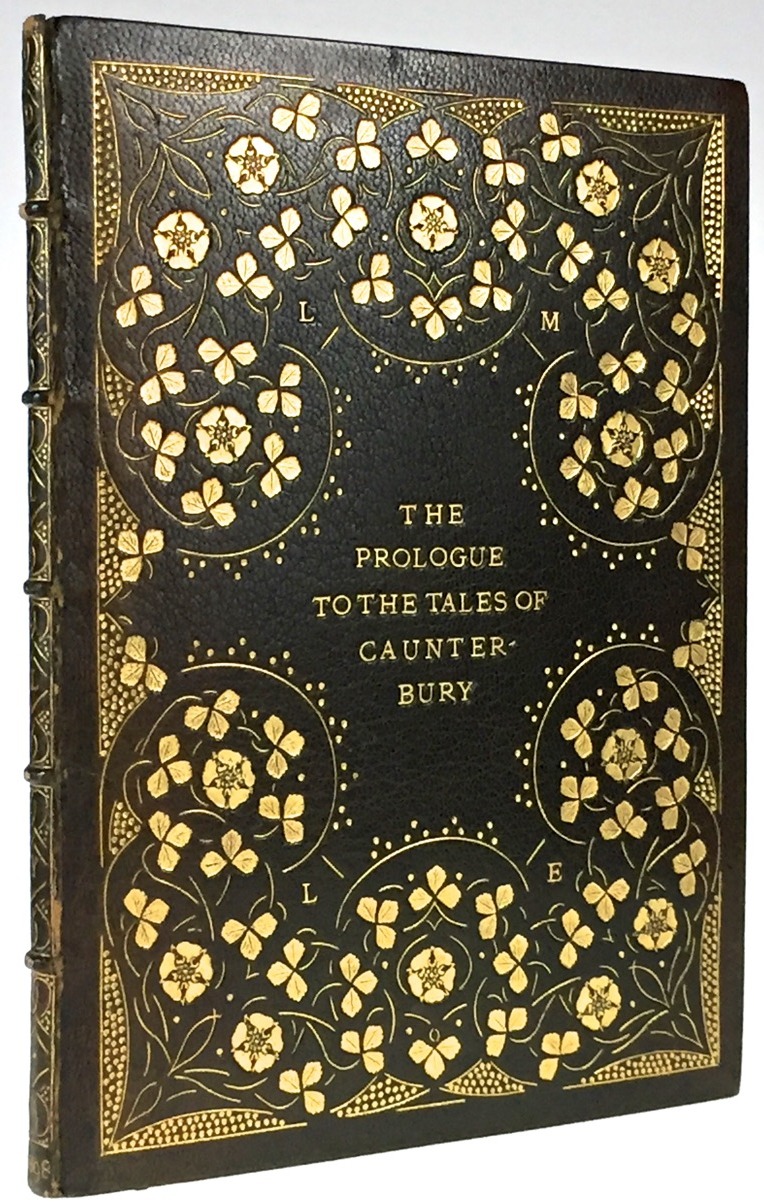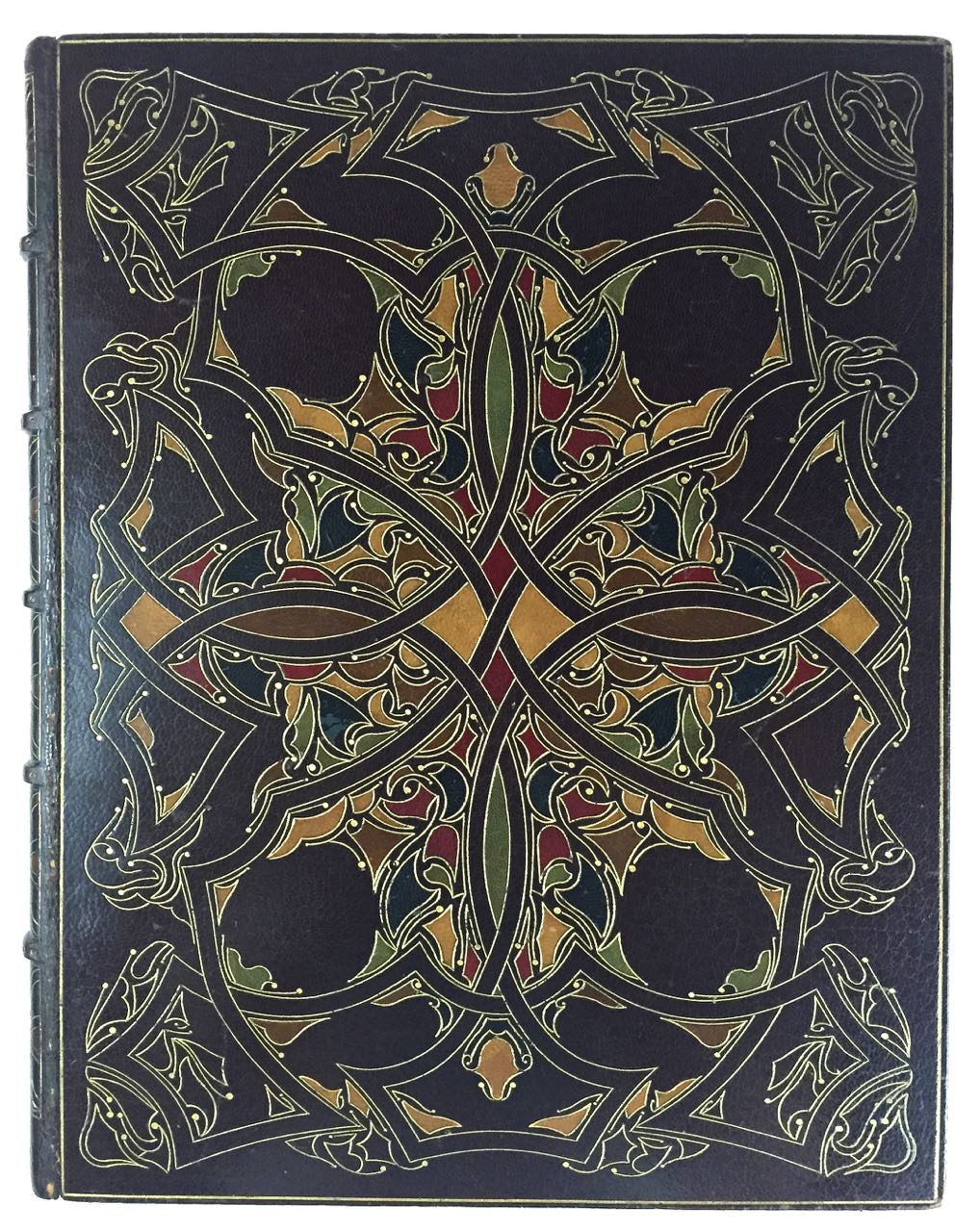 Left: Binding for Chaucer's Prologue by Miss Le Lacheur. Right: Songs of Night and Day by Constance Karslake. [Click on images to enlarge them.]
A bindery was established in Hampstead so that learners could be taught the art. These facilities were shared by the 'Hampstead Bindery' – the male counterpart of the Guild, and also under the management of Frank Karslake. These two groups worked alongside each other, sharing retail premises, and holding joint exhibitions and sales. The binding was 'principally used for the tuition of beginners', according to Dennis Courtney; among the staff of the workshop were Alfred de Saury and P. A. Salvodelli, who also worked for Riviere. Signor Salvodelli was in charge of the tooling department; [as a result] of working in Italy in France, his knowledge and experience [were] extensive. The gold used, and the methods employed [were] the same as [those] employed by Parisian binders, the result being that the 'gold-tooling can be guaranteed to be not only brilliant but permanent.'
[Karslake believed that] the craft of bookbinding required 'the possession of some artistic sense combined with very thorough practical training.' And he maintained:
So called 'lessons' meant time and money thrown away. But with a year's apprenticeship to daily work, under skilled instructors, there is no reason why any women should not become thoroughly proficient and able to make her own living for the rest of her life.
Some women associated with the Guild were pupils of Sarah T. Prideaux (1853–1933), who was honoured as the first woman binder in this country, by Esther Wood in The Studio. Three pupils worthy of note were Katherine Adams, Elizabeth MacColl, and Ms. Nathan. Others included Constance Karslake, Edith and Florence de Rheims, Helen Schofield, Mrs Frances Knight, Ms Looking, Ms Hickling, Hilda Gaskell, Mrs Macdonald, Gertude Stiles, Lily Overton, Mary Downing, Muriel Driffield and Mrs Traquair.
Related material
---
Created 21 January 2018