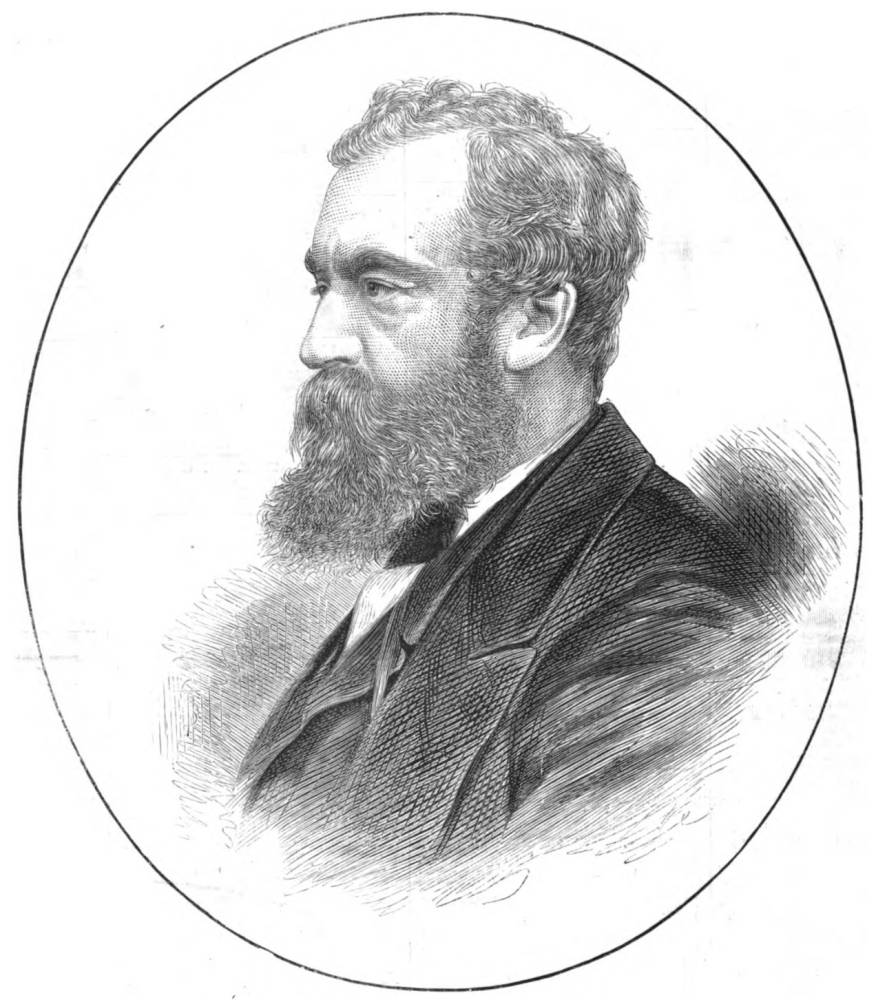 The late Sir M. Digby Watt, Architect (from the 2 June 1877 Illustrated London News)
Sir Matthew Digby Wyatt (1820-1877) was a prominent member of the Wyatt dynasty of architects. He was Secretary of the Great Exhibition in 1851, and collaborated with Isambard Kingdom Brunel on Paddington Station (1852-54), where his scheme "introduced a Moresque note" (Curl 210).
As Surveyor of the East India Company, he also collaborated with Sir George Gilbert Scott on the India Office, advising his climb-down in the Battle of the Styles (see Turnor 84-85), and designing, for example, its magnificent Durbar courtyard there (1867). This is seen as his masterpiece, "a tour de force of Italian Renaissance architecture and Minton's majolica" (Waterhouse and Robinson, "Wyatt, Sir Matthew Digby"). It is perfectly clear from this exotic space that he was much influenced by Owen Jones, with whom he was closely associated (see Stuart Durant's commentary on the station, last paragraph).
Amongst other works, he designed the impressive Rothschild Mausoleum of 1866 in the Jewish Cemetery at West Ham. He won the RIBA Gold Medal in 1866 (Allinson 10), and in 1869 was appointed the first Slade Professor of Fine Art at Cambridge. He also served as Vice-President of the RIBA.
Having long had ties with Monmouthshire in Wales through his uncle Arthur, a land agent there, Wyatt had married into a Welsh family, and was buried in the churchyard of the Priory Church of St Mary, Usk. — Jacqueline Banerjee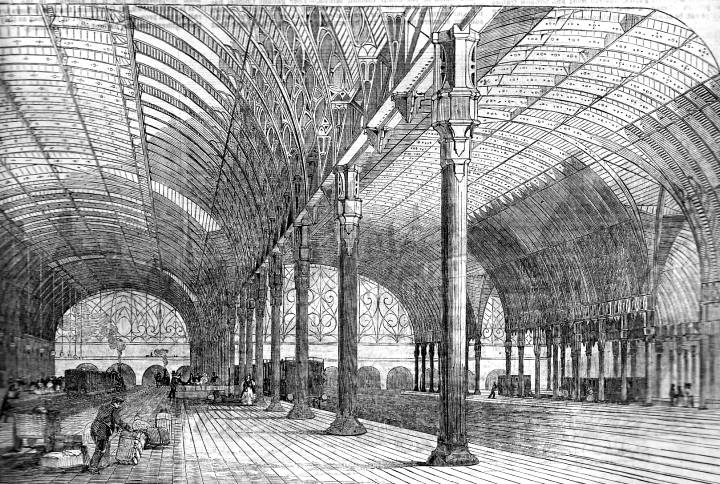 Biographical material
Architectural works
Work in other media
Books
Bibliography
Allinson, Kenneth. Architecture and Architects of London. London: Architectural Press, 2008. Print.
Beckwith, Alice H. R. H. Victorian Bibliomania. Exhibition catalogue. Providence. Rhode Island: Museum of Art, Rhode Island School of Design, 1987. [Twenty-fifth anniversary e-version on this site,]
Curl, James Stevens. Victorian Architecture. Newton Abbot: David & Charles, 1990.
Newman, John. Gwent/Monmouthshire. Buildings of Wales. Mew Haven and London: Yale University Press, 2002.
Pevsner, Nikolaus. "Sir Matthew Digby Wyatt." The Complete Broadcast Talks: Architecture and Art on Radio and Televion, 1945-1977. Ed. Stephen Games. London: Routledge, 2016. 94-101.
Piggott, Jan. Palace of the People: The Crystal Palace at Sydenham, 1854-1936. London: Hurst & Co., 2004.
Robinson, John Martin. The Wyatts: An Architectural Dynasty. Oxford: Oxford University Press, 1979.
"Rothschild Mausoleum, Jewish Cemetery." British Listed Buildings. Web. 8 February 2013.
Turnor, Reginald. Nineteenth Century Architecture in Britain. London: Batsford, 1950.
Waterhouse, Paul, rev. by John Martin Robinson. "Wyatt, Sir Matthew Digby (1820-1877)." Oxford Dictionary of National Biography. Online ed. Web. 8 February 2013.
Wyatt, M. Digby (Matthew Digby), Sir, 1820-1877. Views of the Crystal Palace And Park, Sydenham. From drawings by eminent artists and photographs by P.H. Delamotte. First series. London: Day and Son, 1854. Hathi Trust, from a copy in the University of California library. Web. 27 August 2021.
---
Last modified 28 July 2019