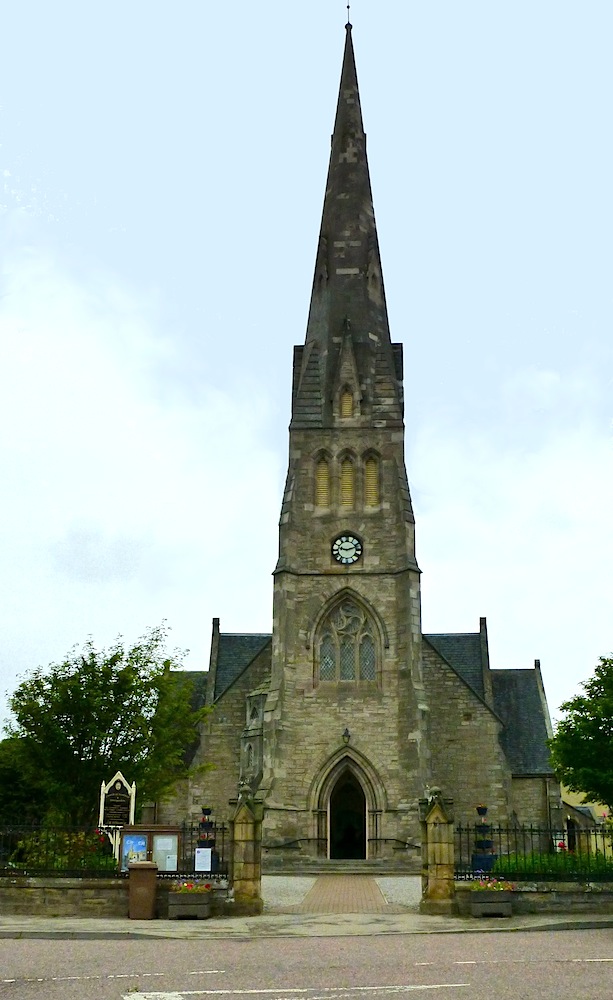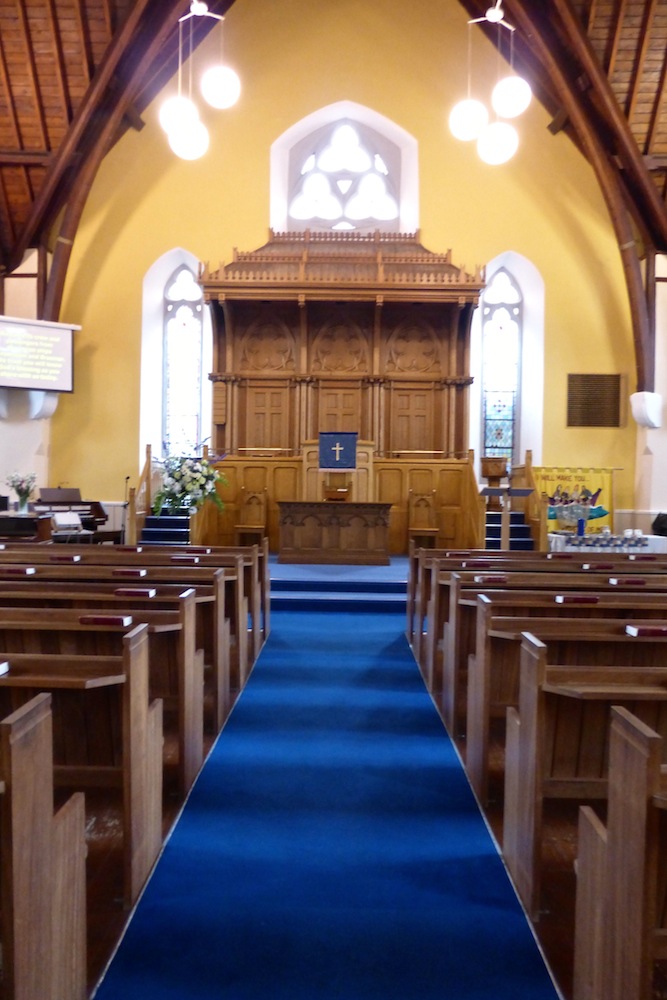 Left: The front elevation. Right: Interior, looking towards the chancel and, behind the altar, the wooden Gothic pulpit with canopy.
Originally Invergordon Free Church, now the parish church of Invergordon, in Ross and Cromarty in the Scottish Highlands. The new church was needed after the Disruption of 1843, when many ministers left the Church of Scotland, largely in order to gain more say in clerical appointments, and were followed by their congregations. The design of Alexander Ross (1834-1925) and William Cumming Joass (1833-1919), then in partnership, won the commission, and the church was built in 1859-61. Materials: "Stugged, sneck coursed rubble with polished ashlar dressings" ("Architctural notes"). The design was based on one used by the Liverpool architects, the Hays brothers, at other Scottish Free Churches like the Buccleuch and Geyfriars Free Church of Scotland. Sinclair Macdonald (1865-c.1936), who had been Ross's assistant up until 1889 (see "Barbaretus Sinclair Macdonald...") added the hall at the north in 1895. The church is Category B listed. Ita most striking features are its pleasing symmetry, its commanding position behind the main street, and its tall slender spire, which was only built because the donor, Macleod of Cadboll, threatened to give less for the work if the spire was not added.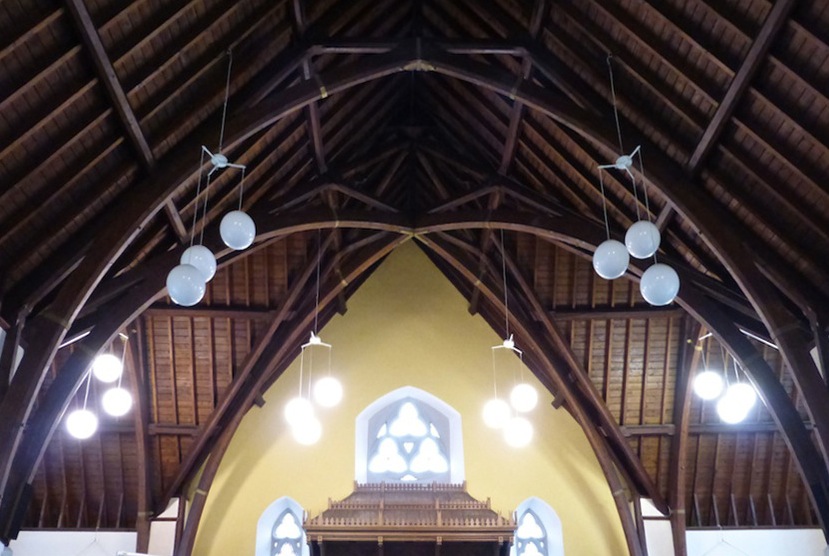 Left: The "braced-collar pitch-pine roofs over nave and transepts" (Gifford 426). Right: Geometrically patterned stained-glass window next to the gallery at the south side (the gallery was added in 1895 as well). The attractive stained glass was designed by Swaine Bourne & Co., Birmingham, and installed in 1898.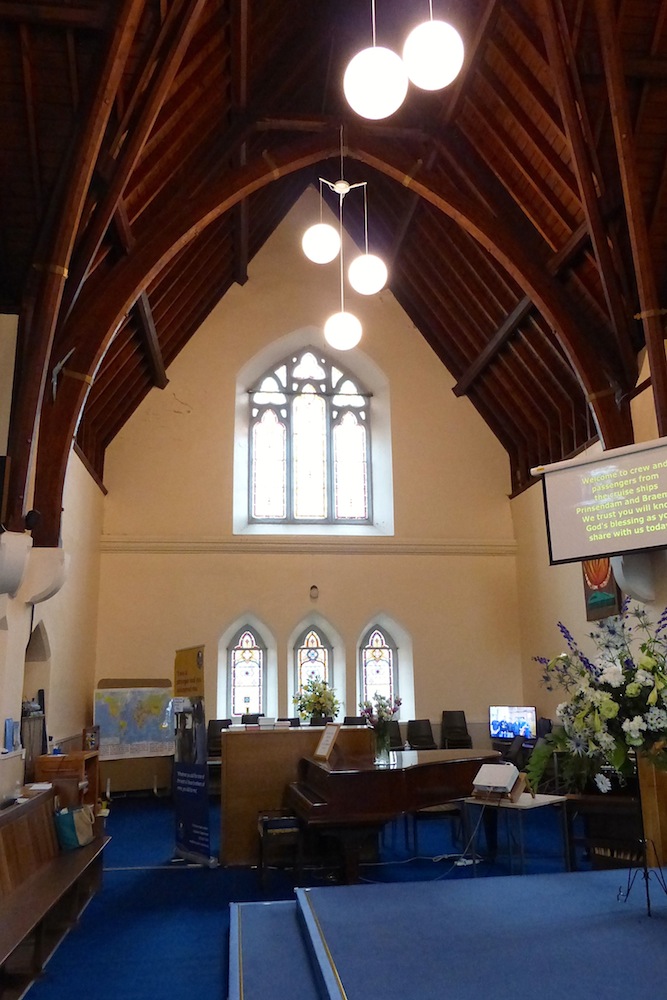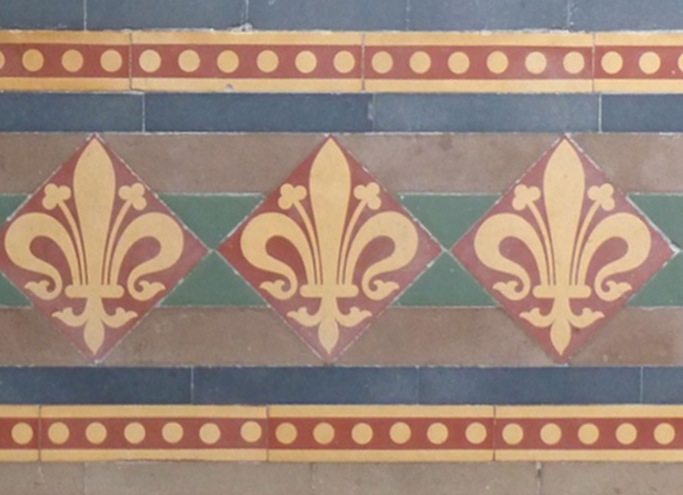 Left: North transept. Right: Victorian encaustic floor tiles.

The church celebrated its 150th anniversary in 2011. In recent years, Invergordon has become a popular port for cruise ships, and the church has a seafarers' mission, welcoming crews and passengers alike, offering Christian literature in many languages.
Related Material
Photographs, captions and commentary by Jacqueline Banerjee. [You may use these images without prior permission for any scholarly or educational purpose as long as you (1) credit the photographer and (2) link your document to this URL. Click on the images to enlarge them.]
Bibliography
"Alexander Ross." DSA (Dictionary of Scottish Architects). Web. 2 January 2018.
"Barbaretus Sinclair Macdonald (or Sinclair Macdonald)." DSA (Dictionary of Scottish Architects). Web. 2 January 2018.
Barbour, Giles. "The Great Disruption." Spectator Archive. Web. 2 January 2018.
Gifford, John. Highland and Islands. The Buildings of Scotland. London: Penguin, 1992.
"Invergordon — A 'Short' History." Invergordon Tourism Alliance. Web. 2 January 2018.
"Invergordon: Church of Scotland — History." The church website. Web. 2 January 2018.
"Listed Buildings in the Highland Region.". The Highland Council (this source gives more architectural details about the church). Web. 2 January 2018.
"William Cumming Joass." DSA (Dictionary of Scottish Architects). Web. 2 January 2018.
---
Created 2 January 2018