Photographs, captions, and commentary by the author, with special thanks to Catriona Blaker of the Pugin Society, who provided useful material. [You may use the images without prior permission for any scholarly or educational purpose as long as you (1) credit the photographer and (2) link your document to this URL in a web document or cite it in a print one. Click on the thumbnails for larger pictures.]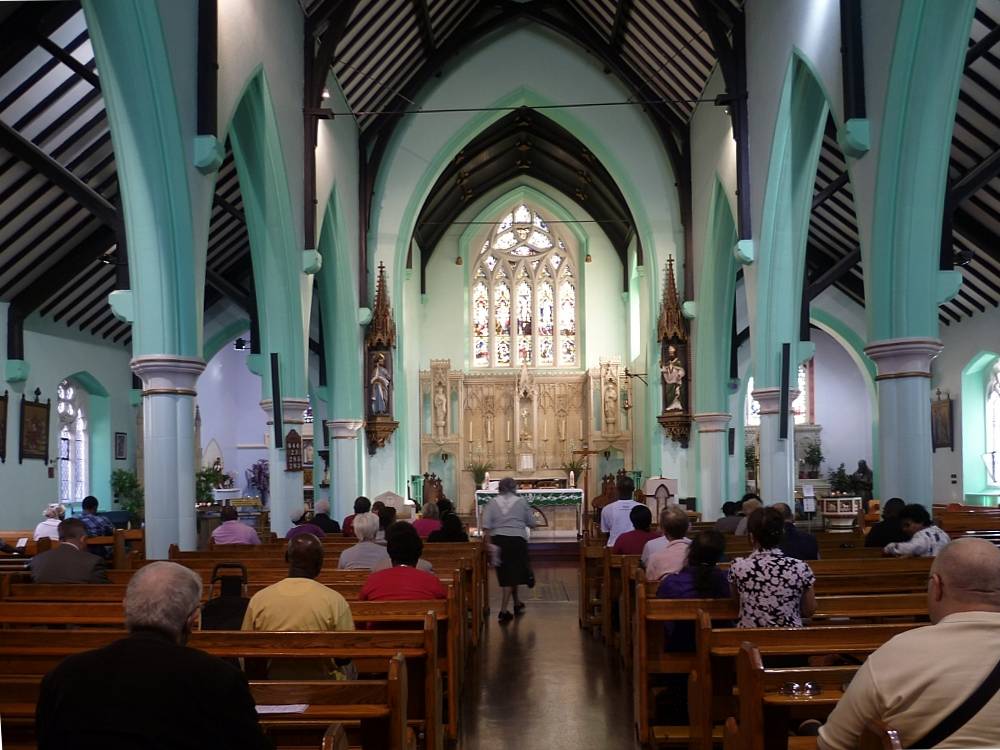 Interior of St Peter the Apostle's Church, Woolwich. Listed Building. Nave and aisles by A. W. N. Pugin (1823-1899), with builder George Myers (1803-1875), built in 1842-43. Lady Chapel, smaller than in Pugin's original drawing, added in 1850; chancel and side chapel added in 1887-89 by Frederick A. Walters (1849-1931). Woolwich New Road, Woolwich, London SE18.
The listing text has: "Inside a 5-bay nave with sharply pointed arches on quatrefoil piers," while Andrew Saint describes the interior as having 6 bays with "lean" internal timberwork in the roofing, "with high scissor-bracing across the main nave space" (114) As for the additions, despite the long time-lag, and apart from necessary adjustments, "Walters faithfully followed Pugin's plans for a chancel, using plain stock brickwork for the exterior and reinstating the east window in its destined position" (Saint 115).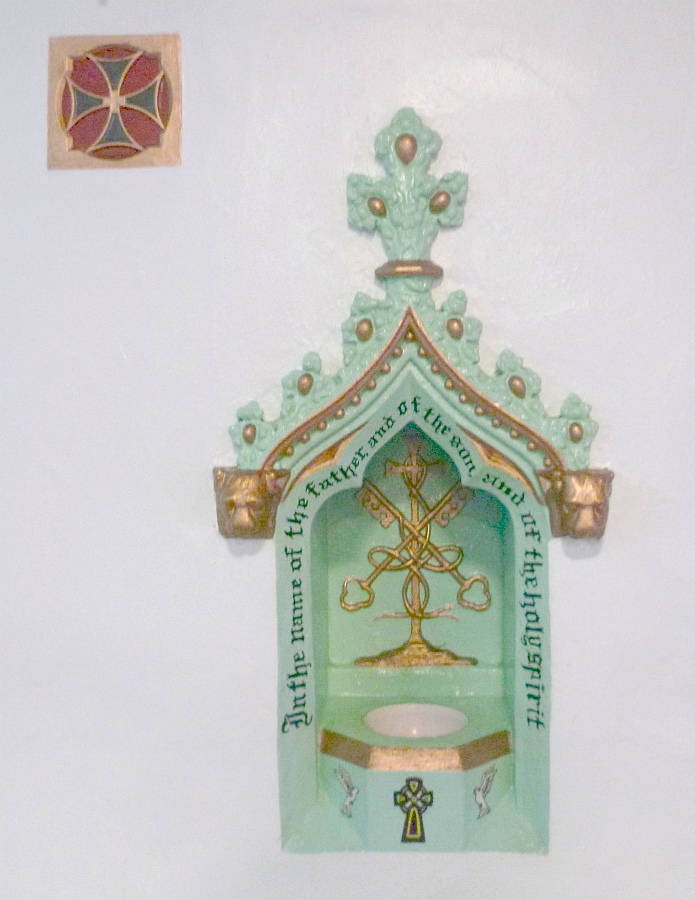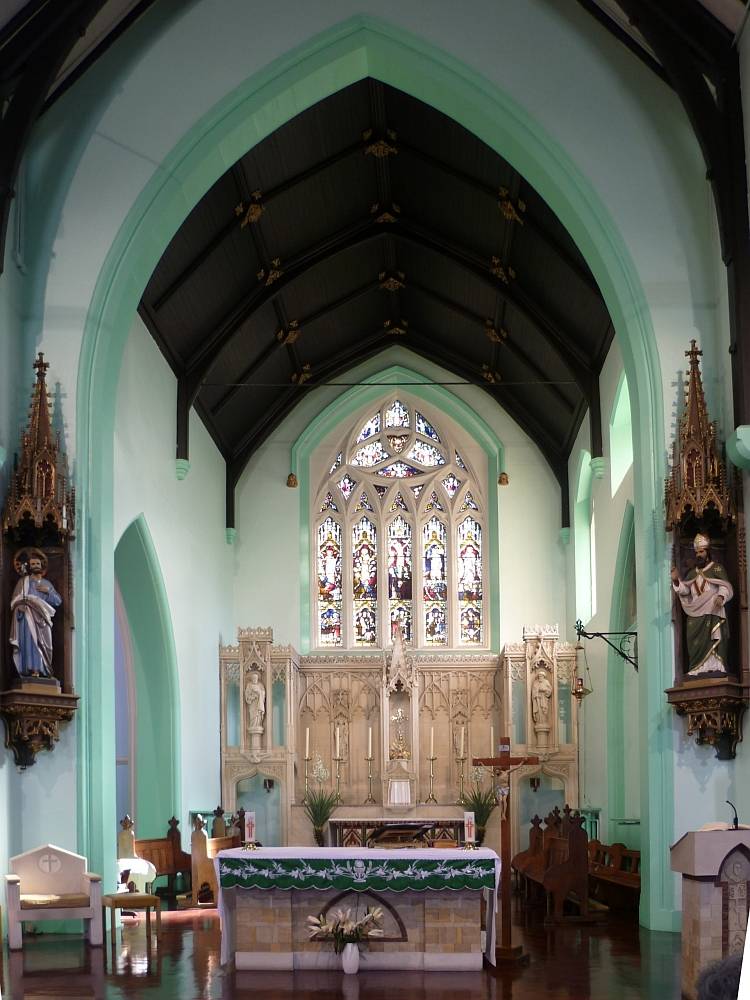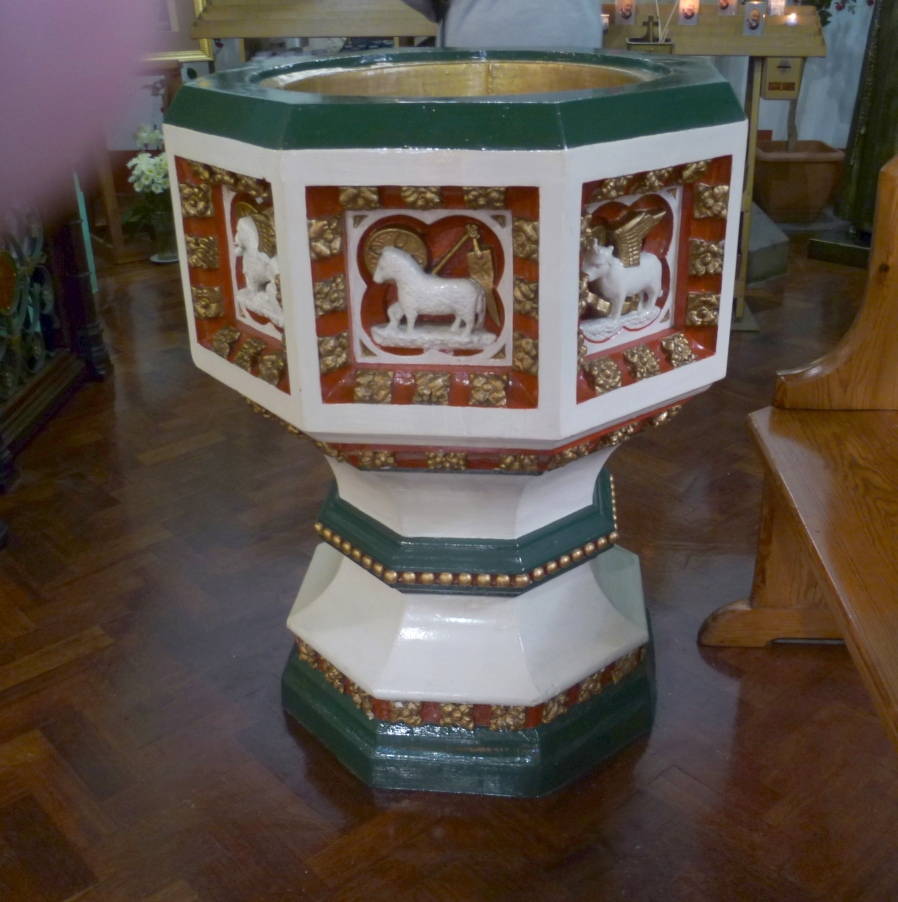 Left to right: (a) Stoup for Holy Water inside the west entrance, brightly painted now like so much else in this cheerful, well-attended church, and bearing the motif of St Peter's keys. (b) Chancel: "The panelled chancel roof with carved bosses is also in Pugin's spirit" (Saint 115). Andrew Saint has found documentation in the Building News of 16 August 1889 to show that the present east window was part of the original contract. It had been fitted in a temporary position "within the chancel arch" before being moved to its permanent location behind the high altar (114, see n.11). Also original is the high altar itself, obscured here, but featuring five angels in relief under arched canopies (the pointed tops of two or three of these can be glimpsed when the image is enlarged) The carved Maltese stone reredos probably has some elements of a "more elaborate predecessor" but was designed by F. A. Walters's son Edward, and made in about 1943 (Saint 115). Note that this account differs from earlier ones (e.g. in Evinson 107, and "About Pugin"). But Saint himself makes it clear that such accounts cannot be referring to the present reredos. (c) Octagonal font, now with gilding and red, green and white paint, "probably also there from the start" (Saint 114).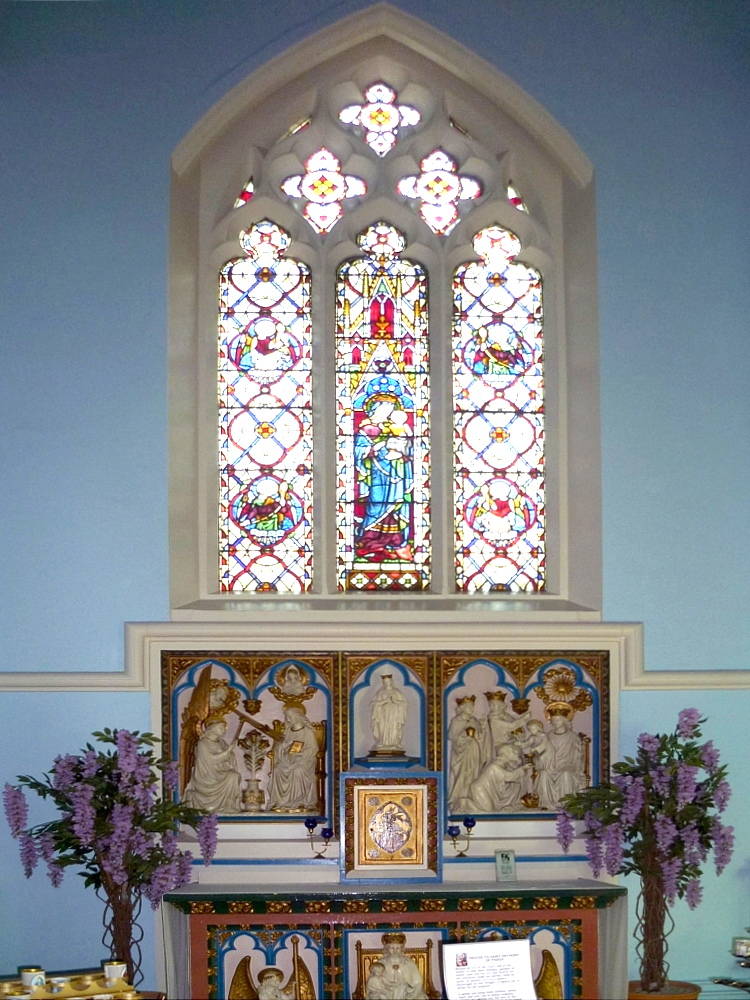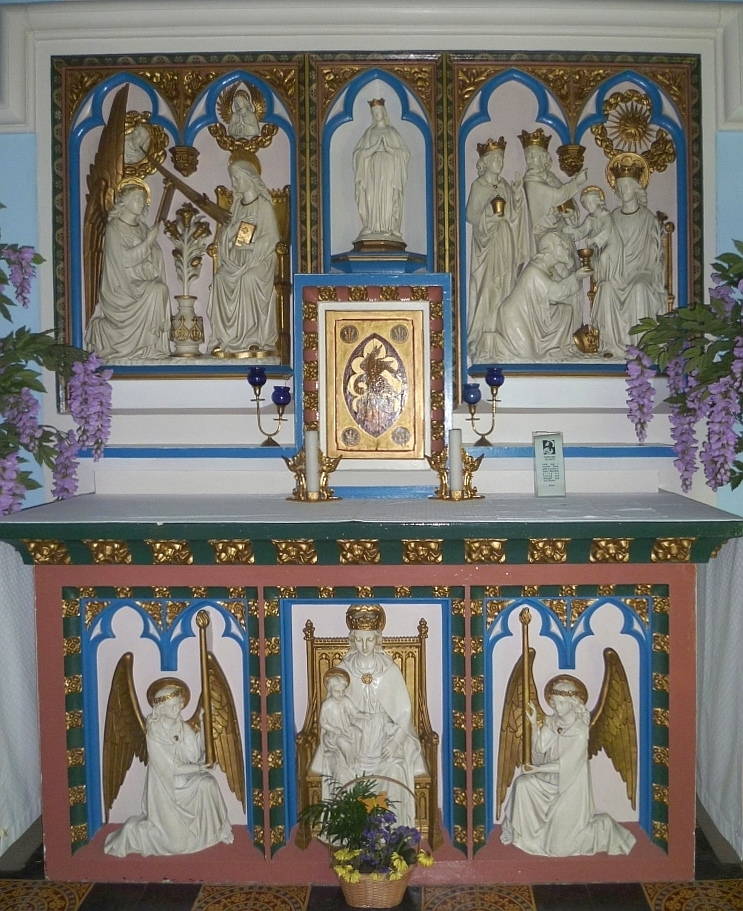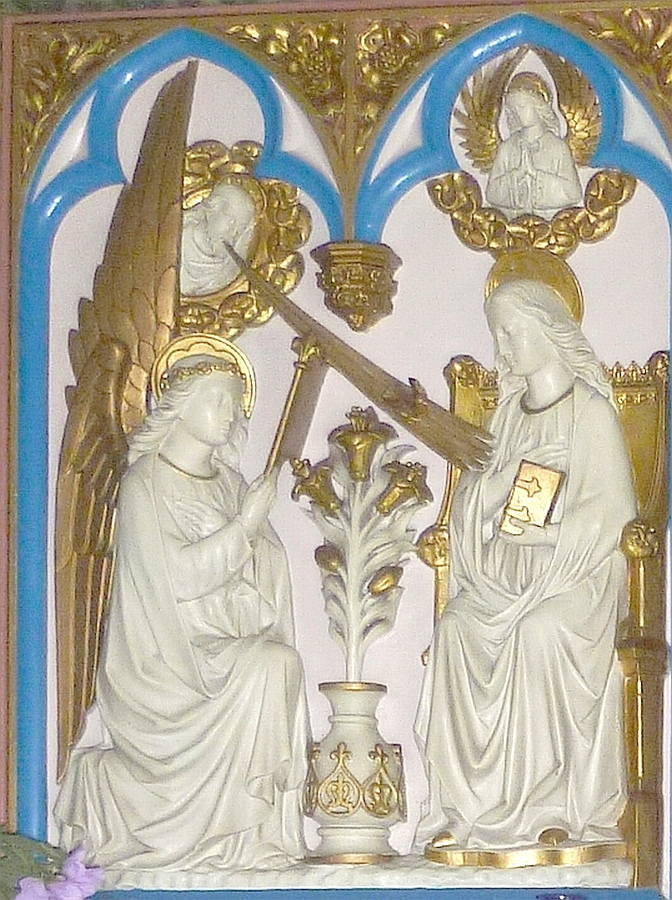 Left to right: (a) Lady Chapel, by Pugin. "The best-preserved decorative ensemble in the church, comprising altar, reredos and Hardman stained glass in the three-light window above" (Saint 114). The window shows the Madonna and Child (see "Related Material" for link to Pugin's stained glass in the church), and the reredos shows scenes from Mary's life. (b) Close-up of altar and reredos, with Minton tiles below. (c) Close-up of the detailed Annunciation scene. This shows the Word visibly descending, a gilded chair / throne, tall lilies in a patterned vase, etc., all with their special emblematic significance.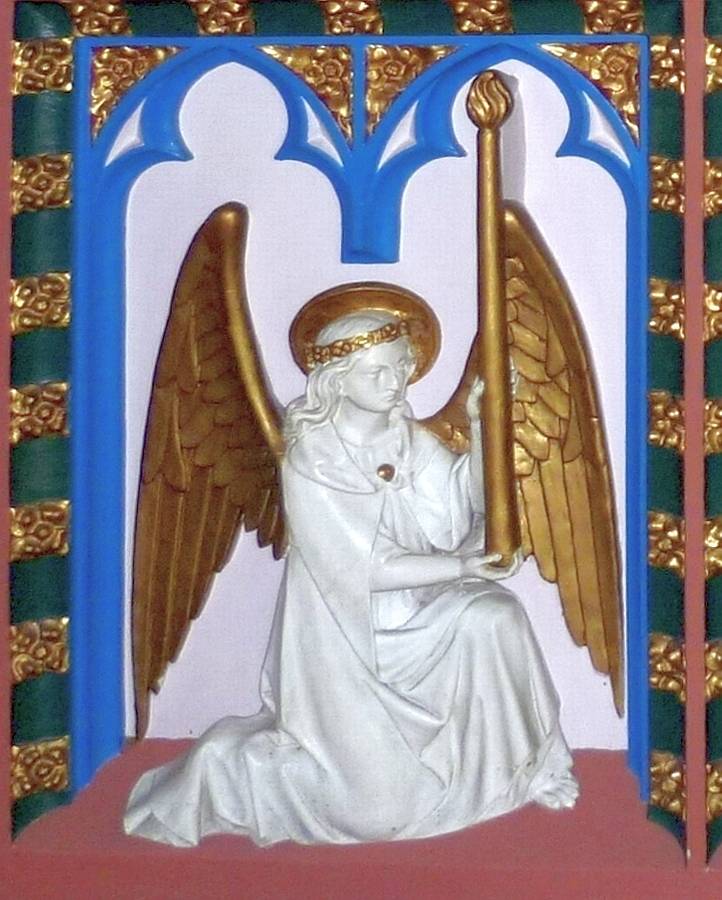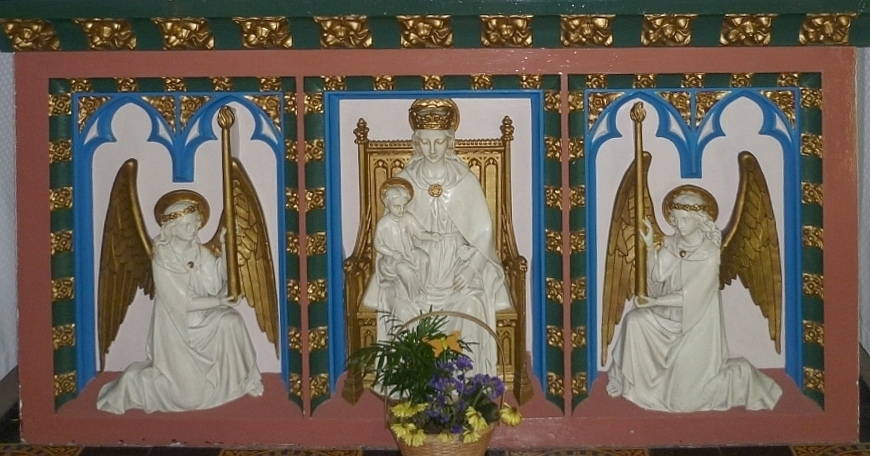 Left: Close-up of angel on altar front. Right: Whole altar front. Saint writes that the Lady Chapel, at the top of the north aisle and opening into the sacristy at the side, was "abbreviated from the size originally suggested in the exterior sketch of 1842" (114), but it still makes a significant and pleasing impression. It must have looked especially beautiful to soldiers and workers from the nearby Royal Arsenal, inured to barrack conditions, when they swelled the congregation in earlier days (see Booth 134 on the dominance of the barracks in this area).
Related Material
Sources
"About Pugin — English Buildings." Pugin Foundation. Web. 12 June 2012.
Booth, Charles. Life and Labours of the People in London, Third Series, Religious Influences. Vol. 5: South-East and South-West London. London: Macmillan, 1902. Google Books. Web. 12 June 2012.
Evinson, Denis. Catholic Churches of London. Sheffield: Sheffield Academic Press, 1998. Print.
"Roman Catholic Church of St Peter, Woolwich." British Listed Buildings. Web. 12 June 2012.
Saint, Andrew. "The Pugins in Woolwich." True Principles: The Voice of the Pugin Society. Volume 4, No. 2 (Winter 2010-11): 111-121. Print.
---
Last modified 30 September 2012