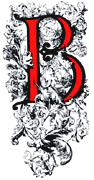 orn at Croom's Hill, Greenwich on 4 January 1852, Edward Prior was one of the eleven children of a barrister and his wife, who was herself a headmistress. His father died young, and his mother moved to Harrow so that the sons could benefit from local residents' reduced fees at Harrow School (see Walker). Prior was a gifted all-rounder, and from there won a scholarship to Gonville and Caius College, Cambridge, shining much more in sports than in academics, but already taking a keen and absorbing interest in architecture.
In this calling, Prior made a brilliant start by training with Richard Norman Shaw, who influenced so many young architects of this time, and whose office was the seedbed not only for the Queen Anne Revival, but also for the Arts and Crafts movement. Prior travelled around Belgium and France, as well as around England, and found inspiration in these sketching trips too. Much valuable experience was gained as Shaw's clerk of works at Ilkley, Yorkshire (1877–9), and he and W. R. Lethaby were leading lights in founding the St George's Art Society in 1883 and then the Art-Workers' Guild in 1884. Simon Jenkins has called Prior "the doyen of the Arts and Crafts Movement" (203-04).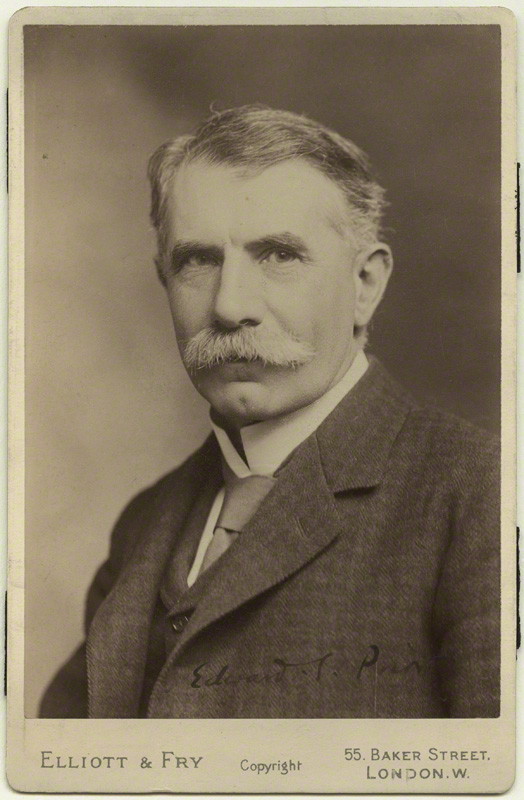 Edward Schroder Prior, by Elliott & Fry, an albumen cabinet card, 1900s, image size 5 3/4 in. x 3 7/8 in. (145 mm x 100 mm) given by Marion Harry Spielmann, 1939. ©National Portrait Gallery, London (NPG x12769).
After his marriage in 1885, Prior settled down in Bloomsbury and ran a practice focusing on houses, churches, and educational buildings. Notable examples are: Henry Martyn Hall (1885-87) and the Medical School (1899-1902, now the Zoology Department) at Cambridge; the country house called The Barn in Exmouth (1896, shown here, now a hotel); Voewood or Home Place in Norfolk (1903-05); and working with Albert Randall Wells as he had done at Voewood, the beautiful Arts and Crafts church of St Andrew's Roker, in Tyne & Wear (1906-07). Jenkins numbers this church "among the masterpieces of early twentieth-century art" (204), and others too praise what Prior and his team have made of a suburban church — one with neither the romance of a rural setting, nor the sophistication endowed by a town setting (see Crawford 76).
Of his style, Lynne Walker writes,
While exploring the surface effects of pattern, colour, and texture in local vernacular materials, he took an experimental approach to form and planning using, for example, an X-shaped "butterfly" plan, materials such as reinforced concrete, and methods which involved reorganization of the building process.
Such experiments have led to his being associated with the "rogue" Gothic architects of earlier decades. Writing about his connection with Cambridge, where he was a fellow of Caius College from 1912 to 1920, and Slade Professor of Fine Art from 1912-32, Reginald Turnor feels that he "imposed ... a certain amount of roguery on the university" in his teaching as well as in his design of his buildings there (91). That might now be seen as a gift rather than an imposition.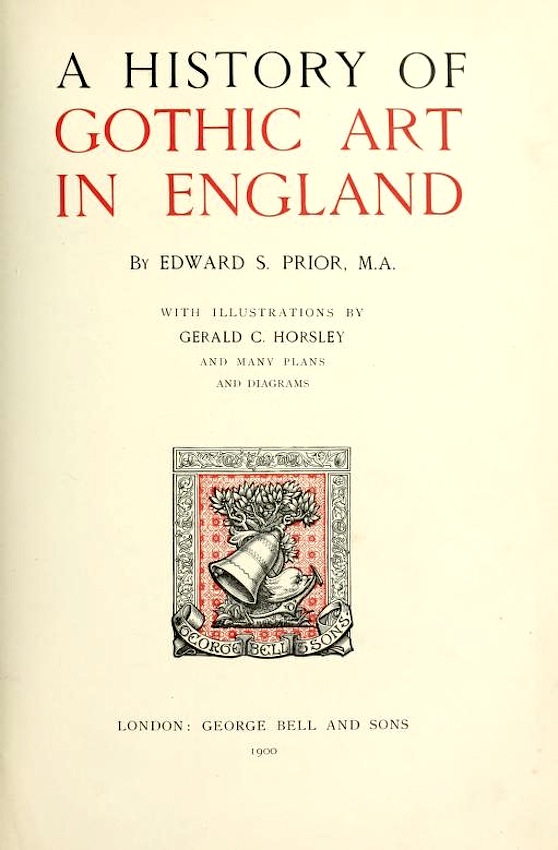 Title page of Prior's A History of Gothic Art in England.
As for the academic side of his career, Prior is also remembered as an architectural historian. His best-known book is The History of Gothic Art in England, which the Studio reviewer described as "a most valuable addition to Architectural literature," explaining that "Mr. Prior undertakes to prove that our English art was a monastic development of our own traditions, whereas the French style was secular" (134). Another of Prior's interests, in later life, was garden-design. His essay on this, entitled "Garden-Making," appears in the very next volume of the Studio, in which he says that the garden "is the canvas upon which the artist can exhibit himself ... a plot separated for a man's fancy, dedicated thereto in the witness of the sky above; made to be another chamber of a man's house" (30, 31), and argues for the use of native plants in establishing this harmony between a house and its enclosing grounds (it seems a very English argument). Walker believes that it is in Prior's gardens that "his true measure can be found," for in these he "demonstrated his preference for practice over theory, building with feeling and direct knowledge of working conditions."
Prior died in Chichester on 19 August 1932, and was buried nearby at the ancient church of St Mary the Virgin, Apuldram, in Sussex. — Jacqueline Banerjee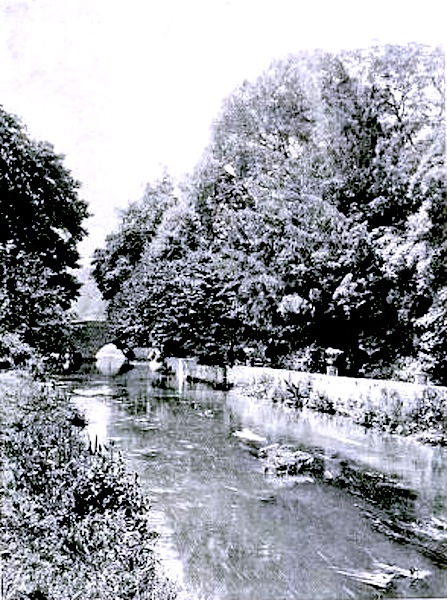 Example of a riverside garden by Prior. Source: "Garden-making," 31.
Works
Bibliography
Cook, Martin Godfrey. Edward Prior: Arts and Crafts Architect. Marlborough: The Crowood Press, 2015 [Review].
Crawford, Alan. "Arts and Craft Churches." In Churches 1870-1914.. The Victorian Society: Studies in Victorian Architecture & Design, Volume III: 63-79.
Dixon, David. The Barn Hotel, Exmouth. Geograph. Web. 10 April 2016.
Jenkins, Simon. England's Thousand Best Churches. Pbk ed. London: Penguin, 2000.
Prior, Edward Schröder. An Architect Speaks: The Writings and Buildings of Edward Schröder Prior. Ed. David Valinsky. Spalding: Shaun Tyas Press, 2014.
_____. "Garden-Making." In The Studio. Vol. 20-22 (1900): 28-36. Internet Archive. Contributed by Robarts Library, University of Toronto. Web. 10 Aril 2016.
_____. A History of Gothic Art in England. London: Bell, 1900. Internet Archive. Contributed by the University of California Libraries. Web. 10 Aril 2016.
"Reviews." In The Studio. Vol. 20-22 (1900): 134-35. Internet Archive. Contributed by Robarts Library, University of Toronto. Web. 10 Aril 2016.
Turnor, Reginald. Nineteenth Century Architecture in Britain. London: Batsford, 1950.
Walker, Lynne. "Prior, Edward Schroder (1852–1932), architect and writer on architecture." Oxford Dictionary of National Biography. Online ed. Web. 10 April 2016.
---
Last modified 3 July 2016