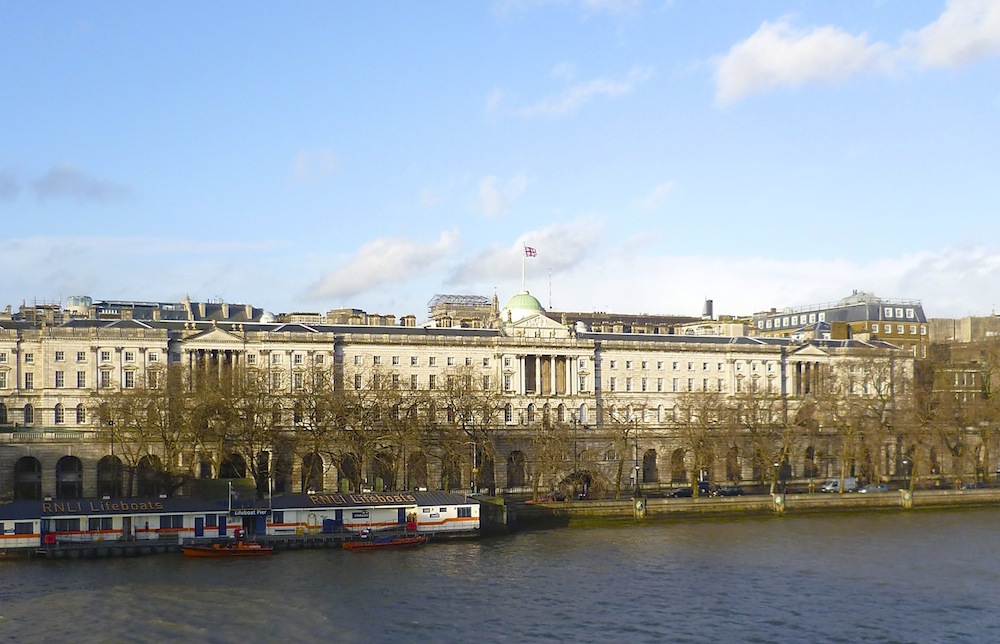 Somerset House with King's College London at the right. Robert Smirke, 1829-1831. Photograph and text by Jacqueline Banerjee. [Click on image to enlarge it.]
King's College, the Strand Campus
At its main campus on the Strand, King's has a fine Grade I listed building reaching right back to the Thames. This was purpose-built for the college on a site adjoining Somerset House, at that time home to various government offices and learned societies. Funds were raised by a committee headed by the Duke of Wellington (then Prime Minister), and the site was granted by the government with the stipulation that the building should blend in with and, indeed, complete the overall design of Somerset House as planned by the original architect, Sir William Chambers.
The commission went to Robert Smirke (1780-1867), who was, like University College's architect William Wilkins, a leading Greek Revivalist of the time. Smirke had once been a pupil of Sir John Soane, and his practice was then the biggest in London. The "embodiment of industry, good sense, and reliability" (Turnor 32), he set to work right away. Thousands more piles were driven into the marshy land beside the Thames, and the college was built and kitted out between 1829 and 1831. The Strand entrance was narrow, so it helped that the materials, Portland and Yorkshire stone and Scottish granite, could be brought in directly by river. But Smirke, who had already built the King's Library at the British Museum, and would be responsible for much of the rest of the Museum, would probably have met his deadline anyway. Reginald Turnor says that he "carried out his task to the letter" (33). Turnor also maintains that Smirke lacked genius, but in this case there was very little scope for architectural flair.
Once completed, King's provided a continuation not only of Somerset House's Strand frontage, but also of its Terrace overlooking the Thames. It must have stood out a little, until the stone had weathered: "Immediately adjoining Somerset House is the modern building, King's College," wrote Mr and Mrs S. C. Hall in 1859, in their account of the Thames and the points of interest along its banks (434). Soon enough, however, the building came to seem so entirely of a piece with the rest that it looked as if King's had simply been shoehorned into the east wing of Somerset House.
Also Grade I listed is the ornate Gothic-Byzantine chapel symbolically placed at the heart of King's College, on the floor above the high-ceilinged Great Hall — yet another example of this eminent and prolific architect's ingenious use of iron and brick.
Related Material
Sources
Hall, Mr and Mrs Samuel Carter. The Book of the Thames, from its Rise to Its Fall. 1859). Republished, 5th new edition. Teddington: Charlotte James, 1980.
Hearnshaw, F. J. C. The Centenary History of King's College London, 1828-1928. London: Harrap, 1929.
Huelin, Gordon. King's College London, 1828-1978. London: King's College, 1978.
Turnor, Reginald. Nineteenth Century Architecture in Britain. London: Batsford, 1950.
---
Last modified 20 September 2013