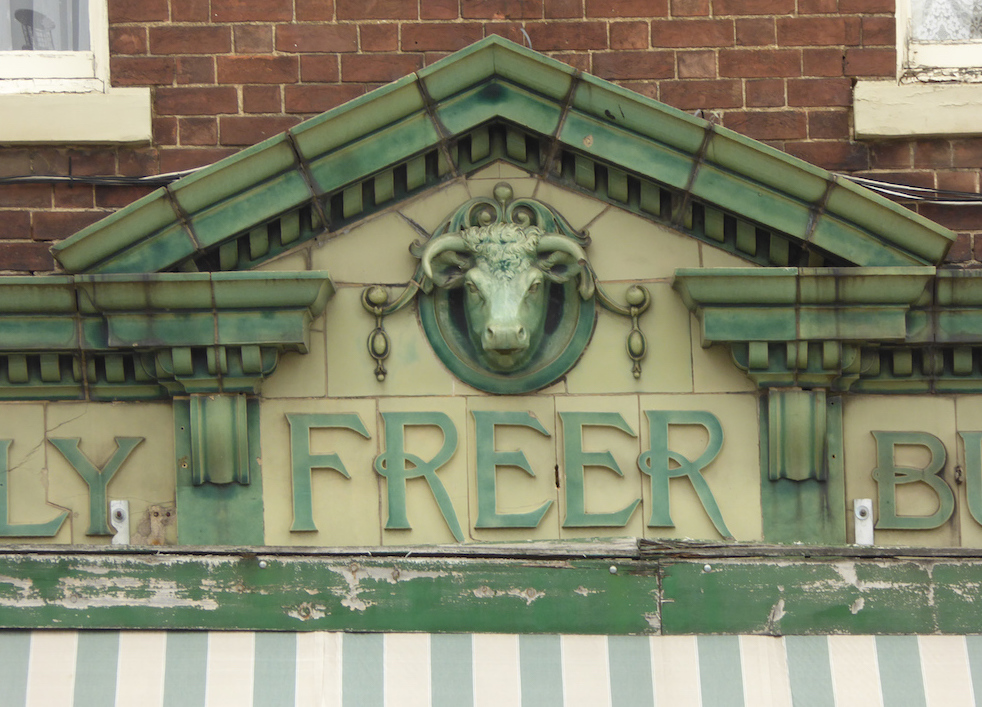 The butcher's shop that was formerly Freer's Family Butcher was built by an unknown architect in 1912. Now under the name of Nesfield and Piercy, it stands at 49 Commercial Street, Norton, Malton, North Yorkshire, YO17 9HX. These photographs were taken in 2022.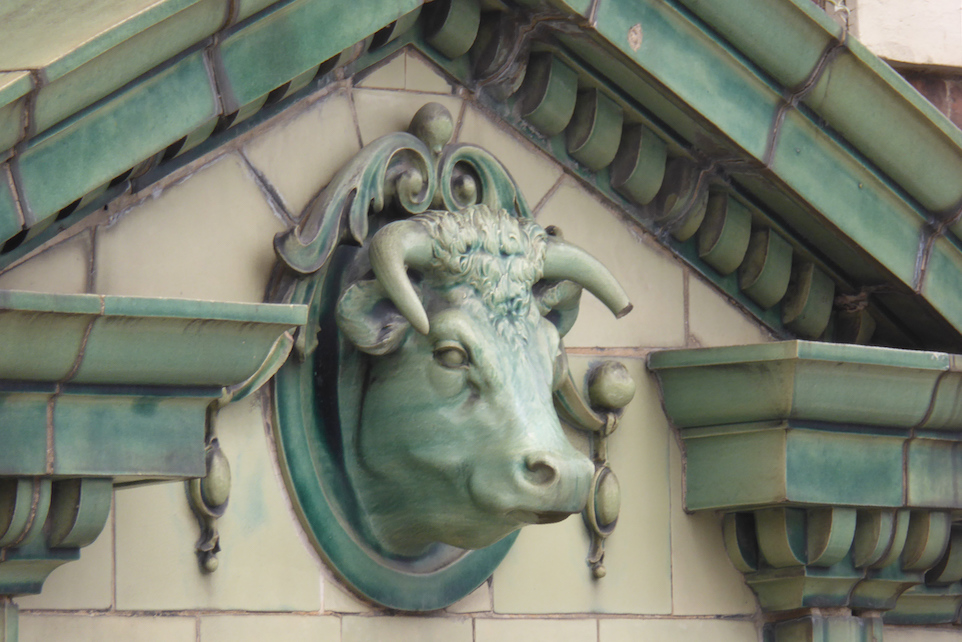 The bull's head on the entablature, in very prominent relief.
The building's chief point of interest is its decorative frontage. Norton was previously in the East Riding, so Nikolaus Pevsner and David Neave mention "the striking dark green tiled façade" in their account of York and the East Riding (635). Lynn Pearson goes into more detail, describing it as having an "excellent green and white classical faience façade… inside, the tilework features lozenge-shaped panels of animal heads" (387). The two-storey shop front, with a flat above, is a listed building (Grade II), and the interior tilework is also mentioned in the heritage listing (no.1173605). But, unfortunately, the tiling inside has since been renewed.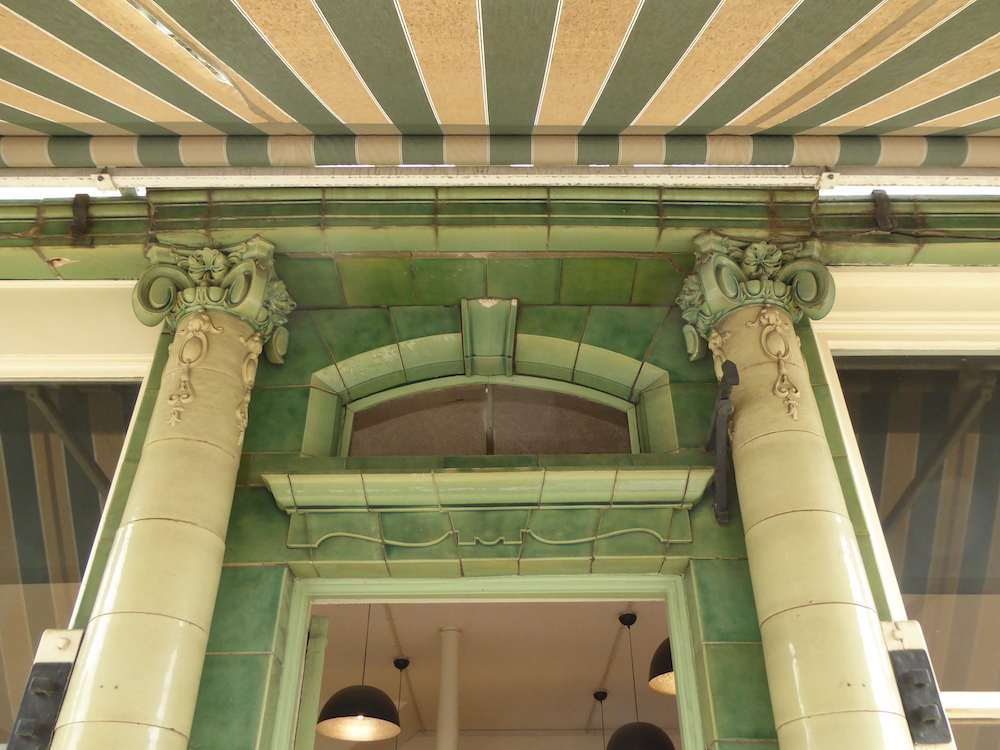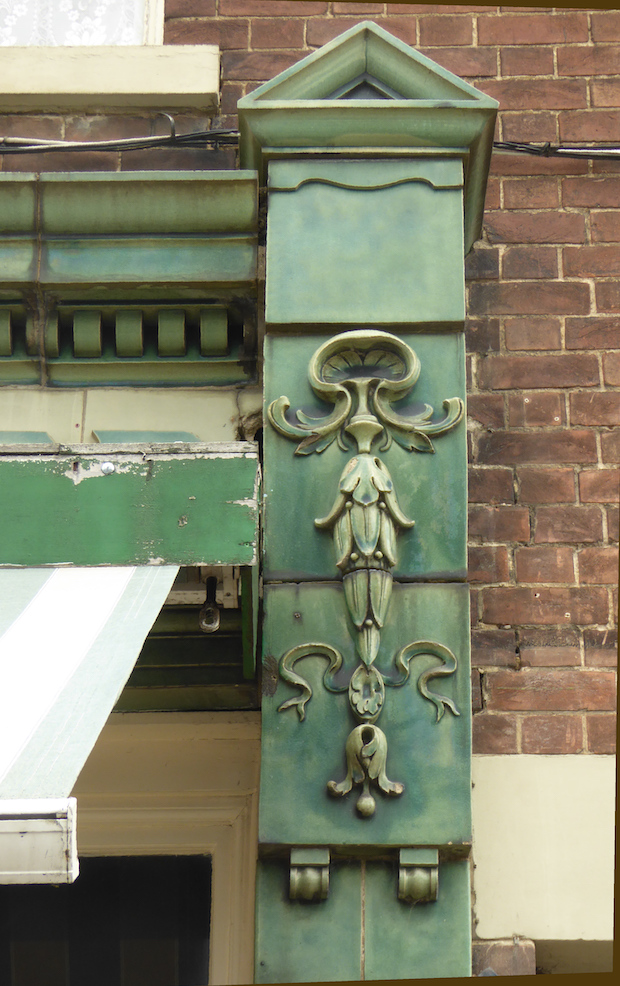 Closer view of faience over the doorway and at the edge of the building.
The premises's original proprietors are shown by the name below the bull's head, and on the mosaic door-panel. Like the name of the architect, the name of the tile-manufacturers is unknown. But their work is remarkable, transforming the basic building, so like other late Victorian/early twentieth-century shops in small towns, with a façade given a full complement of beautifully-modelled faience or glazed tiling, which has been preserved. The main colour was probably chosen to contrast with the red of meat, and to suggest pasture; it was not easy to get grass green in ceramics, but this slightly blue-green is powerful.
Bibliography
"49 Commercial Street." English Heritage. Web. 30 June 2022.
Pearson, Lynn. Tile Gazetteer: a guide to British tile and architectural ceramics locations. Richard Dennis, 2005.
Pevsner, Nikolaus, and David Neave. Yorkshire: York and the East Riding. New Haven and London: Yale University Press, 2002.
---
Created 1 July 2022